The Sunday Sermon – Pirates.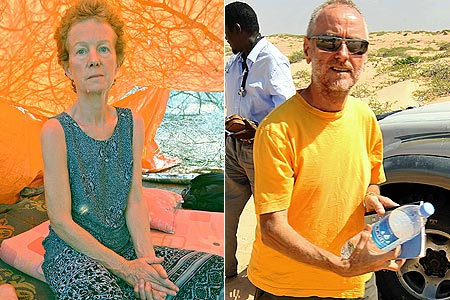 "Nam pirata non est ex perduellium numero definitus, sed hostis omnium; hoc nec fides debet ius iurandum esse commune"
"For a pirate is not included in the list of lawful enemies, but is the common enemy of all; among pirates and other men there ought to be neither mutual faith nor binding oath"
Marcus Tullius Cicero, De Officiis, Book II, Ch. XXIX
In October 2009 Paul and Rachel Chandler from Tunbridge Wells, Kent, married for 25 years, were sailing their yacht out of the Seychelles on the way to Tanzania when they were captured by Somali pirates.
Subsequently, under the watchful but impotent gaze of the Royal Navy they were transferred from the pirates' small skiff to pirate mother ship, The Kota Wajar, a Singaporean cargo ship which had itself been captured earlier in the month. The Chandlers were then taken back to the Somali mainland, whence they have remained as prisoners ever since, for almost all of that time kept apart. They have made video appeals for help from David Cameron and the new government.
Doubtless their captors would be happy with the publicity back in the UK, but equally there is no reason not to believe that the couple are physically frail, deeply distressed, and enduring great physical and mental hardship. The pirates continue to demand a ransom of more than one million pounds.
I hope readers will join me in sending them your prayers, wishes, vibes, hopes or thoughts – whatever you consider appropriate.
Meanwhile, the Foreign Office (the Ministry charged with promoting the interests of foreign nationals) continues to maintain its usual stance of "no comment" and that Her Majesty's Government does not pay ransoms. Which is not very helpful to the Chandlers.
I have heard it said that the Chandlers brought their predicament on themselves by sailing in dangerous waters. That may be so, although they were far from the Somali Coast (1,000 miles) when the Lynn Rival was boarded. In fact, I have the unnerving suspicion that there is a bit of No. 10 spin going on here. But anyway, they were free, or should be, free to sail the High Seas as they thought fit. A quaint, old fashioned British view, I know.
Broadly, your humble author is strongly opposed to the death penalty; a debate for another time, perhaps. But I have one or two blind spots. Specifically, I have a problem with piracy.
Because piracy strikes at the heart of civilization. Trade and the free passage of goods and persons between nations is a foundation of civilization, and notwithstanding air travel, free passage of the sea is still critical to that. Consider, for example, the bulk transport of oil, upon which the daily functioning of society depends.
Because from time almost immemorial it is intrinsically linked with the most horrible of human activities, the slave trade (slaving was endemic back in my day. The Saxons were bad enough, but the Irish were at it too – St Patrick spent six years as a slave. And later the Vikings, those pirates par excellence, made it a national industry).
Still further, because the sea is perilous enough, without the added danger of having your throat cut and being fed to the sharks. And because piracy is usually a brutal crime. If you were rich or valuable, you might get away with being ransomed. Indeed, Julius Caesar was captured and ransomed by Cilician pirates in 75 BC, as to which more below. But if you have no value, then it's the long swim home. One only has read the accounts of survivors of sinkings in the Second World War to understand the full horror.
It is for these reason that pirates are rightly given a unique term in international maritime law: hostis humani generic: enemies of the whole human race. Indeed, even under British law, "piracy with violence on the high seas" remained a capital offence until 1998, until curtailed by UK adherence to the European Convention on Human Rights, and by the Human Rights Act. Sadly.
Meanwhile, the Chandlers are left in limbo because the Government (at least the last one, but probably this new one too) takes a hard line and "principled" line on the issue of ransoms. I would have more sympathy with this view if Her Majesty's Government had done all it could to rescue the Chandler's in the first place.
After the Chandlers had been captured, in true New Labour style the Ministry of Defence issued a communiqué which gave the impression that their yacht had been found by the supply ship RNA Wave Knight, but was empty. When it came out that the Wave Knight has actually been on the scene when the Chandlers were transferred from their yacht onto the Kaja Wajar, another seemingly reasonable explanation for non interference came forth. Sailors were not equipped to deal with a hostage rescue situation.
However, not only did the Wave Knight track the Kaja Wajar (they were alongside for a time), it had sufficiently weaponry to make it reasonably clear that its presence was not welcome in the form of 30 and 50 mm cannons. Not enough to sink it, but enough to cause serious consternation. They were not used.
Moreover, the Wave Knight was home to a party of Royal Marines Commandos (plus helicopter), suited and booted and spoiling for a fight. And, as Marks and Spencer might put it, these were not your ordinary Royal Marines Commandos. They were from Royal Marines Fleet Protection Force. Without going into details, the storming of oil rigs, ships, general maritime installations (and pubs) is one of their primary tasks. They were geared up and ready to go and do what has actually been one of the Royal Marines' principal jobs since they were formed more than 300 years ago; boarding and capturing ships and savagely disposing of anyone who gets in their way. Sources allege they were given the code to go ("Quickdraw") and then told to stop. And then go. And then stop…
And so the Royal Navy looked on as the Chandlers were carried away into "Somali" waters and the pirates' home base of Haradheere.
The prevarication has been laid at the door of the then Secretary of State for Defence, "Bungling Bob" Ainsworth. However, whether "Bungling Bob" would ever have had the bottle to make a call either way in a hostage rescue situation on his own seems questionable at best, and the dithering on/off suggests the psychology of a former resident of 10 Downing Street.
The task of rescuing the Chandlers now seems impossible, and no proposals seem to be put forward which could satisfy their kidnappers. The precedents are not good – witness the sad deaths of the four bodyguards of Peter Moore, captured in Iraq in May 2007.
It seems that the Royal Navy's approach to dealing with pirates is somewhat less robust than in olden times, when pirates could reasonably expect summary justice and to "dance the hempen jig" (I'm sure you get the picture – a specially short rope was used, to make sure that the "dancer" did not break his neck and end the fun too quickly). Apparently, not only are our jolly tars concerned not to interfere with the pirates' human rights by shooting them, but off the record Whitehall sources admit that they are concerned that pirates should not be arrested by Royal Navy ships in case they cause embarrassment by claiming asylum.
To be fair to our lads, it seems that the problem is endemic. According to US figures, between August 2008 and December 2009 706 pirates were "encountered" by ships from the anti piracy coalition, which has resulted in 43 convictions (largely in Kenya, which is getting thoroughly fed up with being used as a convenient jail).
Meanwhile the Russians, perhaps frustrated by this general pussy footing around, have developed a rather more…pragmatic approach. In May of this year Somali pirates hijacked the tanker "Moscow University" carrying 80,000 tonnes of crude oil, worth $50 million. Although Libyan registered, the name gives away the Russian connection. Understandably, cousin Ivan was less than pleased by this water born japery, and Russian navy commandos were despatched from the warship Marshal Shaposhnikov. They duly stormed the ship, killing one pirate and capturing 10 others in the process. Press reports then indicated that the remaining pirates would be taken to Moscow for trial.
However, there does seem to have been something of a breakdown in communications at this point, because as Reuters reports, the remaining pirates were then helpfully sent on their way from the Marshal Shaposhnikov.
In a very small boat. Without either their weapons, or navigation equipment, or much else. Three hundred miles from land.
The pirates have not been heard of since, and are presumed dead. Indeed, there are rumours that the pirates had very limited prospects of survival from the start, having been riddled with bullets before they began their journey home.
The Somali "government" has protested (although one wonders what sort of government it is, and what it has been doing about the problem in the first place). The Russians are not particularly bothered.
I do not mean to suggest that our forces should be given free reign to deploy such outrageous tactics (well….), but a more robust line amongst the international community would surely be more welcome.
And finally, as to the issue of paying ransoms, I have great reservations about the wisdom or humanity of the UK government's stance. All governments do deals when they find it convenient to do so in the national interests (a big "shout out," as young people say, to Abdel al-Magrahi, BP and the Scottish Executive!)
As those who have read my occasional musings will know, I tend to find parallels between the world of long ago and these troubled times. Indeed, if pushed I would have to say that there would be many a leader of bygone age who could teach Our Lord and Masters a thing or two. One such being the great Julius Caesar, who although not without fault, understood politics, publicity, power, corruption, money, bribery and lust; all themes familiar to our Lords and Masters. And personal courage and leadership in war; themes which are not. Were I tasked with dealing with pirates and their ransom demands, to whom would I turn for practical advice given the choice: Shami Chakrabarti, "Bungling Bob" and Cleggeron? Or Caesar?
As I mentioned above, Caesar was himself no stranger to pirates, having been captured by the Cilicians, who at the time were the most feared and ruthless pirates in the world. His policy is instructive, particularly when it comes to both ransoms, and to a pro-active, human rights based response to piracy on the high seas. Are you listening Shami? (I assume not).
Upon learning that he was to be ransomed for a mere twenty talents, Caesar immediately protested that this was an insult. He insisted that he was worth at least fifty talents. Having thus raised the price for his release, almost all of his captured followers were sent forth to raise the necessary funds. Whilst they did so, Caesar generally besported himself with the pirates, joining in their games and carousing. He entertained them with poems and songs, and if they failed to praise him for his efforts he would denounce them as illiterate savages and threaten to have them all hanged. This much amused the pirates, who assumed he was both playful and a tad simple. They all got on very well. The ransom duly arrived, and Caesar was released.
Upon his release, he assembled a fleet and sailed back for a reunion with his new pals.
He had them all crucified.
Here endeth the lesson.
Gildas the Monk



August 2, 2010 at 15:50




July 27, 2010 at 12:51




July 26, 2010 at 07:53







July 26, 2010 at 21:06




July 26, 2010 at 01:46




July 25, 2010 at 19:39







July 26, 2010 at 00:18







July 25, 2010 at 18:14




July 25, 2010 at 17:29




July 25, 2010 at 16:20







July 25, 2010 at 19:35




July
25, 2010 at 15:02


July 25, 2010 at 14:49




July 25, 2010 at 14:39







July 25, 2010 at 19:12




July 25, 2010 at 14:31




July 25, 2010 at 14:09







July 25, 2010 at 13:52