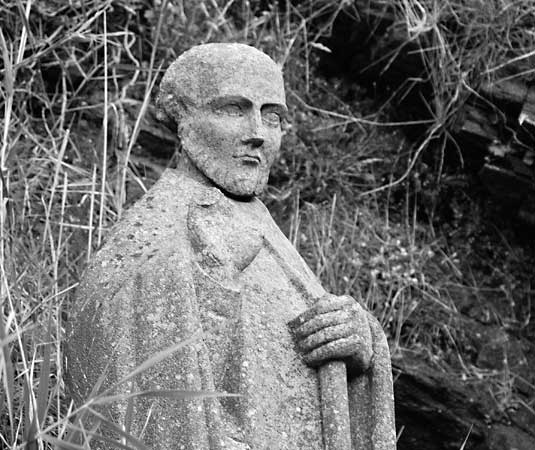 "BRITAIN has kings, but they are tyrants; she has judges, but unrighteous ones; generally engaged in plunder and rapine, but always preying on the innocent; whenever they exert themselves to avenge or protect, it is sure to be in favour of robbers and criminals; they have an abundance of wives, yet are they addicted to fornication and adultery; they are ever ready to take oaths, and as often perjure themselves; they make a vow and almost immediately act falsely; they make war, but their wars are against their countrymen, and are unjust ones; they rigorously prosecute thieves throughout their country, but those who sit at table with them are robbers, and they not only cherish but reward them; they give alms plentifully, but in contrast to this is a whole pile of crimes which they have committed; they sit on the seat of justice, but rarely seek for the rule of right judgment; they despise the innocent and the humble, but seize every occasion of exalting to the utmost the bloody-minded; the proud, murderers, the combined and adulterers, enemies of God, who ought to be utterly destroyed and their names forgotten."
Gildas Sapiens, De Excidio Et Conquestu Britanniae (On the Ruin and Conquest of Britain), The Epistle, paragraph 27. Circa 550 AD.
One of the iron laws of history is that there is nothing new under the sun. It is often said that history repeats itself. This is true with an important qualification. The exact situation or outcome does not repeat itself. History marches inexorably on. By the same metaphysical law that governs evolution, the story of mankind is incapable of going backwards – even though that may seem to be the case at times. But human traits and the human condition are constant. Lust, greed for money and power, love, virtue, courage, melancholy, hate, war, wealth, riches, poverty and death. Nothing at all has changed for millennia.
Gildas was writing at a time of catastrophic national collapse. What Gildas witnessed was no more or less than the overthrow and death of the largely Christian, ordered, wealthy Romano British state: ravaged by the Picts and Scots in the north, and ultimately overrun by the Saxons (shorthand for various Germanic tribes) over the great bulk of the south, east and midlands. It is hard to convey what this must have meant in real terms. A half decent analogy would have been the conquest of Britain by Nazi Germany – an alien culture, godless, without respect for democracy – to a significant degree accomplished quite literally at the point of a sword, specifically the seax, the short stabbing sword which gave the Saxons their name. There was flight and exile for many. Many were driven west into what is now Wales and Cumbria. Some to what is now France. Many modern historians have sought to downplay the level of what today we would call ethnic cleansing, but there is no doubt that it did take place. In other places there was coexistence, but eventual supplication to the Saxon social and military supremacy and by the extent of the Saxon population – growing by birth and endlessly reinforced from over the North Sea, arriving in their "Wave Horses". Either way, Romano British culture was snuffed out, and the culture of the nation changed forever.
Gildas wrote his polemic seeking to explain the fall of his civilization in religious terms, by the failure of the nation and its leaders to stay true to the Christian faith. To that extent it is a religious tract and not a political or social history; frustrating from the historian's point of view, because there is so much more detail he could have added.
However, the passage above shows that Gildas was far from blind to the political. He would instantly have recognised and railed against many aspects of modern Britain.
"Britain has kings, but they are tyrants." This in a week in which we have confirmation (should it have been needed) that our former Overlord Gordon Brown was a brutal paranoid loon; unelected, by the way. The reputation for bullying and briefing against anyone considered to be a political enemy or indeed just anyone he met whom he found inconvenient was well earned. The reference to "Kings" must be construed liberally, to include all the petty tyrants at all levels of authority who manage national affairs without accountability, but with the propensity to rule by diktat – the Lords, the Chief Constables, the faceless Quango-istas. Whether the coalition will reverse this remains to be seen. I'm not holding my breath.
What Gildas was really writing about was the divorce between a closed, self serving, ruling elite and the "ordinary" people which it betrayed by its dishonesty, lack of integrity and lack of foresight. Importantly he describes the patronising disdain which that elite felt for those people and their concerns. He would therefore instantly have recognised and understood what was often called during the recent election campaign as "the disconnect" between the metropolitan political classes and the concerns and cares of the people at large.
Hypocrisy is a particularly strong theme. He perceived an incestuous political ruling class which preached a good sermon ("tough on crime, tough on the causes of crime") but was actually only concerned with its own private aggrandisement, feathering its own nest and concerned with accumulating as much loot as possible, hanging the odd thief, perhaps, but behind the scenes hanging out with the major league crooks (Let's talk about party donations, the non executive directorships, the lobbyists, and just remind me, Lord Mandelson and you, George Osborne, who's yacht was that? Oh yes…the allegedly money laundering Russian oligarch…)
The expenses scandal would have been instantly recognised and understood as the emblem of this particular problem. The crass hypocrisy which so many politicians of all parties practice in both private and public lives would have been utterly familiar to him.
He would have recognised at once a world where the thug who burgles a home but is repelled by the house owner is given a slap on the wrist, but the man who defends his home receives the full weight of the law.
He would have understood the problem in which the bankers are bailed out and then gorge themselves on bonuses but the working mother must repay her tax credit because of some bureaucratic glitch
A world turned upside down in which the pensioner is prosecuted for objecting to his council tax but the Chancellor of the Exchequer – and many others – "flip" their homes to avoid capital gains tax. He will have seen the poor taxed and the rich and the powerful hoard their money.
A brief aside on "flipping" by the way. A lawyer writes:
"Your principle private residence is a question of fact. To declare the house which is not, in fact, you real main home as that is incorrect, and the only question is whether it is "dishonest". It palpably is: the fact that MP's are permitted to identify their main private residence does not relieve them of the obligation to do so truthfully. The fact that there have been no prosecutions is plainly a policy decision, because otherwise the jails would indeed be overflowing and the cabinet would have to have convened in Wormwood Scrubs."
He also have pointed out that the seeds of the collapse of his world were finally sown when the rulers of Britain abdicated their responsibility to manage the defence of the realm by importing Saxon mercenaries, who found the place very much to their liking, and invited their friends and relatives. Who in turn…
When Gildas talked to a woman in Rochdale about immigration and heard her concerns, he would not have thought her a bigot. He would have understood them. He would seen how an open door policy on immigration can have nation changing consequences. He would not have bowed to those who sought to suppress any complaint, debate and concern – as has been and continues to be the stance of Our Lords and Masters, the modern day, self appointed Tyrant Kings.
He would have had words to say to them about that.
Plus ca change, plus c'est la meme chose.
Gildas the Monk
July 19, 2010 at 10:14







July 18, 2010 at 23:30







July 18, 2010 at 21:53







July 18, 2010 at 19:07









July 18, 2010 at 22:41




July 18, 2010 at 11:56




July
18, 2010 at 10:21