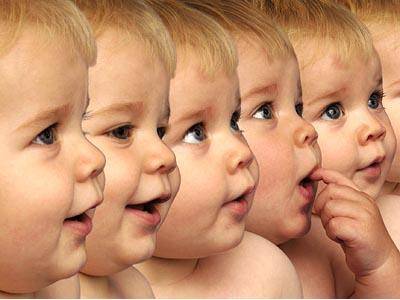 The eugenic implications of embryo screening technology are obvious.
Unlike the ugly reality of Nazi eugenics which sought to destroy fully formed human beings to arrive at an allegedly 'perfect' human race, screening technology seeks to arrive at a similar result in a more subtle and deceptive manner.
Softly, softly, catchee monkey.
We have long since fought the battle that determined it was a woman's 'right' to decide whether or not to carry a foetus full term and deliver – and care for – another human being. Those who muttered in the corner that she already had the right to keep her legs crossed were brushed aside in a welter of emotive media set pieces concerning the relatively few women in the population who were not only raped but, even more rarely, impregnated.
Who but the stoniest heart could ask a woman to carry a child that was the result of a brutal criminal offence?
Women were universally victims of men's unbridled sexual desire, we had no choice in the matter, and we had to be given legal rights not to carry the resulting child. Strangely, no one was more vociferous in painting women as victims, nor are today, than the most ardent feminists, who would choke on their polenta and gorgonzola fritters at the suggestion that they were victims too.
We were given the right to destroy a part formed human being.
Scientists moved on at a rate we could scarcely keep up with, and soon announced that not only could they tell us the sex of a child, but whether it was 'defective' in any way. The media gave us heart rending stories of the relatively small percentage of the population who are born with painful and terminal genetic disabilities.
Who but the stoniest heart could ask a woman to carry a child that was destined to live a short life of pain and misery?
We were given the right to destroy a 'faulty' part formed human being.
Around the same time, hospital wards were divided into 'maternity' and gynaecological' – no longer one and the same thing, for in one ward life was encouraged, in another it was extinguished. However, the post-war baby boom had come to an end, and the birth rate was falling. There simply wouldn't be enough worker drones to support all those baby boomers in their old age. Something must be done!
The scientists set to work again to solve the conundrum of infertile women and infertile men – a conundrum previously solved by adoption, now ridiculed by the ease of abortion.
The first IVF baby, a happy bouncing smiling soul was launched onto an expectant world by the media. This was the future. Now it became a woman's right not only to not have a child she didn't want, but to have the child she did want. No womb, through birth defect or gender? No problem, surrogacy was born.
The prospective Mother was able to take advantage of the abortion laws should the resulting fledgling life turn out to be defective, and despite the life forming within her, still had the right to say 'No, thanks, not today thank-you'.
IVF moved on apace, albeit with the law limping in the rear, sperm donors could be matched with wombless prospective parents of either sex, and the resulting child born to a surrogate Mother would never know, for the birth certificate would merely register the name and address of the 'current owner'.
The age of the 'egg donor' arrived, to match the sperm donor. The Immaculate Conception could take place in the laboratory in hygienic conditions. Concerned that hygienic conditions could quickly deteriorate into eugenic conditions, the courts stepped forward with unaccustomed alacrity and decreed that testing of embryos prior to implantation in a way that does not ensure their survival was in violation of the law.
But – who but the stoniest heart would ask that a woman wait until her pregnancy is established to decide that the child is faulty and she would like an abortion forthwith?
On Tuesday, the Federal Court in Germany was asked to decide whether a Berlin Doctor who had tested three embryos and 'discarded' (the world of bioethics is full of such euphemisms) those he felt to be 'sub-standard' had broken the law.
The court found that 'because the ultimate goal of pre-implantation screening is a healthy pregnancy, such tests are not in violation of the law'. If only because such tests in the womb are allowed in order to give women their 'rights'.
Now, in Germany at least, clinics will be able to advertise 100% perfect pregnancies…..satisfaction guaranteed, no need to claim under warranty and undergo a traumatic abortion if your new baby product is not 100% perfect, this years blue eyed, blonde haired, gender to match your chosen nursery decoration, Aryan descendant.
The initial decision concerns genetic defects, but IVF clinics are private businesses, run for profit. Who will stand over them watching to see exactly why 'that' embryo was 'discarded' and 'this' one implanted?
Humanity in Germany has entered a place where there are no identifiable limits. A dark, dark place. Where the creation of life resembles the early factory production lines, with the white coated scientist patrolling, clip board in hand, ensuring quality control.
The Frankfurter Allgemeine Zeitung writes:
"The Embryo Protection Law sought to prevent exactly that which the Federal Court of Justice has now chosen to allow: Namely the selection of "good" and the correlative destruction of "bad" embryos. With good reason. The selection of embryos involves much more than merely increasing the success rate of artificially implanted pregnancies or that of preventing the later abortion of a presumably handicapped foetus.

Embryo screening means certain life forms are not allowed to exist at all. And that opens the door wide open to judgments about which life forms have value, rather than just determining their viability."
July 10, 2010 at 12:47




July 10, 2010 at 10:27




July 10, 2010 at 02:06







July 9, 2010 at 16:31







July 9, 2010 at 15:15







July 9, 2010 at 14:13










July 10, 2010 at 17:58




July 9, 2010 at 14:07







July 9, 2010 at 14:49




July 9, 2010 at 14:03




July 9, 2010 at 13:50




July 9, 2010 at 13:44










July 10, 2010 at 17:55










July 10, 2010 at 19:19







July 10, 2010 at 20:04










July 11, 2010 at 18:53




July 9, 2010 at 13:41







July 9, 2010 at 14:36




July 9, 2010 at 12:28




July 9, 2010 at 11:51







July 9, 2010 at 22:56




July 10, 2010 at 11:22