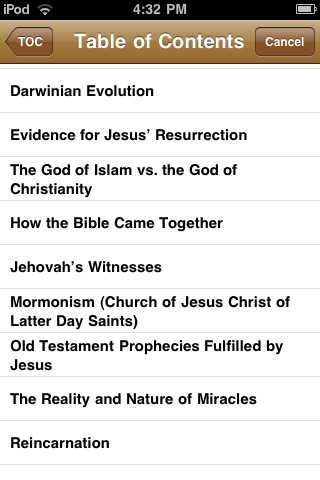 Faith floundering? At a loss to explain the miracle of the five little fishes? The Apple store has it covered. Now you can whip out your iPhone and call up a winning argument.
A mere 99c from 'Lifeway Christian Resources' it saves all the hassle of reading the bible and understanding Christian theology.
Of course your opponent may have bought the iBibleThumper, the app for Atheists, which claims to give you instant quotes showing just how irrational and inconsistent the Bible is…
Reviewers of the product claim that is 'is annoying' having to 'shake your iPhone' each time you want to produce another table thumping winning argument.
Possibly not as annoying as having to research the subject in depth in an old fashioned library before engaging in the argument.
The iGod app for the iPhone generation that wants its religion on iTap iNstantly. Somehow the vision of iPhones being shaken at one another doesn't quite capture the romance of the Holy wars.
*sighs*