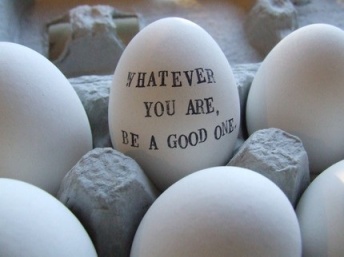 Blimey, not only but also; past present and a few future UKIP members have been roaring around the blogosphere in hysterical outrage following the Mail's predictable anti-European blast that 'the EU is planning to ban the sale of eggs by the dozen'. They're not as it happens, just asking that an approximation of the weight be printed on each carton. Pretty much the same hysteria we had over the 'demise of the British pint' – which was easily solved.
Even the leader of the Libertarian Party devoted column inches to the subject:
"This is utter idiocy: who gives a crap what weight the eggs are? I want six eggs, not the exact bloody weight."
Only a man could write that, or to be fairer, only a person who did nothing more imaginative with an egg than fry it, could write that.
Any Baker, male or female would beg to differ. The reason eggs were graded by weight in the first place – and they are, they're called large, medium and small for the benefit of the unimaginative egg fryers – is because it is the eggsact proportion of egg to fat, sugar and flour, which produces beautiful patisserie.
Classic Victoria Sponge, still the basis of English cake making, is best prepared with the aid of an old fashioned set of Kitchen scales. Weigh the Eggs on one side and weigh eggsactly the weight of your egg or eggs, in fat, sugar and flour. Too little egg and your cake won't rise, too much and it will be stodgy.
Anybody faced with the task of making multiples of one small sponge; a semi commercial baker as I once was in my tea rooms, or catering staff, needs to have standardised eggs where they can be fairly sure of the weight. That is why they were graded by weight. Have been for years now. To save expensive mistakes by those who cook for a living.
They do 'give a crap'. We wouldn't want to censor that information from them would we?
June 30, 2010 at 23:27









June 29, 2010 at 09:30




June 28, 2010 at 23:42




June 28, 2010 at 21:30




June 28, 2010 at 20:41










June 28, 2010 at 20:11







June 28, 2010 at 19:16




June 28, 2010 at 19:16




June 28, 2010 at 18:55




June 28, 2010 at 18:22