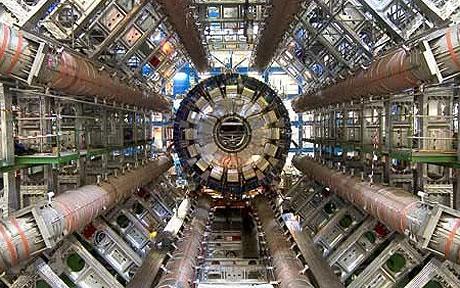 Over at the Hadron Collider – haven't heard of that for a while have we? – they are still playing 'let's find God', shooting beams of proton particles 27 miles under the Swiss mountains in the hope of producing the 'Higgs Boson' particle.
The Higgs Boson particle is the so called 'God particle', the one that will give us an insight into the formation of the universe and help us to know 'God's intention' according to Nobel laureate Leon Lederman.
Some of the scientists involved in the experiment were sitting around in a Brixton Disco, as one does, and came up with the idea of taking a further step, and turning the resultant data into sound……
And if they do manage to capture 'God's voice' on tape? What will we hear?
Mr G thinks it will be indistinguishable from Obnoxio with a particularly virulent hangover….
I incline towards the dulcet tones of Ms Smudd whispering 'I was only joking, honestly'…..
And you think?
June 26, 2010 at 19:09







June 26, 2010 at 13:57




June 26, 2010 at 12:40




June 26, 2010 at 12:32







June 26, 2010 at 13:40




June 26, 2010 at 12:02




June 26, 2010 at 11:39




June 26, 2010 at 11:32







June 26, 2010 at 10:25










June 26, 2010 at 10:24