Ask Your Local Pensioner!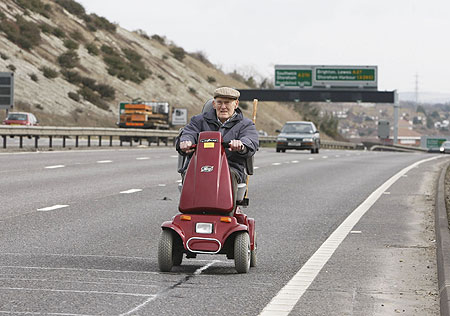 Late last night I turned on the English TV in time to catch the inevitable whinge about the budget. There is always a whinge; the only matter of note is who is doing the whinging.
This time it was an announcer in expensive cashmere pashmina artfully draped over an equally expensive raincoat. British summer time at its best. She was whinging on behalf of 'the poorest in society' who were going to be 'hardest hit' by the increase in Vat – and she was holding aloft – amongst other items, a DVD to illustrate how the price would rise.
Perhaps the poorest in society do buy DVDs these days. Maybe that is the norm. In which case it illustrates how ridiculous the 'poverty gap' really is.
Ask any pensioner – they will tell you that the State pension does not extend to DVDs or the essential players that go with them. They listen to the radio – music for free once you have bought the radio. Whilst you are chatting to them, ask for some other tips on perfectly legal tax avoidance, for our pensioners are a mine of information, they have been doing it for years.
Simply because they figured out, by necessity, not choice, that Vat was exactly what it said on the tin, a Value Added Tax – a tax on the luxury of someone else doing something for you before you took possession of the goods. The non-essential version of the goods.
Society has moved so far forward in the past 50 years that our interviewer could find a young man who said 'shan't be able to afford a sandwich at lunchtime any more, shall have to go without' – and no one stepped forward to say 'make one at home before you go to work, you don't have to go to MacDonald's for your lunch – pensioners don't'.
Take a look at the shopping basket of your average pensioner. You won't see blocks of luxury Vienetto ice cream, with its 17.5% Vat rate, shortly to be 20%. You won't see laptop computers so that they can read the newspapers without stepping out to the newsagent.
You don't have to go on a foreign holiday; you don't have to buy an expensive suitcase to do so. Cosmetics, Hair dye, the hairdresser once a week, false nails to save growing your own, new clothes every time the fashions change – pensioners are above all this, and thus rarely pay Vat.
There is no Vat on basic food stuffs. There is no Vat on newspapers, and printed music to tap out a tune on an old piano, there is no Vat on a postage stamp to allow you to stay in touch with your fiends, you can even go on holiday with no Vat – hire a canal boat and go up river. Take a coach and go visit your friend. Come to that, there is no Vat on a caravan.
There is no Vat on medical services for your health. There is no Vat on goods and clothing sold in a charity shop. There is no Vat on a Bingo game.
Vat kicks in when you want to save time or effort. You want a machine to wash your clothes, a cook to put your dinner on a plate, a sandwich made by your local Pole.
Our pensioners come from an era that remembers how to make custard with an egg, that didn't expect their potatoes to come ready chipped. They owned a Spong that minced the left overs from the Sunday joint to make a Shepherds Pie; they still have black and white televisions and no Sky – can you imagine? They grew up making their own clothes, they shared out baby clothes with their neighbours, they soaked their false teeth in Bicarbonate of Soda, come to that, they owned what was euphemistically known as a 'set of rags', washed and bleached each month, and thus avoided the much complained about modern 'tax on femininity' – or the 5% rate on sanitary wear.
If the 'poorest in society' are suffering from the new rate of Vat, they could do a lot worse than talk to their nearest pensioner, they would learn a lot. Pensioners are highly skilled Vat avoiders.
Those complaining about an increase in the tax on luxury might reflect on the fact that their real problem is that they have become too used to the sort of luxury that attracts Vat.
Vat in has been at 19.6% in France for years – and in our department, the average income per household is 10,000 euros – which doesn't buy a lot of luxury.



June 24, 2010 at 11:34




June 24, 2010 at 09:32







June 24, 2010 at 17:53




June 24, 2010 at 03:44




June 23, 2010 at 23:48







June 24, 2010 at 00:44







June 23, 2010 at 19:04




June 23, 2010 at 18:12




June 23, 2010 at 17:43







June 24, 2010 at 00:22




June 23, 2010 at 14:54




June 23, 2010 at 14:26







June 23, 2010 at 14:13




June 23, 2010 at 14:05







June 23, 2010 at 13:30







June 23, 2010 at 12:50









June 23, 2010 at 12:40




June 23, 2010 at 12:25




June 23, 2010 at 12:24




June 23, 2010 at 11:54




June 23, 2010 at 11:44







June 23, 2010 at 11:28