All cats not so grey in the dark….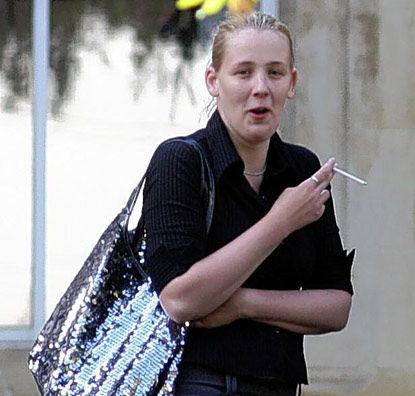 Yesterday I read that this young lady – I use the term loosely – was so 'hot' that a bank clerk was sufficiently distracted by her appearance that he stole £217,000 and funnelled it in her direction.
Ye Gods I thought, maybe there is hope for me yet, perhaps not the full £217,000 but I might still be worth a £21,000 distraction, then I remembered that it was a French HSBC bank clerk that I would have to distract, and those humourless souls are only distracted by a full bottle of claret and a five course lunch – and I resemble neither.
Perhaps some of my male readers could advise me as to whether the lady is correctly described as hot? Although I suspect that 'hot' is in the eye of the beholder and can vary from desperate moment to desperate moment – witness a case heard recently in the full majesty of the Court of Appeal.
It concerned a Mr Burns. 'Doing a Burns' may well move into the current lexicon of modern language.
Mr Burns was driving along the Huddersfield highway in the early hours when he was seized by an urgent sexual tension, as one is. He happened at that moment to be passing a lady who might variously be described as 'sex worker' 'prostitute' or 'old slapper' depending on your politics, and how likely you are to obtain employment in Ms Harman's department.
'Under the light of the sodium glow' as they say, she did look vaguely attractive. They agreed that she would, being blessed with two hands, simultaneously relieve him of his priapic distension and £50. At the same time.
A passing police car had persuaded them both that another venue might be in order, and so they drove to the romantic environs of a disused factory.
Bereft of the sodium lighting, the young lady was looking less attractive by the minute, and so Mr Burns resorted to snorting a line of cocaine to arouse his ardour. He left the car to urinate against the side of it, there being no properly designated toilet facility available and on his return he turned on the interior light.
(I hope you're not thinking of writing for Mills and Boon in your spare time? Ed)
Under the harsh glare of the interior light, he was even less enamoured of the lady's appearance. Further she had suggested that he might like to share his cocaine. Entrusting your penis to a strangers grasp is one thing, but sharing your coke beyond a joke.
Mr Burns grabbed the young lady by the armpits and forcibly ejected her from his vehicle and 'placed' her on the cold wet floor whence she apparently bruised and grazed herself, as you do.
She demanded to be taken back to where he had found her and he refused.
As a 'sex worker' she knew her rights, and Mr Burns has just lost his appeal against a conviction of assault occasioning actual bodily harm. He was also convicted of committing an offence with intent to commit a sexual offence. i.e. procuring a prostitute.
The argument on his behalf was that it is settled law that you can use reasonable force to remove an individual from your house after he has refused to leave on request – surely the same applies to your car?
It doesn't where you have invited the passenger into the car. It was held, in effect, that the verbal contract to drive her back to where he had found her when their transaction was complete trumped the right to use reasonable force.
The moral of the story is surely to turn the interior light on before you complete the transaction?
It's such a romantic little story isn't it?
June 11, 2010 at 15:10







June 11, 2010 at 02:13




June 10, 2010 at 22:30




June 10, 2010 at 21:29




June 10, 2010 at 21:25




June 10, 2010 at 20:45




June 10, 2010 at 20:45




June 10, 2010 at 20:31




June 10, 2010 at 20:31







June 10, 2010 at 19:45







June 10, 2010 at 19:05




June 10, 2010 at 18:24







June 10, 2010 at 17:10










June 10, 2010 at 16:32







June 10, 2010 at 15:14




June 10, 2010 at 15:02




June 10, 2010 at 15:01










June 10, 2010 at 14:45




June 10, 2010 at 14:42