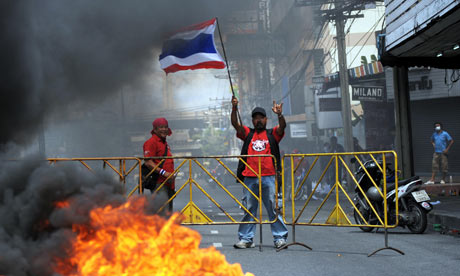 It's normally hot in Bangkok but never this hot this late in the season, with temperatures soaring up beyond 45 degrees (113 in real money) with energy sapping humidity. The cooling southerly winds are late this year with the knock on effect that, instead of the deluge that normally announces the cool season, Bangkok, in fact most of Thailand, is wilting under the heat. And worried farmers look to the heavens praying for rain so they can plant their rice crop. The late rains have meant that the rice will be planted late, if at all, and so the yields are expected to be very low; in fact farmers I spoke to, in the beleaguered north east, told me they will have barely enough to feed themselves let alone export any. Children will be going to school without shoes next year and more teenaged girls will be forced to make that fateful journey to the fleshpots of Pattaya, Phuket and the three main Bangkok red-light districts of Soi Cowboy, Nana and Patpong: to sell their bodies in order to put food on their family's table and to pay their sibling's school fees.
The alternative being working in a sweatshop factory in Din Daeng, 12 hours a day, for the equivalent of two dollars. You recognise these girls, if you ever see them because they rarely leave the factory, because they are all disfigured in some way; holes in their fingers where, fighting to keep awake over their sewing machines, they impale themselves on their needles or it could be the plastic smear of burn marks, even missing limbs, from faulty machinery (every person I met who worked in disposable lighter factory had terrible burns to their face and hands). Indeed Bangkok was the scene of the worst industrial fire in the world, ever, when the Kader Toy Factory burnt down with the loss of 188 people's lives (mainly young women, many of them pregnant) and over 500 seriously injured.
Meanwhile in Central World, Pong, a Thai Chinese girl from an extremely wealthy family, asks her friend for her opinion on the two genuine Gucci bags she is holding. In the end she takes both swinging them on her hand as she makes her way to the brand new BMW roadster daddy bought her in return for her passing her University entrance exams.
This is story about two peoples living cheek by jowl but seemingly unaware of each other. The wealthy elite (primarily Chinese Thai and aristocratic old money Thais) live lives of potentate opulence thinking nothing of jetting off to London for a day's shopping while the poor live on £100 per month in a grimy shack leaning drunkenly over a sewage filled khlong (canal).
This is what the western press see as the source of the conflict that has torn the heart out of central Bangkok over the past few months. The consensus being that this is the rural poor trying to wrestle political control from the wealthy elite who will not give up their privileges easily.
Paying with their blood for political reform apparently – in fact Britain's left leaning Guardian newspaper went as far as to call them 'Valiant Heroes'.
This is Fleet Street Foreign journalism 101 with the golden rule being that you had to separate the two sides in such a way that your readership will understand and, as a paper, you can unequivocally come down on one side on. And if the two sides (there's always two – the MSM can't cope with more) haven't actually got any discernable ideological differences then make some. For example did you notice how many of the reports stated the 'Eton educated' Thai Prime Minister just to show which side he falls on in terms we can understand. Against the 'charismatic' (read wealthy) and plucky exile Thaksin Shinawattra who is fighting for –ahem- social justice and has donated the profit from the sale of Manchester City to pay for the demonstration.
But it isn't quite that simple. Nothing ever is in Thailand. It truly is the dictionary definition of a paradox; a land of absolute contrasts with startling beauty and deep ugliness populated by a happy, smiling, generally gentle people who are capable of unimaginably brutal violence coming, seemingly, from nowhere. They are contradictory and almost totally unfathomable to us poor deluded westerners. I've seen two young Thai University students trading, what we in the west would call shocking insults, with a laugh.
"You're looking really fat and ugly in that dress."
Giggle.
Yet cross that line, that foreigners can't see, and suddenly it all explodes if they feel they've lost face. Kill my dog, rape my daughter, steal my car but don't make me lose face.
Bangkok itself is a fiercely hot, swirling vortex of humanity that leaves a westerner, used to calm order, dazed. Yet it is alluring with stupendously ornate temples jumbled in amongst shop houses, street vendors selling tasty (though dubious) snacks for pennies, stunning beauties and wizened crones. Here if an older man smiles at a girl she doesn't call him a pervert she smiles back and so will her boyfriend. This is a land where there are social freedoms that we should take for granted in the west but don't yet have – indeed the word 'Thai' means free. A place where Muslim girls wear headscarves and skin tight jeans and Boots sell factor 20 something sun block as 'whitening cream'. Here homosexuals are open, in fact the more outrageous ones, known as Katoeys or ladyboys, sell their homosexual favours to pay for their gender changing surgery (an area in which Bangkok surgeons lead the world; just as they do for penis re-attachment surgery of which they do at least one per week – cross a Thai lady at your peril – one lady fed her philandering husband's manhood to her ducks!) and the world's religions live quietly side by side respecting each other's right to worship who and how they see fit.
Again the Western press makes a big deal out of the Muslim insurgency in the south trying their hardest to tie it to Al Qaeda. But this dispute was going on long before Bin Laden's daddy was a twinkle in his father's eye. This is a group of people that feel that they were trapped on the wrong side of the border when we – read the British – drew up the lines on the map after we beat Thailand in a war and we took the choice southern territories of Malaya (Malaysia) and Singapore. The fact that they're Muslim is by the by. But you see what I mean about the press wanting two clear cut sides?
This is a fertile country that has always been surrounded by hostile, and very powerful, enemies. For example the Cambodians held most of Southern Thailand at one time until the King roused his people to wrestle it back but it was Burma that was always the biggest threat. Indeed at one time the Burmese almost completely over ran the country and again by sheer force of personality the King again rallied his tired, defeated people to push the invaders the thousand kilometres back over the border. Prudently he also moved his capital to the present day Bangkok because it was easier to defend. A defence he substantially added to when he built a series of defensive canals.
And then came the colonial powers and with them some good news. The old foe, Burma, who were very powerful at the time, decided to tweak the Lion's tail and tried to make excursions into India. Thus started the First Burmese war, which we (the British) duly won, we took some territory off of them and thought that was an end to the matter. But then they did it again – second Burmese War – we took some land etc. Then they went and damned well did it again. So we ended up taking all the land after a series of nasty wars which were, collectively, the costliest we'd ever fought. Meanwhile France consolidated its empire in Indo China. Already they occupied Vietnam, Laos and Cambodia and only Thailand stood between them and their old foe.
Imagine being the neutral country between the two world powers at that time who were both greedily eyeing your fertile and prosperous land. The King at the time cleverly switched from the warrior leader that currently wasn't needed to the diplomat and political strategist that most certainly was. He knew his armed forces were outdated and outgunned against either of the baleful empires on either side. So what would you do? Brilliantly he went to the British to create his Navy and then put a British Admiral in charge and went to the French to modernise his Army and put a French General in charge. Then he gave the same open and free access to trade to both sides.
This is impressively open and far sighted in an epoch when American black ships effectively had to force the Japanese to trade at gunpoint and the British were forcing Opium down Chinese throats.
Incidentally the original British concessions were down by the river in what is now Chinatown in Bangkok. And at one point the British Embassy was completely surrounded by Opium dens and low class floating brothels. The King was so distressed at this loss of face for the British he gave them the land on which the current embassy now stands (except that Gordon Brown sold half of it – are you allowed to do that? Sell an extremely generous gift that was presented to the nation by the Monarch of another friendly nation?)
And then he granted full freedom of religion, one of the first nations in the world that said they were going to do it then went ahead and actually did it with no caveats. Buddhism, the other pillar of calm order in this turbulent land, was and is the state religion but the King gave other religions full access to the Thai people. Today, for example, there are enclaves of Christians (mainly Catholic) everywhere around Bangkok. Given the choice, though, the majority of Thai people stuck with the religion that suited their placid temperament and chose Buddhism, albeit mixed with healthy dollops of upcountry superstition and sorcery. But everyone lapped up the schools they, especially the Christians, bought with them. The King then threw open education to everyone, whereas beforehand it was only given to royalty. He travelled to Europe and adopted the western style education system in schools throughout the country and then sent the brightest Thai scholars to study abroad. The King founded Universities, again based on western models, and staffed them with returning graduates who had studied abroad at the King's expense.
Bangkok was, by now, growing into a prosperous and cosmopolitan city. The arrival of the extremely hard working, thrifty and business savvy Chinese heralded a sea change in the city's fortunes. They essentially imported modern commerce into a country that had previously seen no need for it. Thailand is fertile and tropical. You can plant a walking stick and it'll either bear fruit or beautiful flowers. The rivers were full of fish, it rained in incredibly convenient short but drenching doses and if you're tired you slept under a tree.
Right there you can see the fractures starting to form. The majority of the people were farmers – the ebb and flow of their lives dictated by the rice growing seasons. – whereas Bangkok was a burgeoning regional economic powerhouse. If they could have lived separate lives then all would have been well but they couldn't. Bangkok needed it's hinterland to supply it with the goods it needed to trade and the conscripts needed to protect it. And the farmers suddenly had markets they never anticipated together with fertilisers and special seeds to help increase their yields and so they grew to need each other, whilst never actually getting round to understanding each other.
Add to the mix the influence of western education for the Bangkok nouveau riche and the seeds of political change started to sprout. Most of the brightest and most able scholars were sent, during their formative years remember, to places like Oxford and Cambridge. And we know exactly the type of people who were in those places in the 1920s and 30s. In the late 20s Bangkok was awash with new political ideas and the pressure for change was immense particularly given the rapid expansion of the economy. This in turn demanded modernisation, that took us in the west 500 years to adopt and adapt, but which the Thais were forced, by international commercial realities, to implement and adapt to in less than a century.
The reality of the situation at that point was that the country was growing far too big economically to avoid some form of democratic system of government. And so in 1932 the country, still called Siam, converted to a constitutional monarchy. Remember this was only 80 years ago, a mere flyspeck in the timeline of Thai history. We have had hundreds of years to work on our democracy and we still haven't got it anywhere near right even now. How does anybody expect a country that hadn't been colonised and thus had no concept of a modern civil service, the crucial underpinning to a functioning democratic government, expect to get the hang of this democracy thing and, harder yet, try to make it work.
Of course it didn't.
So the country had a series of political coups usually accompanied by military dictatorships. Remember the Army had a stable structure and clear lines of command and responsibility – something very difficult to achieve in even the best, most consensual, multi party political coalition. The Army essentially saw its role as stepping in to add order when the politics that they were getting the hang of went out of control. Except they usually hung around too long and tinkered with the constitution cutting out democratic freedoms that they thought the country wasn't ready for.
The answer to when they would indeed be ready was provided by the ever increasing number of graduates, who moved into those crucial middle management jobs and oiled the wheels of commerce. In less than four generations Thailand suddenly grew a middle class. Thus the urban middle class demanded amended constitutions that allowed for universal suffrage, as middle classes usually do once they get a loud enough voice.
It bubbled over in 1973 when rioting broke out from Thammasat University (Thailand's equivalent of Cambridge) ending in a bloody confrontation by the Democracy monument. This was right in amongst a time when the US was seeing reds under beds everywhere in South East Asia and the uprising was put down to communist agitators. What was particularly worrying for the Vietnam era US was the fact that the violence ended with the military dictators fleeing abroad with the relatively trendy lefty rector of Thammasat being appointed as the new prime minister.
American anti communist paranoia was infecting Thai politics and so a right wing militia was raised called the village scouts. I'll leave Wikipedia to tell you what happened next.
Three years later, the 6 October 1976 Massacre took place on the Tha Phrachan campus of Thammasat University. The event began with protests against the return of exiled dictator Thanom Kittikachorn. Violence first appeared on 25 September when two EGAT employees who handed out protest literature in Nakhon Pathom were branded 'communists', beaten to death, and their bodies hung from a wall. This led to peaceful protests by labor groups, students, and other activists demanding the expulsion of Thanom.

On 4 October, students staged a play on the Thammasat campus to dramatize the hanging of the protesters in Nakhon Pathom. Several newspapers printed photographs of the mock hanging, however with one of the students retouched to resemble Crown Prince Vajiralongkorn, implying that the students had committed lèse-majesté. Uniformed police and enraged right-wing paramilitary groups* promptly surrounded Thammasat University. At dawn of 6 October the police and paramilitary groups attacked the protesters. The mayhem continued for several hours. Newspaper sources gave the number killed as between 43 and 46, but the actual figure may have been over a hundred, with several hundred more injured. Many student protesters escaped by jumping into Chao Phraya River.
*Village Scouts.
You can read the full story here.
This in turn led to a right wing military junta and democracy was put on hold until 1988. Meanwhile the communists had fled to the North of Thailand and were raising their own insurgency backed by Chinese arms and money. General Kriangsak Chomanan took over as leader in 1977, backed by a nervous population, and defused the insurgency in the north with the offer of an amnesty for its leaders plus a deal with the Chinese to leave Thailand alone in return for Thailand keeping out of the Russian/Chinese pissing contest that was going on in the rest of South East Asia at that time. The military saw that this was the sort of forthright action that was required at that time, and they were right. But they hung around too long and people demanded their democracy back.
When democracy was finally restored, in 1988, it was tinged with the flavour of what the urban middle classes wanted – it's ours we fought for it – but under the eagle eyes of the ultra conservative Generals. So it seemed to have come as somewhat of a surprise to these intellectual urbanites that their vote carried exactly the same weight as some uneducated farmer who would sell his vote to whoever paid the most.
Into this mutual distrust steps Thaksin_Shinawatra an undoubtedly charismatic self made billionaire (he introduced Thailand's first mobile phone network after being granted a 20 year monopoly thanks to his police contacts) and ex police colonel who was head of the Thai Rak Thai (Thais love Freedom) party. His concessions to the rural poor; on election, such as low cost medical care, loans to farmers (so they could get out of hock to underground moneylenders) and even his shoot to kill drugs policy were all very popular, particularly in his strongholds in the north. So much so that he became the only Thai prime minister to serve a full term and be elected a second time with a huge electoral turn out.
His problems lay in Bangkok where there was increasing resentment that 'their' electoral system had been hijacked by an increasingly authoritarian, with curtailment of press freedoms and extra judicial killings, regime. Moreover the army was getting nervous at the increasing amount of power the police were obtaining under Thaksin's patronage. The Army and the police have always been at loggerheads; a clash that the Army, using its tried and tested method of allowing civil disorder to overwhelm the police at which point the Army steps in and brings order, usually wins. The danger to this strategy was if the police ever became powerful enough to successfully maintain order without the need for the Army. And this was looking increasingly likely as Thaksin had effectively turned them into a paramilitary force, together with heavy weapons.
But what really horrified the Bangkok intelligencia was the shoot to kill policy against alleged drug dealers which they saw more as an extra judicial score settling rather than a legitimate legal response and, worse, they felt Thailand was losing face in the International community when these killings (and other gross human rights abuses) were trumpeted throughout the western media by organisations such as Amnesty International. They asserted that although the Thai justice system is creaky, prone to bribery and heavily reliant on confessions (there are no taped interviews in Thai police interrogations) it generally gets there in the end. In other words they believed that the Thai legal system, although flawed, was still the fairest way of maintaining order.
The problem with it, when viewed through Liberal western eyes, is that there is no jury system but instead a panel of judges review the evidence and come to a conclusion based on their knowledge of the law. This has led to cries of 'politically' based judgements, a charge that Judges find hard to counter given that they are not allowed to make public pronouncements or defend themselves. Thaksin's confiscation hearing, more of which later, was one such high profile case. On the day of the judgement there were people literally crying up in Isaan at their hero losing half his fortune. They didn't want to know the circumstances they just knew Thaksin was their man and the powers in Bangkok had done him down.
The problem for Bangkokians was that Thaksin, besides riding round on his white horse as a champion of the poor, was economically successful. In fact VERY successful. He was credited with both pulling Thailand out the 1997 slump and halving the number of poor within three years, whilst doubling GDP and paying back the loan to the IMF two years early. Consequently Thailand is no longer a poor country (it had the 15th largest international balance of payments surplus in 2009 only narrowly beaten by Saudi Arabia). If Gordon Brown had a record half as good as this he'd have been re-elected like a shot. In fact, if you want an analogy, he was turning Thailand into Tony Blair's vision of the third way, complete with corruption and an authoritarian mindset.
He was also steadily accumulating middle class and urban enemies. For instance when he tried to effectively privatise the national school system in order to take it out of the over bureaucratic ministry of education which immediately alienated the country's 700,000 teachers who would lose their coveted civil service status (with its generous loans and pensions and an immunity to being held under arrest in criminal proceedings).
Finally his enemies, including several leading politicians from the (now ruling) democrats, consolidated under one conservative umbrella organisation which called itself the People's Alliance for Democracy (PAD) and which adopted yellow shirts (the King's colour) as a mark of loyalty to the Monarch and the currently established order and as a backlash against Thaksin's seemingly increasing presidential ambitions.
Throughout 2005 rumours were flying around Bangkok about Thaksin's alleged corruption, rumours which would be borne out on 23 January 2006, when it was announced that his family had sold their entire stake in their Shin Corporation to Temasek Holdings. They netted about 73 billion baht (about US$1.88 billion) from the sale, and, using a regulation that made individuals who sell shares on the stock exchange exempt from capital gains tax they managed to escape paying any tax on the deal. This deal gave PAD the handle that they wanted and so they used it to make him the target of accusations of corruption and in selling an asset of national importance to a foreign entity (Telecoms companies cannot be owned or controlled by foreign entities and Temesak was Singapore based)
But this wasn't his only transgression. Using his wife as a proxy he concluded a series of lucrative land deals that added to his already considerable fortune and he was alleged to have had a hand in just about every major infrastructure deal going down. At one point he was being referred to as 'Mr 20 per cent'. If you want to get the job, you slip him an envelope. The largest of these was the new Bangkok international airport at Suvarnabhumi in which Thaksin's wife and other family members were alleged to have considerable interests. Rumours of cost cutting and the use of poor quality materials in order to increase the size of the brown envelopes surfaced together with assessments of the foundation depth and quality of the runways which were reported to be cracking with fears of a collapse if a heavily laden jumbo made a heavy landing (they were later found to be untrue).
Such was the febrile atmosphere in Bangkok in 2006. Thaksin, who by now must have thought of himself as beyond reproach or parliamentary recall, decided to front it out. However protests, led by PAD, soon swelled to tens of thousands who occupied the area around Government House in Bangkok. They consisted of both working-class and middle-class Bangkokians and included prominent social figures, academics and students. In other words the very people who had forced the original electoral changes to Thailand and hence created the conditions for Thaksin to assume power in the first place and who were now horrified at what he was getting away with.
In February 2006 Thaksin called a snap election which the opposition parties boycotted. Even though he won handsomely PAD called on the constitutional court to annul the elections due to bribery of smaller parties by Thaksin's TRT party. On 8 May 2006, the Constitutional Court ruled 8–6 to invalidate the April elections based on a technicality (the awkward positioning of voting booths). The ruling was called a landmark case in "judicial activism." The Democrat Party, which had boycotted the April elections, said they were now ready to contest an October election.
However in September 2006 the Army stepped in and launched a coup in order to bring order into the political chaos. What was interesting about this coup was that there was none of the 'shoot first and ask questions later' running street battles of previous coups. But was instead the sudden non violent appearance of troops (and tanks) on the streets of Bangkok. It has been called the velvet coup because of its lack of violence and its undoubted support by the urban middle class who gave the soldiers flowers. The coup was largely peaceful except that, over the new year period of 2006/2007, several bombs exploded in Bangkok, killing and wounding a number of bystanders. General Surayud, one of the coup leaders, accused "those who lost power as a result of the military takeover" of masterminding the bombings, but did not directly identify Thaksin.
The gossip in Bangkok (Bangkokians are great gossips) was that they were set by the police, who were upset at the loss of their political patronage and who were making a point by tweaking the junta's tail. These rumours seemed to gather momentum when the police decided not to investigate them and, indeed to date, no-one has ever been charged with setting them. When pressed the police vaguely mutter about suspecting 'Muslim Terrorists' who had escalated their insurgency from the south. But very few people believed them as the very tiny number of insurgents hadn't the logistical capability, nor any reason, to escalate the conflict outside their four provinces in the deep south.
Meanwhile the Army announced a timetable for the resumption of democratic elections after a suitable (2 year) breathing space to allow new political parties to be formed and for an orderly election to be fought. This was a new more pragmatic Army, more in tune with what the people wanted. It still saw itself as one of the two main stabilizing factors (together with the Monarchy) that underpinned the country and ALLOWED it to have a democratic system. Indeed Thailand was, and pretty much still is, the only working democracy in this corner of South East Asia and even the most jaded western observer has to admit that the King's deft touch, plus the judicial use of unstated but self evident force, were what pulled the country back from the brink of Political chaos on a number of occasions.
The one jarring note, that has been noted by western political pundits, was the reforming (yet again) of the constitution taking away some of the liberal democratic safeguards that the liberal left in Bangkok had fought (and died for) in the 1970s. Plus the military appointed government pushed forward a series of hastily cobbled together laws in the closing days prior to the election. Indeed given the sheer number of bills that were voted through on the nod, over the period of a single week, MPs could only leave the chamber when authorized to make sure they were present to give a chimera of legitimacy to the proceedings. The most contentious of these new laws were to do with tightening up of the already harsh internal security measures so the army had the legitimacy to step in if the political situation again deteriorated.
Whilst in power the military junta which later called itself the Council for National Security (CNS) appointed a constitutional tribunal which dissolved Thaksin's Thai Rak Thai party for electoral fraud banning him and TRT's executives from politics for five years. The CNS-appointed Assets Examination Committee also froze the Thaksin family assets in Thailand, totaling 76 billion baht ($2.2 billion), claiming he had become unusually wealthy while in office which was confirmed by the courts who found him guilty of four out of five counts of policy corruption, and ordered that 46 billion in his assets be seized. The remaining 30 billion continues to remain frozen and has, ultimately, led to the present conflict that has taken place in Bangkok.
In the December 2008 elections Thaksin's reborn TRT party in the guise of The People's Power Party (Phak Palang Prachachon or PPP – which was formed by Police Lieutenant Colonel Garn Tienkaew) took power as part of a coalition (note that despite what western media were asserting they did not win an overall majority) with the former Bangkok governor Samak Sundaravej, who later declared himself as the 'nominee' of Thaksin Sinawatra, and former TRT Cabinet Minister Surapong Suebwonglee being elected as the PPP leader and secretary general respectively.
Samak Sundaravej, like Thaksin a Chinese-Thai, was credited with firing up the village scouts and the police through his extreme nationalistic radio broadcasts during the Thammarsat protests and as such was viewed as partially responsible for the 1976 massacre. Now he'd suddenly reinvented himself as a cuddly media friendly lefty (he had his own cookery show on Thai television). Bangkokians were in no mood to swallow it, particularly as the PPP appeared to want to grant amnesties to disgraced TRT members including Thaksin via constitutional changes, and so the yellow shirt PADs undertook a series of sit ins, first in government offices and then in the country's airports, in protest.
These protests, did untold damage to Thailand's precious (8% of GDP) tourist industry as well as the country's world standing (face) and so the constitutional court was again brought in, resulting in both leaders in the PPP being banned from office (Samak for conflict of interest because of his cookery show and Surapong for electoral fraud) moreover the PPP itself was disbanded for widespread vote rigging and electoral corruption.
But the most divisive thing was that PAD believed that poor rural farmers weren't educated enough to be allowed a vote and therefore they called for 70% of MPs (i.e. those representing the poor) being appointed instead of elected. This undoubtedly did not sit well from the poor's viewpoint and added grist to an already seething mill.
It was against this background that the second largest party, the Democrat party (despite its name – the G.O.P of Thai politics with its power base in the central south including Bangkok and the heavily industrialized eastern seaboard), were asked if they could form a government. Over the past week the western media have been asserting that their youthful (and more importantly clean) leader Abhisit Vejjajiva has never been elected; but the truth is that he was indeed elected, in fact his party secured 171 seats in the (current) 465 seat parliament against the PPPs 189. And so in asking him to form a government when the current ruling party had been banned was a legitimate democratic convention by inviting the smaller parties to help form a government (borrowed as it was from the British political system) which, in scenes of political arm twisting and allegations of money changing hands, they duly did.
It could be argued, and often is, that if the ruling PPP hadn't been dissolved then the Democrats would not have gained power and, as such, it is one of the major bones of contention and yet another yoke Abhisit is labouring under. Both parties accuse each other of electoral fraud, ballot rigging and voter bribery and there is more than an element of truth in it but this is the nature of Thai politics. In the west politicians buy votes using pork barrel politics, by pushing government money at their core voters, whereas in Thailand it's more direct with budding politicians standing outside polling stations with bundles of banknotes. It's just that the PPP were, conveniently, seen to go beyond the pale with their electoral maneuverings.
The problem for Thaksin is that the new administration is actually quite successful in a quiet understated way. Indeed Abhisit has 'performed a Thaksin' by enacting a series of measures (such as a 2,000 baht handout and free buses for the poor, plus subsidized fuel prices) that helped Thailand to bounce back from the global financial crisis.
This leads us to the present crisis; played out so dramatically on our TV screens over the last couple of weeks.
What worries the old TRT/PPP alliance (under the guise of their new party called the Pheu Thai Party) is that if Abhisit gains genuine electoral support because of his economic policies then they might not win the next election. Meanwhile there are two key dates rapidly approaching which Thaksin is dreading. The first is that the confiscation of his frozen 30 billion will take place in September and second (and more important event from a Political viewpoint) is that the promotions board for the Army (which is in the gift of the current government) is coming up in October with the fear of more democrat leaning Generals being appointed.
From Thaksin's viewpoint this is a legitimate fear given that he had used the very same convention to promote his cousin, General Chaiyasit Shinawatra, to Army commander-in-chief.
These fears, together with the PAD protests, led to the formation of a left leaning group calling itself the National United Front of Democracy Against Dictatorship (UDD) who all adopted a 'uniform' of red shirts to counteract the yellow shirt PAD supporters. The group first rose to prominence during Songkhran (the 'water festival' or Thai new year) in 2009 when they violently disrupted the Asean conference being held in Pattatya culminating in them storming the hotel where the conference was taking place causing the delegates to flee, indeed Abhisit himself came under attack by the mob who smashed the windows of his car.
As is expected this was a huge loss of face for both the PM and the country. But it was just the start.
In March of 2010 the red shirts announced that they were going to mass in Bangkok to stage a 'peaceful' protest. The leaders confidently predicted that the turn out would consist of more than 100,000 people but in the event the total number was under 10,000. Rumours are that Thaksin was bankrolling the protest to the tune of 200 baht (about 4 pounds) per person per day and one of the red shirt leaders, renegade Major General Seh Daeng (Khattiya Sawasdipol) who organized the defences of the red shirt camp, was photographed meeting with him. Against this backdrop it was announced that 6,000 assault rifles, ammunition and explosives had been stolen from Engineering Regiment 401, part of the 4th Army Engineering Battalion, in Patthalung.
The increasingly nervous citizens of Bangkok looked to the government to do something which they duly tried to do by attempting to restrict the numbers of protestors (by threatening bus companies with losing their licenses if they ferried red shirt supporters from the provinces) and by shutting down, or censoring, local community radio stations and websites which were felt to be fermenting trouble.
At first the protestors targeted government offices (much the same as the PAD did the year before) but later moved into the very well heeled diplomatic/up market shopping area of Bangkok in order to highlight their ideological differences.
And there they stayed, much to the dismay of Bangkok residents who felt that the government had allowed the protest to continue for too long. But Abhisit's government was caught between a rock and a hard place because if they wanted to gain electoral success, and a genuine mandate, then they couldn't be seen to be condoning a bloody crackdown. And to Abhisit's credit he managed to keep the army on a leash, despite the police's failure to contain the protest (they retreated unequivocally when confronted), and the increasing provocation, aimed at the Army, undoubtedly orchestrated by Seh Daeng. Abhisit even offered to capitulate, in part, to the red shirt's main demand, for an immediate dissolution of parliament, with an offer to call new elections in November (after the Army promotions were safely out of the way) an offer which the red shirt leaders (spurred by an increasingly nervous Thaksin) spurned by making further demands.
There had been violent incidents during the protest with a number of demonstrators killed in bloody clashes but the catalyst for the final violent show down came when Seh Daeng was shot dead by a sniper, whilst giving an interview to the foreign media. Immediately fingers were pointed at the Army as the culprit, as they'd lost enormous face as Seh Daeng was still a serving officer, but despite the promise of an open enquiry the culprits are very unlikely to be brought to justice as it'd prove to be politically explosive whoever it was. The truth of the matter is that his death drew the poison from the protest by bringing it to a head and future historians will probably conclude it was exactly the right thing to do under the circumstances.
From that point on the violence increased with reports of armed 'black shirt' enforcers taking high powered weapons and RPGs to the streets where they, allegedly, attacked transport links and shopping malls. These people, the self styled red guards, were not typical red shirt protestors but were, reportedly, made up of the 'fist for hire' gangsters that can be found everywhere in Asia policing the illegal brothels and gambling dens dotted around the capital. Meanwhile genuine red shirt youths, fired up by the speeches being given on the main stage in the protestor's camp, tried to provoke the Army into retaliating with indiscriminate slaughter.
But much to the Army's credit when they eventually did put their plan of clearing the protest camp into action there was relatively very little bloodshed given how high tensions were running. Most of the camp dispersed peaceably taking the free busses that the government supplied (but only after they'd surrendered their National ID cards) to go home but the renegade black shirts decided to embark on their pre-planned mayhem.
According to a British red shirt supporter (Jeff Savage of Tonbridge in Kent) Central World (the second largest shopping mall in Asia and undoubtedly the most up-market one) was well stocked with incendiary devices and gas canisters long before the final action. In other words the conflagration was pre-planned as a cheap shot to get the world's media attention, which it undoubtedly did, and would have happened whatever the outcome. This was a shock and awe tactic to show the residents of Bangkok that they weren't safe and at a very low cost in terms of resources needed (men on motorcycles set the fires and fled within minutes) but very high in terms of both the loss of prestige of Thailand as a nation and fear amongst the residents.
One abiding image I have of this conflict was the look of outright fear on ordinary people's faces as they watched events unfold on one of the multitude of televisions that had magically appeared everywhere in shops, offices and factories. This was a country that had lived cheek by jowl with Pol Pot's Cambodia and they feared what could happen to their country and, indeed, themselves if a red tide was unleashed. As a foreigner I could leave but this was their country, they had nowhere else to go.
The burning of the buildings in Bangkok was primarily symbolic. The majority of them had no strategic importance (aside from the torching of the Narcotics Bureau) and they were burned as sort of a 'I'll be back' warning to the comfortable heeled urbanites that this was far from over.
So what will the future bring?
There is no doubt the country has major problems. For a start there are the border clashes with Cambodia over a disputed temple, there is the insurgency in the south, tourists are staying away (last week only 10,000 tourists arrived instead of the expected 200,000) and the political unrest is spooking foreign investors. They have communists (Laos) and a barely functioning oligarchy (Cambodia) on one side and a rotting and corrupt right wing military dictatorship on the other (Myanmar) and the Wa national army in the golden triangle in the north of the country is still flooding the country with drugs like heroin and meth amphetamine (called Yaba or crazy drug in Thailand).
But of more concern is that the beloved King is ailing.
Speak to any Thai, rich or poor, and ask them if they fear for the future they say: "No we have the King." And they genuinely believe it. Westerners cannot begin to fathom the reverence that every Thai person holds their King in. You can see it in their eyes. It can genuinely be claimed that he is the people's King that has steered his turbulent country through any number of political storms into being the most prosperous nation in South Asia. He has followed in his illustrious ancestors in having a deft and insightful touch that has steered Thailand well clear of the mayhem in neighbouring countries.
King Bhumipol, or King Rama IX, has sat on the throne of Thailand for almost 64 years after being plucked from Switzerland in 1946, where he was studying law, in order to the take the place of his brother, King Ananda Mahidol, who had died at a tragically early age. He returned to Switzerland to continue his education, switching his major from law to politics in order to help prepare himself to meet his country's needs. In 1948 he almost died in an horrific car accident that cost him his right eye. He was finally crowned King of Thailand on 5 May 1950 at the Royal Palace in Bangkok where he pledged that he would "reign with righteousness for the benefit and happiness of the Siamese people".
Since then he has only intervened when Thai politics have gotten out of hand – most notably in 1992 when he summoned Suchinda, the military PM of Thailand and the leader of the pro-democracy movement, retired Major General Chamlong Srimuang, to a televised audience, and urged them to find a peaceful resolution. At the height of the crisis, the sight of both men together on their knees made a strong impression on the nation, and led to Suchinda's resignation soon afterwards. The majority of the time he has declined from intervening leaving it to the politicians to sort out their differences and only being the final arbiter when they couldn't agree.
Thais take comfort from the fact that as long as they have their King nothing evil can befall them and so his continued ill health is a cause of major concern throughout the nation. Indeed the Thai stock exchange peaks and troughs with news of his well being.
And it's against this backdrop that political opportunists are using Thaksin's personal vendetta to hide behind to further their own ideologies. Indeed Thaksin is becoming more of a Bin Laden figurehead (and banker) to the movement as things spiral out of his control. For instance according to the Asia Times one of the red shirt protest leaders is Therdpoum Chaidee, a former Hanoi trained communist, who says that the Red Shirt strategy has required violence, or at least the threat of violence, to divide and immobilize Prime Minister Abhisit Vejjajiva's government. According to him: "The revolution walks on two legs. One political leg and one army leg. Violence is the essential ingredient in the mix. That is what we were taught." Therdpoum says that he has given up being a communist but if it quacks like a duck…
There is no doubt that to the (Chinese backed) communists Thailand is a ripe plum being as it is the hingepin of South East Asia. If Thailand fell then Cambodia would undoubtedly follow and pressure would be asserted against the detested regime in Myanmar probably bringing that down too (the Chinese are only supporting the junta there because of the huge diaspora they have in the country – put plainly they are paying off the Burmese Generals because they don't want their kinsmen back) and then the big prize. India.
And on the wider geopolitical front; America's nightmare.
The US and Thailand have had an extremely warm relationship ever since World War 2. Thailand was the base for most of the heavy bombers used in the Vietnam war and Thai soldiers fought (The King Cobra regiment) alongside Americans (they had to be the only Army in history that returned with more people than it went with after the soldiers married their Vietnamese sweethearts and brought back their offspring). Even to this day, despite some diplomatic eyebrow raising the two countries have an excellent diplomatic, military, intelligence and (up to now) political relationship. For example U Tapau – one of the main US air bases during the Vietnam war and the reason for Pattaya existing – was where US terrorist suspects from all over Southern Asia were rendered (the videos of which were destroyed in the basement of the US embassy ahead of a congressional fact finding committee's visit).
If Thailand did fall the US would lose the majority of its influence in South East Asia. There is a large US contingent in Cambodia but they're mainly spooks (everyone has intelligence agencies operating there; even the Kiwis and the Israelis – in fact it came to a spectacular head in, of all places, the foreign journalist's club in Hong Kong when Mossad outed a couple of Kiwi spooks who were using the cover of an anti-pedophile NGO to perform covert missions) besides, strategically, Cambodia has no real relevance.
On the other hand there is no way the US could intervene militarily as that'd give traction to the nascent communists and allow their comrades (Vietnam or China they're not fussy) to bankroll the uprising. And bringing in the UN, as some have mooted, would only entrench the conflict.
In fact it is difficult to see what intervention the US could undertake. Thailand is a relatively wealthy nation and it is quite capable (and creditworthy) enough to bankroll its own social projects – or to put down unrest. It has a well trained military perfectly able to put down a ragbag coalition of political chancers, especially out in the countryside where no one is watching, but what it doesn't have is a credible government.
Abhisit is looking like a lame duck at the moment. He is being criticized for allowing the protests to go on too long (no other government would have tolerated the commercial district of their capital city being closed down for months) and for the wanton destruction afterwards. The pity is that he was starting to show considerable promise, his economic policies were starting to bear fruit and he has an almost teenybopper following amongst the female vote, being strikingly good looking is a considerable advantage in a country where appearance matters so much. And above all he hasn't got the slightest whiff of corruption about him.
From a wealthy well connected family (his father was the President of Mahidol University – Thailand's finest Scientific University and named after the King's father Prince Mahidol who is acknowledged as the father of modern Thai medicine). He was born in Newcastle (yes THE Newcastle – does that make him a Geordie?) he was indeed educated at Eton and Oxford where he was a contemporary of David Cameron and has the same easy charm that both Clegg and Cameron have. But he has also showed some steel with his policies to thwart activist propaganda. He isn't much of an orator though, unlike Thaksin, so he mainly makes appearances and issues statements so other than by looks and a squeaky clean image he can't rouse the crowds.
It'd be a shame if he didn't see out the remainder of this parliament though. But he has to act fast so in the next few weeks we should expect to see some social policies being put down on the table pitched directly at the people of Isaan. One such scheme is the canal and irrigation system Samak's PPPs had proposed. Ok it'd be expensive but the US could chip in calling it the 'freedom canal' or some such guff. Good PR in an area where people are starting to wake up to what their vote actually means. This is classic pork barrel wooing and it shows a willingness to use the best methods for the betterment of the whole population, even if they've swiped it directly from the other lot. If he keeps doing that what can the other side offer?
Isaan is where any governmental aid will reap huge political benefits and could swing the whole country away from disaster.
The other redshirt regional stronghold is in a north west with its capital of Chiang Mai, Thaksin's home town. They have long memories over here and Chiang Maians are still feeling irked that the capital of the Kingdom was moved from here aeons ago so there's no love lost between them and Bangkok. The area is lush and temperate – they can even grow strawberries and apples here – and just the sort of place where reds would find a welcome. It is, in short, the Scotland of Thailand complete with subsidies from the south; with Chiang Mai playing Glasgow, right down to its politics. It is not a poor area but it is more ambiguous compared to the relative homogeny of the central plateau with all its various hill tribes who don't recognize the border with Myanmar and still put rings around their women's necks as well as ethnic Burmese, a handful of Nationalist Chinese, a sprinkling of Northern Laotian tribes and obviously some native (as in gone native) Thais. It'll be tricky for the government to win them over.
Isaan on the other hand is harder and more unforgiving place but with a population who could be swayed. There used to be lush jungles here up until a few years ago but slash and burn farming has eradicated them. Now it's like a desert with barely enough rainfall to successfully grow one crop of rice per year. Yet this is Thailand's (and the Philippines') ricebowl and the absolute backbone of the country in terms of both GDP and Exports. This area alone produced that marvelous balance of payments surplus as the farmers here produced a bumper crop during the grain famine last year. The people here, mainly ethnic Lao, lead hard lives. Education, although free and compulsory, is only through to secondary and after that University or trade school fees are beyond the reach of most people. This has led to a lot of youngsters leaving the area to work in Bangkok, both to provide for their families and to, hopefully, further their own education. These are the undocumented 50% of Bangkok, 8 million of them if conservative estimates are to be believed.
And they keep Bangkok humming. They are the construction workers, taxi drivers, garbage men, maids, cleaners, shop assistants and it must be said, sex workers. And every one of them has a dream. This is Isaan's Diaspora which the red shirt leaders were hoping to mobilize, yet didn't.
They just carried on working, in quiet dignity, while mayhem was unleashed around them. And yet these were the people that suffered. I'll never forget seeing the agony in a middle aged woman's eyes as she surveyed the ruins of her shop. This was her life's work – gone in an instant and for what? It wasn't the big store owners that lost out, they'll be compensated, it was the little people, the Isaan people, the girls who worked in the those upmarket boutiques in Central who lost their jobs, the small shopkeeper or noodle seller, the garbage collectors trying to do their job through a hail of missiles and petrol bombs.
They're angry now and it's an ideal time for Abhisit to get them on side. It'd cost little enough. A few laws to stop them being ripped off, properly enforced, would be a start. And as for the people back home. Well they have a whole shopping list:
Put some more money into the 30 baht health scheme as it is woefully underfunded and many hospitals are pulling out of the scheme.
Irrigation and/or boreholes (the water is only 30 feet down in many places) allowing them to have two or even three crops per year.
A guaranteed price for rice (9,000 baht per ton made farmers round me smile).
Subsidized fertilizers and better strains of less nitrogen intensive rice seed.
A coordinated agricultural policy that stops the growing of crops such as eucalyptus (for paper making) which poisons the soil and promotes good agricultural practices.
Actually that is a pretty good start and not particularly expensive when set against the cost of putting down an insurgency.
The people there, distinguishable by their rounder faces, fuller lips and darker skins, are mostly descended from ethnic Laotians that didn't like the look of that communist stuff and hopped over the river. So it is difficult to see them fleeing from one communist tyranny only to create another one in their new home. They are proud to be Thais and they love their King just as much as Bangkokians do.
Meanwhile what about the insurgency itself what happens next?
I asked an Isaan farmer that question and he said: "Nothing."
"Nothing?"
"Yes now it's time to work."
The political fun and games are being put on hold, the rains are coming and there's a rice crop to be planted.