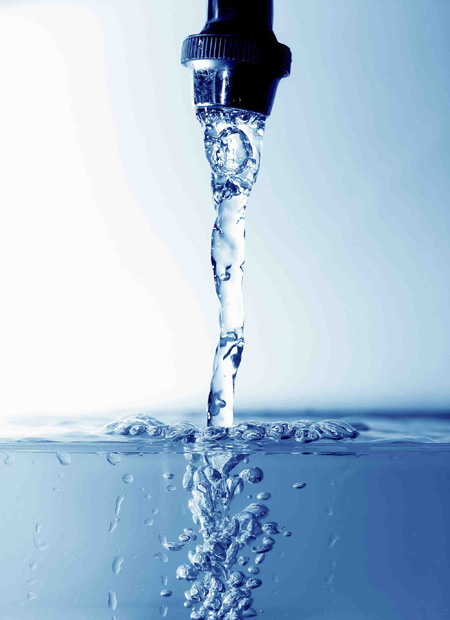 Dear Blog,
Thank-you for being here, you are such a comfort to me.
There I was, minding my own business, as one does when one has an Important Man Doing A Professional Job Around Your House. Especially when it is a French artisan. Especially when you have waited weeks for him to turn up and do something really complicated like cut into a plastic pipe with a sharp knife and then stick another piece of plastic onto the joint with Really Professional Stuff – like plastic glue. French household insurance being as it is, you are not allowed to do really complicated things like this yourself.
More's the pity.
So, all hands duly shaken with suitable expression of gratitude for the Great Man having graced our household, 'proper' coffee served as is 'his' due, and platitudes exchanged, there I was minding my own business, I wandered off to make use of the 'loo' – the better not to be a nuisance when the Great Man demanded that the water be turned off. I know my role in these matters, silly little women musn't get in the way or be a nuisance.
Sitting there quietly, I heard the Great Man's assistant pass by the door to the boiler room, and idly wondered why. A second later, approximately a gallon of water landed on my head and there was a great roar from upstairs. It did cross my mind that under the circumstances, the roar should have come from my own fair mouth, but, making myself decent as best I could, I emerged to find the assistant looking like a frightened big game hunter who had just discovered his gun was jammed.
'Er', I hesitantly started, not my best French, but it generally translates pretty well.
'C'est une urgence', he exclaimed as he rushed past me, pausing not for one second to comment on Madame's water logged appearance.
I followed him upstairs, dripping as I went. Arms were revolving at a rate of knots, the air was blue. M. Le Grand Professional and M. Le Assistant impugned each other's professional reputation with abandon in rapid occitan. Seeing me, they both stopped dead.
Not to apologise, you understand, nor to sympathise. M Le Grand Professional drew himself up to his full height, all of 5′ 4″ of him and gravely informed me that I was to fetch Mr G that instant and inform him that he had obviously driven a nail through the Pipe whilst laying the floor and was to return to the scene of his misdeed immediately.
Now, despite being just a silly woman, even I know you don't end up with a gallon of water on your head within a second of someone turning the water on on the third floor just because of one little old nail.
'Er', I started again. M. Le Professional turned a withering look on me and silenced me instantly. 'I personally checked all the pipes before the floor was laid, all was perfect' he told me. I know my place.
I set off to find Mr G. I wrung my hands dutifully and explained that, ridiculous though I knew the suggestion to be, M. Le P. was of the opinion that the reason my head was soaking wet (was anybody ever going to mention this?) was possibly, just slightly, ever so slightly, the result of a nail, that someone other than him – me even perhaps? – might have put into the floorboards when he wasn't looking. I know my place.
Mr G, looking more like a Bull Elephant than ever, raised his chin a good two inches and set off in hot pursuit of the source of this dastardly slander. They met at the midway point on the stairs. M. Le P. being a good two steps above Mr G, their eyes met and they glared menacingly. 'Tell him there's no nails in the sodding floor' said Mr G. I did. 'Tell him I checked all the pipes before I left' said M. Le P. I did.
I wanted to say that I thought the problem was nearer to the ceiling of the ground floor owing to the quantity and speed with which it had arrived on my head. But you know how it is when you are just a silly woman caught between two unreconstructed non-communicating giant egos. I put the kettle on instead.
From the safety of the kitchen I could hear floorboards – and naturally the lovingly filled and painted skirting boards attached to them, and the newly plastered and feathered to within an inch of their life walls – being wrenched from their place. I went upstairs with the coffee. M. Le Assistant had cunningly camouflaged himself as a door frame. He appeared to have lost the power of speech.
I handed round mugs of coffee with a winsome smile for each. 'Tell him its as dry as a sodding bone, the leaks not up here' said Mr G. 'Er', I started. 'Not now, we're busy' he said. I duly translated, as told, surveying the once pristine room sadly.
They traipsed past me to the first floor. 'When I wuz 'ere before, zee wall there wuz open' said Mr Le P. Obviously he had got fed up with my French and decided to try his own English. 'You said you'd finished, I sealed it up' said Mr G. 'Vat is zis 'sealed' said Mr Le P. 'You must 'ave put nail in wall then' Smarting slightly at Mr G's 'I sealed it up', since it was in fact I who had spent two days on my hands and knees lovingly restoring the ancient wall to perfection, I crept off downstairs.
To the sound of yet another wall being torn apart, toilet removed, skirting board ripped out, I nursed my coffee. Another roar from upstairs. Mr G this time. 'come and tell this idiot the leaks not here either, dry as a bone'.
Mr G was starting to strut the walk of righteous, head held high, quick, determined, little steps.
'Er', I started. 'Not now, I want to find out where this leak is, I'll give him nail through the floorboards, we've got two rooms wrecked now.
'Just maybe, it's where I said it was in the first place' I said to myself under my breath.
They made their way to the ground floor toilet. They ripped the ceiling down. That was the third room wrecked. With gusto, I might add, by Mr G, ecstatic now that there was no question of any nails through pipes. Professional dignity once more thoroughly 'pugned'.
A roar of triumph from Mr G. 'that's the bloody vent you connected it to, tell him'.
'Er, je pense'…..I didn't get any further. M.Le P. and M. Le Assistant were in full flow, blame and counter blame.
What is it with men? They work themselves up into such a lather of naming, shaming and blaming, they don't have time to listen to the voice of the silly little (rather wet) woman.
They've gone now. Mr G has gone off for a pint to celebrate. M. Le P has gone off to drown his sorrows. M. Le Assistant is probably looking for a new job. Nobody even said good-bye to me.
I'm going to dry my hair now. Thank-you for listening blog. It makes a change for somebody to.
October 18, 2009 at 14:56




October 18, 2009 at 14:43




October 18, 2009 at 14:35




October 18, 2009 at 11:31




October 17, 2009 at 10:44




October 17, 2009 at 10:35




October 17, 2009 at 00:45




October 16, 2009 at 23:57




October 16, 2009 at 22:33




October 16, 2009 at 22:24







October 16, 2009 at 22:13







October 16, 2009 at 22:09




October 16, 2009 at 21:36




October 16, 2009 at 21:12







October 16, 2009 at 21:08




October 16, 2009 at 21:05




October 16, 2009 at 20:19