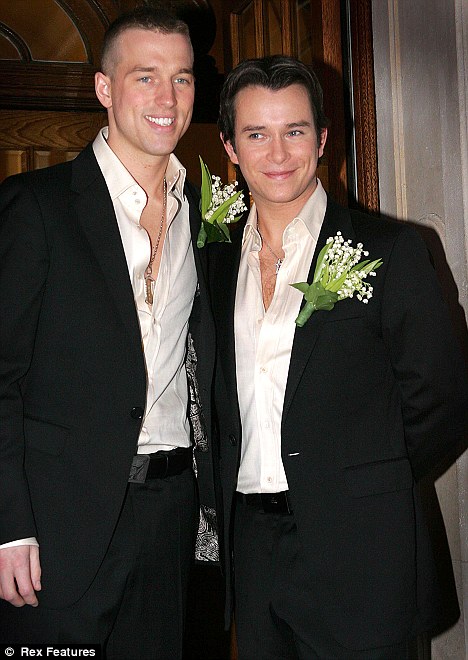 When Stephen Gately's death was first announced in hushed reverential tones on the BBC news, my first reaction was Stephen Who? Never heard of him.
By the time the 'breaking news' announcements had given way to long deferential reportage over the course of the evening, I had gathered that he was some sort of Pop Star. Hardly of the same standing as Michael Jackson, but his death apparently receiving the same coverage. I idly speculated that his coffin would be laid out for the adoring crowds on the fourth plinth at Trafalgar Square. You could sense the mounting hysteria.
I had, of course, missed the vital ingredient of this story. Stephen was Gay. A Pink Princess. That changes everything.
Heterosexual Princess' can die in Parisian underpasses and the world may speculate as to the cause of their death, the nature of their sexual relationships, their last menstrual cycle; no need to cloak any claim in innuendo, the raucous cry of 'free speech' precedes every last intimate detail as it is chewed over by the rabid blogs of war.
A Pink Princess returns from a nighclub with her husband at 4.30am, accompanied by a third party, she so drunk that apparently the only solution is to climb into her pyjamas (that drunk, huh?) and sleep alone on the sofa whilst husband and third party take to the marital bed. She is then discovered 9 hours later squatting in a 'praying position' with her lungs full of fluid. This is a 'natural death' and any further speculation is greeted with hysterical outrage.
Jan Moir of the Daily Mail, not someone I habitually read, was brave enough to face down the pink posse and point out that had this been a heterosexual couple, none of this would have been described as normal. She is paying a high price for her temerity this morning. Marks & Spencers, mindful of the pink pound, has demanded that their advertisements be removed from the page on which her article sits bravely defending her right to free speech. They are not alone.
Free speech has its limits, and mightily politically correct limits they are too.
I well remember a crowded London dinner party some years ago at which at least half the couples present were openly gay. The exquisitely masculine half of one such couple began, uninvited, to discuss the recent claims from California that homosexuality was 'genetic'.
Prawn cocktails lay half eaten as we listened in polite homage to free speech, to a monologue on how 'even aged 7′ he had known that that the 'taste and smell' of a woman's vagina would be 'disgusting', and he could never countenance entrusting his precious penis to such an orrifice. At 7? No one argued. No one queried the 'taste and smell' of the orrifice he did entrust his precious penis to, nor attempt to stop him or his fellow 'believers' as they gleefully extolled the delights of their chosen lifestyle, which memorably included insight into the world of voyerism otherwise known as 'the window on the world' carefully chiselled into the wall of our local public toilet, or cottage, as we were now educated. We all knew we would be dennounced as 'homophobic' if we dared to even change the subject, much less term it 'gynophobic'. I've never been really keen on prawn cocktail since.
Jan Moir's free speech has apparently attracted 'record complaints', after an extraordianry internet campaign, led by Stephen Fry and Derren Brown who have a million plus following on 'Twitter'. Over 1000 of their devoted followers have complained to the PCC regarding alleged homophobia. The details of advertisers on her page were posted on a Facebook group called 'The Daily Mail should retract Jan Moir's hateful, homophobic article'. Jan Moir's home address was posted, in a disturbing act of cyber-bullying.
Today, Jan has been forced to issue a 'clarification' of her words.
"When I wrote that 'he would want to set an example to any impressionable young men who may want to emulate what they might see as his glamorous routine,' I was referring to the drugs and the casual invitation extended to a stranger," she said. "Not to the fact of his homosexuality. In writing that 'it strikes another blow to the happy-ever-after myth of civil partnerships' I was suggesting that civil partnerships – the introduction of which I am on the record in supporting – have proved just to be as problematic as marriages."
It would seem that 'the internet' only wishes to support 'free speech' for certain views.
It is quite willing to suggest that censorship should be supported, nay encouraged, for views which may well represent the majority of citizens, but do not accord with the world view that the shrillest voices wish us to hold.
Unlikely though it is, were I ever to return from a Majorca nightclub at 4.30am, sober enough to put my feet into the right legs of my pyjama bottoms, but drunk enough to countenance my husband taking a perfect stranger to our marital bed, leaving me to unsuccessfully fend for myself on the sofa, I trust Jan Moir will still be brave enough to point out that regardless of the coroner's decision, that there is something 'abnormal' about this definition of 'normal' marriage. October 20, 2009 at 22:07




October 19, 2009 at 13:28




October 18, 2009 at 17:51




October 18, 2009 at 16:24




October 18, 2009 at 14:31









October 18, 2009 at 05:18







October 17, 2009 at 23:52




October 17, 2009 at 23:03




October 17, 2009 at 20:03







October 17, 2009 at 19:39




October 17, 2009 at 18:15







October 17, 2009 at 16:54




October 17, 2009 at 16:50




October 17, 2009 at 16:36







October 17, 2009 at 16:33




October 17, 2009 at 16:13




October 17, 2009 at 15:56




October 17, 2009 at 15:53







October 17, 2009 at 15:40







October 17, 2009 at 15:34







October 17, 2009 at 15:33




October 17, 2009 at 15:25




October 17, 2009 at 15:25







October 17, 2009 at 15:18







October 17, 2009 at 15:07




October 17, 2009 at 15:03







October 17, 2009 at 15:03







October 17, 2009 at 14:58







October 17, 2009 at 14:50




October 17, 2009 at 14:46




October 17, 2009 at 14:41




October 17, 2009 at 14:41







October 17, 2009 at 14:15




October 17, 2009 at 14:14







October 17, 2009 at 14:10







October 17, 2009 at 14:05







October 17, 2009 at 14:05




October 17, 2009 at 13:58




October 17, 2009 at 13:52










October 17, 2009 at 13:47




October 17, 2009 at 13:31




October 17, 2009 at 13:26







October 17, 2009 at 13:09







October 17, 2009 at 12:53







October 17, 2009 at 12:52







October 17, 2009 at 12:03




October 17, 2009 at 12:02







October 17, 2009 at 11:48