Cameron's Three Card Trick.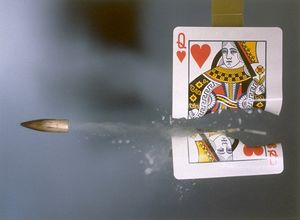 When 'Call me Dave' said that he owed it all to one lady – and the BBC cameras homed in on Samantha Cameron, it was yet more evidence that those with the biggest interest in sustaining the current system – the BBC, the Westminster village, the media and particularly the political parties, including this one – are the groups most in denial about what is really happening to our democracy.
The lady we should have been watching for was the Queen of Hearts, hidden beneath the twirling cups in the three card trick that Cameron has so successfully played out in front of a willing audience.
With Ken Clarke, the Euro Beast, safely tethered in the corner, he loudly condemned 'big government'- and how we cheered, yes, me too. We assumed that he was just referring to Labour 'big government'. Listen carefully though.
The Labour party hasn't represented 'big government', it has represented pettifogging, nannying, interfering Clogthorpe Councillor, can't resist pulling whatever lever we can reach, hyperactive, undisciplined, bored children – in between rubber stamping the decisions of the real 'big government'.
The European Parliament. The European Community.
Cameron said:
"We need to redistribute power and responsibility. It's your community and you should have control over it. So we need decentralisation."
Decentralisation of the 'community' is precisely the aim of the EU. No wonder Ken Clarke beamed benignly.
No more UK Parliament playing at 'big government' – instead the United Kingdom split into eight parts – with Wales and Scotland conveniently left intact.
'Call me Dave' wants to work together "on the things where the EU can really help, like combating climate change, fighting global poverty and spreading free and fair trade" – all well and good – but his next sentence bears closer inspection.
"But let's return to democratic and accountable politics the powers the EU shouldn't have."
An honest statement would have told us whether he was proposing that power being returned to the UK Parliament – that is what we are invited to believe that he meant – but his three card trick leaves us wondering. The only statement we can tie this snippet to is his previous, deviously opaque, claim regarding 'decentralisation of the community'.
And 'with one bound he was free', back to the folksie homilies of children and health care. Ken Clarke grazing peacefully in the corner. Just waiting.