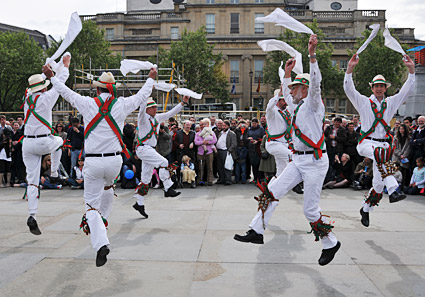 It's Party Conference time again and the politicians and policy makers are sound-biting and persuading, flag-waving and chest-beating, egotistically eulogising and I'm afraid I just cannot take it seriously.
I tried to listen as Tessa Jowell 'bigged-up' the looming 2012 London Olympics with her assurances that the event would employ gerzillions of people and bring trilligerzillions' worth of investment, interesting and financially-rewarding tourists, pan-cultural benefits and glittering success to this tiny island of ours.
As she spoke I remembered with awe the vivid and professional pageant that was Sydney's 2000 offering; I recalled Athens in 2004 at which the organisers achieved the unachievable and bettered Australia's show; better still was Beijing's jaw-droppingly spectacular display (marred only by the bit at the end when a rubbish London Bus carrying a helium-voiced Footyballer trundled round the stadium and some lumpen groovesters hopped about with brollies).
Even as Tessa's emotive and persuasive words rang in my ears, I soon found my rheumy eyes had glazed over and I pondered how we might expect to see Great Britain championed at our own Opening Ceremony….
A pogo-stick display by The Cirque du Solihull?  Dog-fights in a Lidl car park?   Concentric circles of youngsters queuing at the Job Centre?  Morris Dancers?  A display of synchronised stabbings?   Politicians helping themselves to fistfuls of money from the public purse as Royal Mint canons fire Quantitatively Eased monopoly money into the crowd?  Speed cameras?  Tony Blair?
I have a sneaking suspicion that the grand procession of athletes will be held up by extensive roadworks half way round the stadium and I shouldn't be surprised if the ubiquitous Myleene Klass gets asked to plonk smugly away on the piano while the equally over-promoted Katherine Jenkins warbles a medley of Rice/Lloyd-Webber numbers.  We'll probably get a whole day put aside to celebrate The Beatles…..
Suggestions on a postcard please, before it's too late ….