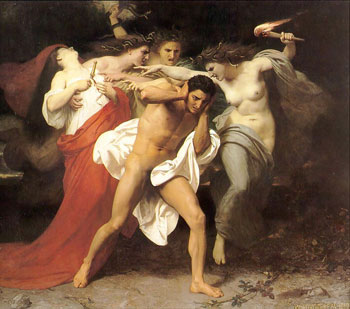 Orestes pursued by the Furies by Adolphe-William Bouguereau
In the Eumenides there is a passage redolent of the current trend for avenging 'wrongs' that are perceived not to be addressed by the legal system.
If this legal action triumphs,
if now this matricide prevails,
then newly set divine decrees
will overthrow all order.
Mortals will at once believe
that everything's permitted.
From now on parents can expect
repeated blows of suffering
inflicted by their children—
now and in time yet to come.
Fundamentalist Muslims gather on the Jihad sites wailing for a Western head on a platter in compensation for their dead brethren; vigilantes congregate on the Baby 'P' 'mourn porn' sites demanding self-righteous retribution against those not perceived to have been sufficiently punished by the law; an hysterical mob flits from forum to forum in salivating pursuit of the latest rumour that the McCann's have been at least insulted, perhaps defamed, poked, prodded, or otherwise disturbed as Madeleine waits patiently for justice.
The 'Furies' that pursued Orestes claimed that most ancient of legal concepts, Natural Law, as do the Forum Furies, but it is not a law that they claim to take into their own hands, but lawlessness. The lawlessness of the lynch mob in the Southern States, the knee capping of renegade mobsters in Northern Ireland, the burning tyres placed round necks in Southern Africa. We condemn these acts as being those of primitive societies, in truth, Natural Law is no more than private vengeance.
The language of the Forum Furies is invariably that of religion. 'in Allah we trust', 'an eye for an eye', phrases like 'have faith', 'God willing' punctuate the calls for physical violence – 'I'd castrate them', 'Burn their house down' – in seeming ignorance of the fact that the Bible was an early supporter of the need to protect wrongdoers from the vengeance of the mob. It was God himself (allegedly!) who said to the frightened Cain, banished to the land of Nod for murdering his brother, 'Therefore whoever slayeth Cain, vengeance shall be taken on him sevenfold' – and the Lord set a mark upon Cain, lest any finding him should kill him.
The Forum Furies claim 'free speech' as their talisman to guide their righteous path, but free speech will never encompassed defamation and libel. Free speech is protected in most Western countries to allow you to express an opinion, not to express someone else's opinion as fact. It is a dividing line that appears little understood.
Prior to the invention of the Internet, and the concurrent media fuelled circus that followed the death of Princess Diana, there was little opportunity, outside of the snug bar of your local public house, for the hate-fuelled, psuedo-emotional display of invective that is now routinely swapped on the Internet.
Reason replaced by emotion, behind the twitching international net curtains of Internet anonymity.
Inevitably, there will be someone who will make the journey from forumland to direct action; from armchair Jihadist to Assiette de la tête; from pyjamahideen to suicide bomber; from exponent of free speech to evangelical slayer of negligent parents.
Athena, the goddess appointed to mediate between Orestes and his avenging, pursuing Furies, said to them "You wish to be considered righteous, but not to act with justice."
The Eumenides continues:
But these Furies also have their function.
That's something we just cannot set aside.
So if they fail to triumph in this case,
they'll spread their poisonous resentment—
it will seep underground, infecting us,
bring perpetual disease upon our land,
something we can't bear. So stands the case.
There is a place for campaigning free speech, to continue to illustrate the injustices which can occur under our fallible legal system. It is one that we conduct outside of the rules of our legal system at our peril. The law exists to protect all of us from the antics of criminals, we cannot pick and choose who are the criminals – the criminals are those who break the law for whatever reason.
Baroness Scotland and the Labour Government would do well to ponder why we have this growing tide of individuals who have no respect for the law.
3,000 new laws in 10 years, many created to promote a social ideology, and an Attorney-General who feels that breaking them is 'an administrative matter' will not turn back the tsunami of individuals who feel that the only recourse open to them is to support a return to the mores of primitive society.