"and with one leap Jack was free"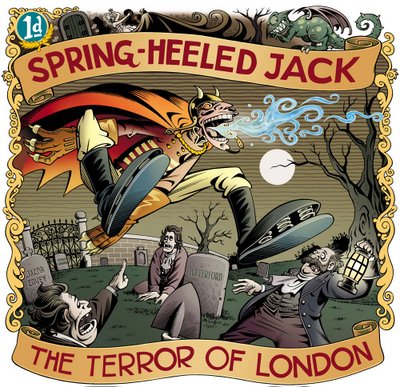 Peter Mandelson, the Business Secretary with an interest in innovative computer technology, has, in the blink of a scaly binary eyelid, moved to the right of the decimal point – from protecting the interests of No 10. to protecting the interests of No 1.
On the eve of the Labour conference, already reeling from the Tonga v Scotland match played out in the Sunday papers to a rapturous audience, Spring Heeled Jack has plunged the dagger deep into the heart of Nu-Labour by threatening to join the Conservatives in their 'broad tent government' – a tent that would dwarf his previous grandiose effort, the Millennium Dome, were it to accommodate the ultimate political animal.
"We are building a broad coalition but including Peter Mandelson may be stretching it," said a Tory source.
The 'Unelected Ego' is not called the 'Prince of Darkness' for nothing. Having stowed himself away so successfully on the SS Old Labour, and re-emerged as Captain of the slowly and deliciously sinking SS Nu-Labour, he is now seeking passage to the colonies on the SS Conservative, so determined is he to cling to the helm of the great Ship of State.
Mehdi Hasan was sounding off the other day about the 'right-wing echo chamber' that was supposedly feeding misinformation to the blogosphere – they don't need to Mehdi, Left wing politicians give us enough direct quotes to keep any blogger happy.
Oh, to be a blogger now that Labour's here, da-dum, diddle-dee, tum-te tum-tum…