The Department of Extrapolated Statistics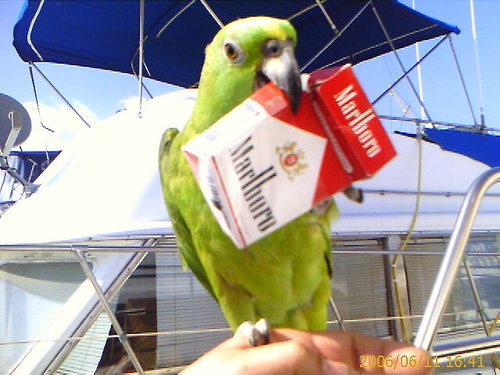 Now hear this! I am immortal! You are stuck with me for ever and ever! No matter how old, wrinkled and 'sufficiently decrepit' I become, I will not die, my arthritic old fingers will never be prised from this keyboard; our 'dead parrot' government has said it is so.
I am not alone, there are 70,000 other souls who have taken advantage of this once in a lifetime offer, we could 'fill Old Trafford football stadium' or '875 double decker buses', although having been made immortal, I would hope that we find something better to do with our time – seducing the entire Old Trafford football team on the top deck of a double decker bus, for instance.
It works like this, you see. The Department of Extrapolated Statistics says that if you quit smoking for a month you count as having 'Quit' – and it was exactly a month to the day that I sat on the floor nursing yet another sprained ankle and decided that the next three weeks immobile with just a packet of frozen peas for company was not to be endured without nicotine. You may struggle to see me through the hazy smoke, you may only know I am here by the heady scent of 'Eau de Tabac', but here I am, firmly in the 'Quitters' statistics.
And yeah! for I did once, in the last ten years, telephone the NHS Stop Smoking Service for a leaflet, so that makes me one of the beneficiaries of the 'UK's cutting-edge smokefree policies' (quote!) and free to announce this morning, like 70 year old Patricia Miles of Brighton:
"I am so thankful that my local Stop Smoking Service made me one of the 70,000 lives they saved."
All I had to do was to stop smoking for 28 miserable days, make one phone call, and I have joined the 7% of the population that this behemoth of a Quango claims to have 'saved the life of'. It is a bargain.
Light my fire, baby, I'm off to make the most of it.