On Lunatics and Left wingers……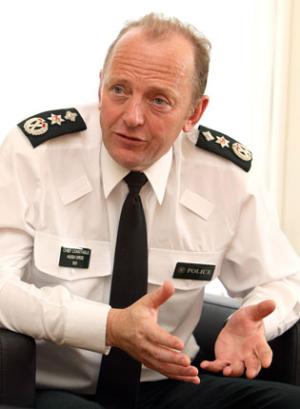 A fascinating interview today in The Independent with Sir Hugh Orde, President of the Association of Chief Police Officers (ACPO), and a powerful vote, incidentally, in favour of supporting the main stream press, for I doubt that any blogger would have been able to bring this man's views to the public in the same way.
Sir Hugh was responding to the suggestion made by the Conservative Party that Police Commissioners should be directly elected, as they are in the US.
What he had to say is alarming enough, but not nearly so alarming as that which he didn't say.
It is scarcely surprising that a man in charge of the unelected ACPO should be opposed to elected Commissioners, I was amused by his comment that this could:
"drive a coach and horses through the current model of accountability."
Indeed, driving a coach and horses through the currently unaccountable model was quite possibly the intention behind the suggestion, Sir Hugh!
It was his articulated 'fears' that struck a chord with me though. Asked whether he feared that a BNP or far-right candidate could seize upon this, Sir Hugh replied:
"Yes, that is a risk. If you have a system whereby anyone can stand to be elected as the local police commissioner, you could have any Tom, Dick or Harriet standing. If they can muster enough support against a backdrop of public apathy, then of course it is a risk."
Note, Sir Hugh made no mention of any fears that a far-left candidate could seize control of a local police force, this idea does not apparently keep him awake at night. Only that a candidate committed to the idea of law and order should be in charge.
I wonder also, how his fellow police officers feel about being bracketed along with lunatics in the following quote:
"Do they think that the public are so interested in policing that they would turn out and vote? And for whom? A politician? Or do they mind if they get a lunatic or a retired copper?"
The BBC headline on this story quotes Sir Hugh as saying 'Met must be free from politics' – immediately after it was released along came the Belfast News with an interview with Sir Hugh – 'Life should mean life – Orde' – where he is described as being the 'first senior policeman to comment on the decision to allow the mass killer, Abdelbaset Ali Al-Megrahi, to fly home to Libya on compassionate grounds'. On the issue of Lockerbie, he added: "I can fully understand why the public would expect someone who committed an atrocity to serve a substantial sentence. Many would expect him to rot in jail.
What to make of Sir Hugh? An unelected leader of policemen who fears that direct elections could put in power those committed to law and order; and a policeman who believes that the Met should stay out of politics, but reserves the right for himself to comment on the deeply political decision to free Megrahi?
Hypocritical, I call it.

2



September 7, 2009 at 13:00


8



September 7, 2009 at 15:07