Suicide – the uneasy option.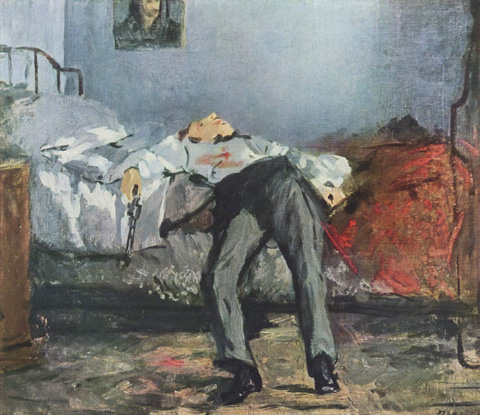 In June this year The Sunday Times reported the death of Cari Loder who, rendered housebound by the progression of her Multiple Sclerosis and fearing that she would be sent to a care home, took her own life using a method she had researched via the internet.  She put a hood over her head and inhaled pure helium until she fell unconscious before suffocating in what is known as asphyxial suicide.
A former lecturer at London University's Institute of Education, Ms Loder lived alone and had previously purchased both the hood and helium online; she also had in her possession a book entitled Final Exit in which information is offered which may help a person end their life more peacefully than if they attempted to jump in front of an unsuspecting train-driver or hurl themselves from the top floor of a multi-storey car-park onto bag-laden shoppers below.
No one can possibly know when Cari Loder first contemplated the idea of suicide: perhaps at the onset of her disease when first confronted with the chilling facts of her a debilitating illness; perhaps not.
In the years before her suicide she was known for her chance discovery in 1994 that a combination of an antidepressant, an amino acid and vitamin B-12 reduced her own symptoms and the treatment became known as the "Cari Loder Regime". She is quoted as saying at the time "One day I had been hardly able to walk without crutches; the next I was able to dance to Top of the Pops."  Fifteen years later her disease had limited her physical capability to the extent that she chose suicide rather than put herself into full-time nursing care.
The article revealed that before her death Ms Loder had also been in telephone contact with Friends At The End (FATE), an organisation the paper described as 'a pressure group in favour of assisted suicide' and subsequently asserted that her death would 'reignite the debate over euthanasia', the tacit suggestion being that these conversations may have influenced Ms Loder's decision to take her life.
Dr Libby Wilson, a retired GP and spokesperson for FATE said of Ms Loder: "Cari was determined to take her life, and she did, without any help from anyone.  She didn't want to confide in anyone because she was afraid she might make them complicit in her decision, and that they would come under criminal investigation. She thought it was monstrous that she had to do all this herself when she should have much preferred to have been able to just swallow something that would put her into a sleep from which she would never wake up."
Just to be on the safe side, police arrested an elderly neighbour who is thought to have walked Ms Loder's dog while she died.
Debbie Purdy's persistent attempts to obtain a bottom-line ruling on assisted suicide have resulted in the Law Lords instructing the Director of Public Prosecutions to issue a policy clarifying the circumstances under which it would be in the public interest to prosecute the relatives of people travelling abroad to obtain a medically assisted suicide.  The DPP, Kier Starmer, QC, is expected to announce the policy later this month.
In the meantime we hear from finger-wagging organisations warning that a change in the existing law would allow money-grabbing and heartless relatives to put thousands of old, disabled, demented or otherwise vulnerable people on the next flight to Switzerland and get their hands on the cash/house/family jewels etc.
It is absolutely right that the law should protect the vulnerable, young or old, from fear or hurt at the hands of those on whose care they rely: statistics published by the NSPCC show that in 2008  35,828 children were subject to Child Protection Plans in England (29,200), Scotland (2,437), Wales (2,320) and Northern Ireland (2,071).  Yet for every baby who dies from violence and abuse, thousands more are cared for with tender love; for every shaken baby, thousands more are held in safe arms.  And though it is vital to consider the vulnerable who may be put under pressure to die from unscrupulous relatives it is also vital to accept that there are other terminally-ill people who are under no such pressure whatsoever and for whom the decision to take their own life is a courageous and entirely independent choice.
Anna's piece entitled The Gold Standard for an Obscene Death was triggered by a letter published in the Telegraph regarding the Liverpool Care Pathway which informed us that "…in 2007-2008 16.5% of deaths came about after terminal sedation…"   Given that all of us can expect to require some medical treatment towards the end of our natural lives, with the current population of the UK at over 60million 16.5% of deaths suggests that 9,900,000 UK citizens might find themselves with enough boxes ticked by medical staff to expect to die under terminal sedation.
Within the forum discussion a junior doctor, Ben M, was good enough to share his knowledge of the Liverpool Care Pathway and was keen to point out: "A patient must fulfil stringent criteria to be placed on the LCP. The idea is that we do everything we can to give a patient a peaceful and dignified death. It is only used when the clinical prognosis is very poor ie less than a couple of days usually, and that they are unable to eat/drink safely or are unconscious (there are other inclusion criteria these are examples)."
Since 2002, in the region of 115 Britons are known to have travelled abroad to secure a peaceful and dignified medically-assisted death at the time of their choice, having also had to meet stringent criteria before being granted the go-ahead and agreeing a date on which they would like to end their lives.  Many more are known to have joined the Dignitas organisation but, having obtained the equivalent of a 'green light', chose not to travel abroad but to die less controversially within the standard care provided by hospitals and hospices.  Some of those who chose to stay at home may even have met the stringent criteria allowing them to be placed on the LCP;  we will never know.
Anna is right when she says that none of us wants to think of death or to discuss it.  The inescapable and shocking truth of terminal illness is ugly, as is the obliteration of one's physical independence by a creeping and incurable disease.  Assisted suicide is also an uneasy and unpleasant topic for discussion.  Yet with the DPP's policy announcement expected shortly, discussions-aplenty we are sure to have.
What our society should now properly debate is that, for some, the prospect of humiliating physical helplessness is an emotional ordeal more terrifying than the fearful option of planning and competently achieving one's own death; any debate should not insult the intelligence of those people who make the huge and difficult effort to secure for themselves an assisted suicide abroad in the face of such a prospect; any debate should credit those people with having made a considered and preferred choice; any debate should not assume that the relatives of those determined to take control of the circumstances of their death are gleefully rubbing their greedy hands together; any debate should concede that they may just as easily be devastated by the fact and grieving doubly at the prospect that, unless they are prepared to risk 14 years' imprisonment, they will not be with their loved one when they die.
For those terminally-ill people determined to die on their own terms, many may be unable to secure a medically-supervised suicide at an overseas clinic, prevented either by physical disability or by financial constraints, and those are the people who will attempt suicide by other means, facing sickening fear and risking failure.
Any debate should at least consider whether a documented discussion between a doctor and a terminally-ill patient at the patient's request could be the first step in an official application to the Coroner to obtain a medically-assisted suicide, providing that 'stringent criteria' are met openly at every stage of the process.
The harsh facts of debilitating disease and terminal illness are stark and frightening, but so too are the practical options of suicide. Ms Loder researched her subject and contacted an organisation which was prepared to talk with her on the taboo subject of suicide as a response to the acceleration of her disease.  In this regard the internet has made such advice as exists on the subject at least readily available to anyone with a computer, yet there is a sense of disapproval that any such practical advice should be shared with those who have made the excruciatingly difficult decision that suicide is the last independent but hugely symbolic statement of choice they will make.
Goria Smudd
Discuss.