The Gold Standard for an Obscene Death.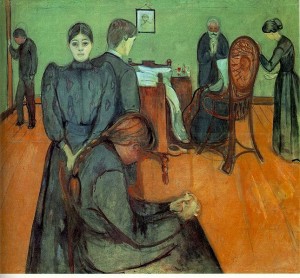 There is a sense in which publication of this letter in the Daily Telegraph was as inevitable as death itself.
I have been waiting for it, or something like it,  to appear since last October when the full function of The Mental Capacity Act 2005 came into operation.
None of us want to think of death, none of us want to discuss it, least of all, apparently, journalists, ancient superstition perhaps; and that is probably why one little known clause in the Act has received virtually nil publicity.
The Act, which was fan fared, to the small amount it was, was described as 'empowering' – now you could choose what medical treatment that you had – note, and note well, not wished to have, but had, at the end of your life.  You cannot actually force the medical profession to give you any particular treatment, but you can refuse to have treatment. Hence, all the Act actually 'empowered' you to do, was to refuse treatment. If you had not taken advantage of the ability to 'empower' yourself by signing a Lasting Power of Attorney, enabling a chosen person to refuse treatment on your behalf, then the Act had cunningly hidden about its person, the ability to use the Court of Protection to appoint an 'officer of the court' – a civil servant or even a solicitor whom you had never met – to, if it decided that you did not have the Mental Capacity to do so yourself, for reasons varying from a congenital inability to understand, to perhaps being unconscious, to refuse that treatment on your behalf.
What the Act never did spell out, was that in England and Wales, food and water administered by a Doctor counts as 'medical treatment'.
Dying of malnutrition – starvation – or lack of hydration – extreme thirst – is a painful and obscene manner in which to die. It has now become the 'gold standard' in end of life care. It has come about because as a nation we refuse to discuss euthanasia or assisted suicide in a reasonable or responsible manner. We become both emotional and obscurist, hiding our true views behind a cloak of carefully crafted language.
The original Lasting Power of Attorney Act came about because accountants and solicitors were alarmed that when their elderly clients became confused they might not be acting legally on their behalf. It didn't come about because anybody wanted to 'empower' elderly and confused old ladies.
The Mental Capacity Act 2005 has been enlarged and updated to include medical care for similar reasons – to provide legal cover for Doctors and Nurses to take the actions they have always taken; but because we wouldn't allow an honest debate regarding euthanasia or assisted suicide, it took the only route open to it – that of empowering Doctors to follow the 'Bland' formula, and starve you to death when you were no longer economically sustainable.
Read this letter, study the statistics – 16.5 per cent of deaths, and resolve not to shut your mind to the subject this time. It will be you next, it will be someone close to you next, and we only have ourselves to blame for ignoring the subject. It won't go away, that is inevitable.
SIR – The Patients Association has done well to expose the poor treatment of elderly patients in some parts of the NHS (report, August 27). We would like to draw attention to the new "gold standard" treatment of those categorised as "dying". Forecasting death is an inexact science.
Just as, in the financial world, so-called algorithmic banking has caused problems by blindly following a computer model, so a similar tick-box approach to the management of death is causing a national crisis in care.
The Government is rolling out a new treatment pattern of palliative care into hospitals, nursing and residential homes. It is based on experience in a Liverpool hospice. If you tick all the right boxes in the Liverpool Care Pathway, the inevitable outcome of the consequent treatment is death.
As a result, a nationwide wave of discontent is building up, as family and friends witness the denial of fluids and food to patients. Syringe drivers are being used to give continuous terminal sedation, without regard to the fact that the diagnosis could be wrong.
It is disturbing that in the year 2007-2008, 16.5 per cent of deaths came about after terminal sedation. Experienced doctors know that sometimes, when all but essential drugs are stopped, "dying" patients get better.
P. H. Millard
Emeritus Professor of Geriatrics University of London
Dr Anthony Cole
Chairman, Medical Ethics Alliance
Dr Peter Hargreaves
Consultant in Palliative Medicine
Dr David Hill
Fellow of the Faculty of Anaesthetists of the Royal College of Surgeons
Dr Elizabeth Negus
Lecturer, Barking University
Dowager Lady Salisbury
Chairman, Choose Life

2



September 3, 2009 at 11:27


5



September 3, 2009 at 14:50


8



September 3, 2009 at 18:00


11



September 3, 2009 at 19:29


13



September 3, 2009 at 20:25


15



September 4, 2009 at 01:13


18



September 4, 2009 at 15:59


21



September 6, 2009 at 19:52