The fanatical few will spoil the freedom of the Internet for the many.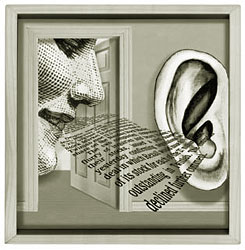 I had woken this morning to the news that Alan Campbell MP is to publish a 'Hate Crime Action Plan' this month in response to concerns about the Internet being a vehicle for a particular variety of 'hate crime'. The Parliamentary Under Secretary for State  has made clear his distaste for those 'despicable websites which bring gross misery to family members and friends of the abducted little girl Madeleine McCann and the late Jade Goody'.
I have long been of the opinion that the unrestrained excesses, apparent on some web sites which have crossed the boundary between a reasonable use of free speech to discuss topical issues within the bounds of libel, (the McCann saga being a highly visible case in point),  and those web sites which encourage a firmly held conviction that only their view is the correct view and that not only is the apparent reluctance of the authorities to prosecute in line with those beliefs a conspiracy, but also that dissenting voices should be silenced by means of intimidation, threats of outing and other 'dirty tricks', would ultimately open the door to regulation which would restrict all users of the Internet and not just those who are unable to accept the right of others to hold a different view.
Sadly, little Madeleine McCann has become the modern day version of the pigs bladder, to be kicked backwards and forwards between rival gangs of 'howling roughs' – an apposite term coined to describe the out of control football supporters back in 1885 who were unable to tolerate the existence of supporters of a rival team – which is equally appropriate to describe the venal depths to which inhabitants of some of the darker recesses of the Internet have descended as they have moved from taking an interest – requested by the McCann family – in the disappearance of little Madeleine, to a firmly held belief that the parents are culpable and that it falls on their shoulders to take both legal and illegal actions to prosecute/persecute her parents in the absence – as they see it – of Government intervention.
Interestingly, no sooner did I start to research the origins of 'football violence' as an analogy, than I came upon an advert for 'Missing Madeleine' on a site dedicated to research into football violence – apparently I am not the first person to suspect that there might be a link between those organisations which enjoy the camaraderie of 'secret societies' and a call to arms of tribal retaliation and punitive action against the 'opposition' which has marred the game of football in many countries, and some of the more fanatical of the 'Voices of Madeleine'.
Steven Pinker has long argued that far from the idea of the noble savage disintegrating into the corrupt modern human, violence has in fact declined over the centuries. In this theory he is at odds with intellectuals such as José Ortega y Gasset who firmly believed that 'war is not an instinct, but an invention'.  One of the tenets of Pinker's beliefs is based on Peter Singer's theory that Evolution bequeathed people a small kernel of empathy, which by default they apply only within a narrow circle of friends and relations – those intimately known by them. Over time, and by dint of modern technology, this has come to encompass larger circles – the clan, the tribe, the nation, other races. He would say that the more one knows and thinks about other living things, the harder it is to privilege one's own interests over theirs.
The invention of the Internet has shrunk that circle. It has allowed us to have a false knowledge of each other. For the first time we can communicate from behind a cloak of anonymity that even the telephone could not give us. We appear to know who 'smudge' and 'dibsy' are, we meet them every day, we talk to them, we confide in them, but we do not see them. We do not know where they live, or what sex they are; we have met them only through the invisible circle of Internet friends.
As such, we appear to have stripped away centuries of Pinker's 'socialising empathy', and returned to savages with a primal thirst for blood in the inescapable logic of anarchy – any beings with a modicum of self interest will be tempted to invade their neighbours to steal their resources, in the case of the McCann forums – their 'truth'; the logic of anarchy dictates that you attack your neighbours first in pre-emptive self-defence.
The history of Government intervention is a reasonably noble one whereby the state has a monopoly on violence, retaliation, punitive action, call it what you will, as a 'disinterested party' that can inflict penalties and eliminate the incentive for aggression and thus diffuse the need for retaliation and endless feud.
As a Libertarian, I would be greatly saddened by Government intervention into forums and the Internet, but I realise that the Internet has become a new frontier land, and one where we have apparently discarded our hard won ability to empathise with each other and live in relatively peaceful harmony; if we are unable to 'play nicely' we may have to accept the heavy hand of a 'parent'.