Cook's America……Obamageddon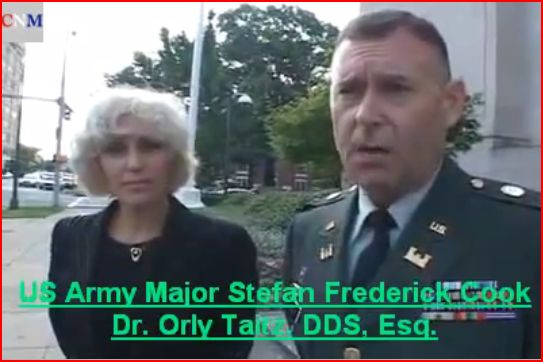 One Major Stefan Frederick Cook, United States Army Reservist to be precise. Major Cook has managed to energise virtually every conspiracy and counter conspiracy loon on both sides of the Atlantic until they glow in the dark.
'Tis a fascinating tale, snippets of which may have crossed your path in the dim and distant past.
Major Cook was recently issued with orders to deploy to Afghanistan.  He wasn't filled with glee at the prospect. It is how he has chosen to voice his concientious objection to this deployment that has divided the American people.
His orders were issued by his Army commanders. Those commanders posses the power to deploy him by virtue of the authority of the President, since Obama himself must possess the authority of President in order to delegate it to the Army, Major Cook has demanded that Obama prove he has this authority before he can lawfully delegate authority to order Major Cook to Afghanistan. 
There have been over a dozen lawsuits filed since the inauguration disputing Obama's eligibility to be President, complaints that the Oath was incorrectly administered, on the wrong date, at the wrong time; you may have heard of some of them. All have been dismissed.
This challenge is somewhat different. This challenge required the court to look into Obama's parentage, and his claim to be a 'natural born citizen' of the US.
After Cook's lawsuit was filed, but before the case was heard, the Army revoked his orders to deploy to Afghanistan, they didn't court martial him, they didn't discharge him, they didn't declare him insane – they just quietly agreed that, OK, he needn't go to Afghanistan if he didn't want to.
The court was thus given the 'out' that they needed proceed no further with their investigation into Obama. Opening the flood gates to lawsuits disputing Obama's parentage to anyone else who would really rather not go to Afghanistan.
Major Cook's lawyer argues that Obama must not only have been born in the US to be a 'natural born citizen' and thus eligible for the Office of President (and there is a shortened form of his birth certificate available from the court records in Hawaii to anyone who is interested) but that also his father must have been a US citizen not owing allegiance to any other nation.
Thereby lies the problem. At the time of Obama's birth, Barack Hussein Obama, Sr, was a subject of the British Commonwealth in Kenya and thereby owed allegiance to Queen Elizabeth.This would be seen on the full version of Obama's Birth Certificate and this he has steadfastly refused to produce.
The requirement  to be a 'natural born citizen' was written into the US Constitution in 1787 and could only have drawn on Vattel's 1758 'Law of Nations' for its intended meaning of the term, since there was no other definition in existence at the time, nor has there been any amendment to the constitution since that could have changed its meaning. The 14th amendment is another red herring that has no bearing on the requirements for the Office of President.
There doesn't seem to be any doubt that Obama was born in the USA, although this does seem to rest on newspaper announcements of that fact, and of course you can announce the birth of your child in Kazakhstan if you so wish, the real issue seems to be 'who did his Father owe allegiance to at the time of his birth'.  Conveniently, another red herring appears to be that when the Hawaiian registry system was computerised, the original records were destroyed. (Americans destroying their meagre heritage? Do I believe that?)
Even amongst American commentators there is an almighty confusion between being 'an American Citizen' and being a 'Natural born Citizen' and the requirements for each. The legal situation is quite simple – being a 'natural born citizen' requires both that you are born in the US and of a Father who is a US citizen but not necessarily a natural born citizen.
Quite where the US goes from here is unclear, it seems to be a choice between battalions of soldiers demanding to see Obama's full birth certificate before deigning to join our troops in Afghanistan, or Obama being dragged from office by the CIA – they can't even impeach him if he's not actually President!
Perhaps some of our British troops might like to take note of this before they are sent out to Afghanistan to support the American troops – who may not be rightfully deployed there?
Could this be why there is no word of Major Cook in the Main Stream Media – including the BBC?

5



July 27, 2009 at 14:32


7



July 27, 2009 at 14:40


15



July 28, 2009 at 13:24


17



July 28, 2009 at 15:39


19



July 28, 2009 at 15:59


21



July 28, 2009 at 19:19


24



July 28, 2009 at 20:44


30



July 29, 2009 at 11:26