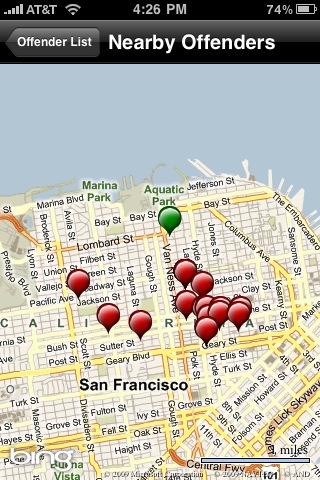 The whole point of iPhone Apps, the software that places an icon on your iPhone that you can access by touching the screen and saving the time needed to use the web browser is for 'convenience and entertainment', according to Steve Jobs, the CEO of apple.
In the first month after the launch, they sold 30 million dollars worth of Apps, and as of last April close to a Billion Apps had been downloaded. This is big business, and the top ten developers are earning impressive sums.
I'm struggling to find either the 'convenince or the entertainment' involved in the latest entrant to the top ten list.
A mere $0.99. will allow you to stroll down Bay Street in San Francisco, perhaps having left your children unattended in a nearby hotel room, in search of food and drink.  The iPhone will already have given you the address of the nearest restaurants, and now, returning to check on your children, you find one missing. Voila! A tap on the screen of your iPhone, and it will show up the addresses of the nearest Registered Sex Offenders to you.
What are you supposed to do with that information? Let's take convenience first.
Realise that with so many predators living in the vicinity it was not wise to leave your children alone?
Tell the nearest policeman? They already have the list.
Call round to see a couple of them? It only gives you their home address, not where they might be at any given time.
Perhaps it's for entertainment value? After the Bay area equivalent of a few jars and a kebab, you might fancy giving one or two of them a piece of your mind (or your fist) at closing time? You could have got the information on line anyway, speed was hardly of the essence.
This is the company who gave us the virtual ''Baby Shaker' iPod game for the iPod user who couldn't wait to get home and shake a real baby.
"On a plane, on the bus, in a theatre. Babies are everywhere you don't want them to be! They're always distracting you from preparing for that big presentation at work with their incessant crying. Before Baby Shaker, there was nothing you could do about it. See how long you can endure his or her adorable cries before you just have to find a way to quiet the baby down!"
Only available in America at the moment (Thank-God) and neither accurate, (sexual offender lists are continuously updated); nor legal in all states (selling the personal information of people (even ex-criminals) for profit is forbidden in California, certainly); nor convenient (knowing where the local sex offenders should be is not a lot of use if you find your daughter missing) nor entertaining (unless being able to pull up a photograph and description of offences of the local offenders whilst you dine out comes within your definition of entertaining) – so how on earth did this $1 App make it into the top 10 best selling Apps in the Apple store? And why? As a top 10 App, the developer is likely to be  making thousands of dollars a day. Fear, the ultimate marketing tool.
Now an App that automatically showed a pop-up reading 'Don't leave your children at home' when you ask it for the local restaurants, there would be some point to that.