Sublimely Absurd – Police Force apply for Warrant for their Chief Constable!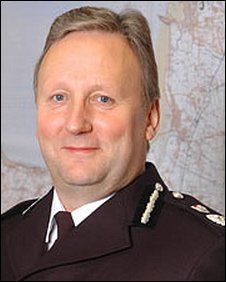 The Colin Port saga gets better and better.
Matters hotted up last week as, according to one legal source close to these matters: "Last Friday the police applied for a warrant against the Chief Constable to enable them to take possession of the computers lawfully. It was seen as a device by the court which refused to issue a warrant.
"The judge said it was an attempt to circumvent the order of the High Court requiring him to return the computers."
This – the absurd spectacle of a police force applying for a warrant against their own Chief Constable – is almost certainly the catalyst for an application made to the High Court yesterday requiring that he turn up and explain himself. A spokesman for the High Court confirmed that "in the Divisional Court, Lord Justice Maurice Kay and Mr Justice Collins granted permission for the applicant (Jim Bates) to seek an order. That application will be heard on 16th June."
Colin Port, remains adamant that he will not return 87 hard drives and 2,500 photographs of abuse seized from the home of Jim Bates, a forensic computer analyst, and expert witness in child abuse cases.
A Prime Minister who thinks he's saved the world.
A Chancellor of the Exchequer who cannot fathom out his own tax forms.
A Home Secretary in court for fraud.
A Chief Constable banged up for contempt of court.
Truly you have to feel for those political bloggers who have soldiered on, year after year, building up their clientèle, searching for stories, us newbie's are just having blogging manna thrust on our plate day after day……….
I think I've died and gone to blogging heaven………
H/T The Register.

12



May 28, 2009 at 12:54


28



May 28, 2009 at 18:14