Is Jacqui Smith's husband a secret Conservative?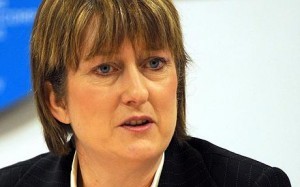 What other explanation can there be for his decision to download adult movies on pay-per-view cable TV, to be watched in Ms Smith's 'second home' in Redditch, and then allow his wife to claim the cost back from the tax payers?
What could be more damaging to Ms Smith's political credibility than to find that the tax payer must cough up for second rate explicit porn to keep her 'parliamentary advisor' – aka her husband – amused, whilst she is holed up in her sister's back bedroom?
Ms Smith was said to be 'mortified' today after she was forced to offer a humiliating apology over the expenses claim.
The Home Secretary said she 'mistakenly' submitted an expenses claim which included five pay-per-view films, including two adult movies which were viewed at her family home in her Redditch constituency.
The relationship between Ms Smith and her husband was said by Government insiders to be 'very difficult,' but stressed that the couple were still together.
Still together? Just as well – we wouldn't want the tax payer to be paying for a 'blue movie venue' when the Minister involved no longer even visits the house, would we?
Tory MP Mark Field said:
'The entire Commons allowance system is now indefensible. It's one thing to make dubious claims on the location of your second home but for the husband of a Home Secretary to be claiming for pornographic TV is completely beyond the pale.

'It's no good Gordon Brown promising an inquiry at some point in the future. This must be reformed now.'