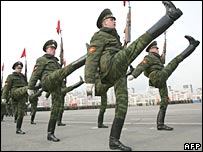 Jacqui Smith's heart must have beat a little faster this week, when news reached her of the advances in the science of Internet censorship made in Germany.
11 German detectives descended on the home of Theodor Reppe, in the name of 'discovery of evidence of distribution of pornographic material'.
Without informing Theodor of his rights, they demanded the passwords to his web site, asked that the entire domain be disabled, and then made a false claim that he had agreed for all this to take place without witnesses.
Why, you may ask, should a purveyor of child pornography be treated any better? Why indeed.
Except that Theodor is not a purveyor of child pornography, he is the registered domain owner of wikileaks.de, the German equivalent of the well known wikeleaks.org – feared by governments across the world.
Wikileaks have recently published the list currently being used in trials of the "great Aussie firewall". To the embarrassment of the Australian government, about half the links on the published list related to material other than child porn, and included online poker sites, fetish, satanic and Christian sites.
Not only is it now prohibited to look at certain sites in Australia, it is prohibited to know which sites are prohibited.
In Australia, during the last year, a tactic of those seeking to block the Internet was to insinuate that those who questioned such a block were soft on child porn and might have a pro-paedophile agenda.
Now that that slur has been rebutted, the next step may be to extend the definition of distribution of child porn: not merely hosting it or passing it to third parties; but merely informing other people of where it is accessible.
Telling you where you might go to find out where you might go to find out where you might go to find out where you might go……may yet see a jack-booted one kicking down my door. All in the name of protecting the kiddies of course, far be it from me to insinuate that this is a cover story to protect the government from citizens seeing anything like Dan Hannan's video.