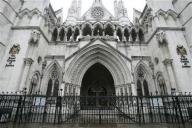 This building may look remarkably like a great cathedral, but there is no God inside, just a High Court Judge.
Today, a couple known only as Mr and Mrs T, are planning to spend their final hours enjoying the company of their baby son. Last night they lost a final legal bid to overturn the ruling of the High Court giving Doctors the power to cease the medical intervention which is keeping him alive.
The parents who are, not surprisingly, 'deeply distressed' by this ruling, will have the sympathy of everyone today.
"We are and always will be convinced that despite his desperate problems his life is worthwhile and is worth preserving as long as it is possible to do so without causing him undue pain," their statement said.
"That was the real argument between us and the doctors — they think his life is intolerable and that his disability is such that his life has little purpose.
John Harris, a member of the government's Human Genetics Commission and professor of bioethics at Manchester University has argued "We can terminate for serious foetal abnormality up to term but cannot kill a newborn. What do people think has happened in the passage down the birth canal to make it okay to kill the foetus at one end of the birth canal but not at the other?"  Often people don't realise how late abortion is carried out in the UK. Over the last four years, there have been repeated calls to restrict the abortion limit, on the grounds that aborting babies at six months (24 weeks) is appalling as babies can survive if born at that stage. But how many people are aware that the 1967 Abortion Act also permits babies to be aborted right up to the moment of birth if the baby has a 'serious' disability?
The saying 'two wrongs don't make a right' springs to mind.
The 'Right to life' argument is intrinsically bound up with the 'right to death' argument, a subject which will receive another, long overdue, airing on Monday as a result of Patricia Hewitt's amendment to the Coroners and Justice Bill.
There will be many who will argue that we have a 'duty to live' – and that neither assisted suicide nor euthanasia should be available for those who are not capable either by reduced mental capacity or physical impairment to chose when they die, as permissible under the Suicide Act.
There will be others who will assert that the 'right to death' will lead inexorably to a 'duty to die' – as exercised by the notorious laws passed in Germany, and expanded upon by the Nazi government,  which saw many hundreds of thousands of mentally incapacitated people exterminated.
So it is a timely point to reflect on the fact that The Mental Capacity Act 2005 contains provisions which allow the Court of Protection to decide on the 'right to life' for any of us, not just the 'hard' cases which we see emotively reported in the mainstream media, whether we should continue to receive the medical treatment which is keeping us alive.
This is not just an issue of free choice in the matter of your own suicide,  but a reminder that it is now the law which can exercised your supposed 'autonomy' in these matters.
You do not have the right to demand medical treatment – which includes food and water if supplied under medical supervision – you only have the right to refuse it. If you are not considered to have the mental capacity, either because you are a child, or because you have impaired or non existent capacity, then the court can, and will, exercise that choice on your behalf.  It is for that same court to decide whether you are able to make a competent choice. Not you.
It is equally a reminder that you, as parents, can only make those choices on your child's behalf that a court considers to be in the child's 'best interests'.  You are but guardians, under the control of the judiciary.
We have truly sleepwalked towards allowing the legislature to contain and curtail our lives in ways in which we scarcely understand.