Veracious Vera………..do explain!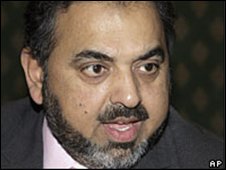 Lord Ahmed who was jailed for 12 weeks for sending and receiving text messages while driving on the M1 has been released by the Court of Appeal. The sentencing judge, Mr Justice Wilkie, made it clear his text messaging had finished two minutes before the accident took place and was not connected. Lord Ahmed, of Rotherham, sent and received a series of five text messages while driving in the dark at speeds of, and above, 60mph along a 17-mile stretch of the motorway.
Lord Ahmed has served 16 days in prison and was due to be released on 20 March.
Allowing Lord Ahmed's sentence appeal, Lady Justice Hallett said that the imposition of a prison sentence in his case had been justified.
However, she added that the court had been persuaded that it could now take an "exceptional" course and suspend the 12 weeks for 12 months.
The story on the BBC newsite is accompanied by a photograph of Lord Ahmed – which is captioned "Lord Ahmed suffered facial injuries in the collision".
The BBC do mention poor Mr Gombar who lost his life, not just his pretty face…..
Mr Gombar, who was Slovakian, had crashed into the central reservation, leaving his Audi facing the wrong way in the third lane of the motorway.
One motorist had already clipped his car and another had to take evasive action to avoid it.
Altogether now –
"I must not crash my car on the M1 and leave it facing the wrong way in case any Peers of the realm have finished their text messages and end up cutting their faces and serving a miserable 16 days in prison as a result of my thoughtlessness".
I am speechless.
I wrote a piece on Lord Ahmed – I didn't actually say that he was texting at the time of the accident, but 'Our Vera' as she is now known amongst my regulars, or the august Solicitor-General to those of you not on first name terms with her, took it upon herself to drop into my humble blog abode and rigorously defend Lord Ahmed.
This link will take you to the piece she commented on
Link to Vera……
The idea of the Solicitor-General taking time out of her busy life to put right a mere blogger caused something of a stir at the time – with hindsight, she must have been working late that night on Lord Ahmed's papers, since none of us suspected that he would bother to appeal against the original derisory sentence.
Dizzy checked out the IP – and it was indeed her from her office in Parliament.
What is so important about Ahmed that he commands that sort of support?



March 14, 2009 at 17:05




March 14, 2009 at 17:00










March 14, 2009 at 16:55







March 14, 2009 at 12:57




March 12, 2009 at 23:24







March 12, 2009 at 23:24




March 12, 2009 at 23:23




March 12, 2009 at 23:19







March 12, 2009 at 23:13







March 12, 2009 at 23:12




March 12, 2009 at 23:04




March 12, 2009 at 23:02







March 12, 2009 at 23:00




March 12, 2009 at 23:00




March 12, 2009 at 22:49







March 12, 2009 at 22:13










March 12, 2009 at 22:29




March 12, 2009 at 21:24







March 12, 2009 at 21:23







March 12, 2009 at 21:19




March 12, 2009 at 21:14







March 12, 2009 at 21:07




March 12, 2009 at 21:01







March 12, 2009 at 20:43







March 12, 2009 at 20:24










March 12, 2009 at 20:31







March 12, 2009 at 20:04







March 12, 2009 at 20:02










March 12, 2009 at 20:16










March 12, 2009 at 20:17




March 12, 2009 at 19:59







March 12, 2009 at 19:58







March 12, 2009 at 19:51







March 12, 2009 at 19:51




March 12, 2009 at 19:48







March 12, 2009 at 19:41




March 12, 2009 at 19:36







March 12, 2009 at 19:31










March 12, 2009 at 19:34







March 12, 2009 at 19:44







March 12, 2009 at 19:22







March 12, 2009 at 19:13




March 12, 2009 at 19:10







March 12, 2009 at 18:40




March 12, 2009 at 17:30