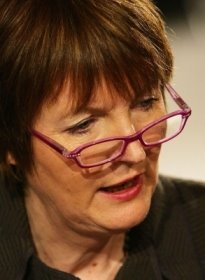 It is difficult to think of a more effective way to ensure that another 3 million properties are built in Andorra, and another 3 million relatively wealthy people move their savings and pensions out of the UK into Andorra, or other tax free havens, than Harriet Harman's announcement that – notwithstanding the legality of Fred the Shred's retirement pension contract – it was unacceptable to Gordon Brown, and therefore he would be deprived of it.
If Fred can be deprived of his pension on the whim of the government, then so can anyone else. Little wonder that this government has failed to denounce the Mugabe regime – they obviously can see nothing wrong with it.
A few days ago we were told that Gordon Brown was thinking of sacking Harriet Harman, believing she was plotting to replace him. (Do all Labour Prime Minister ultimately fall victim to Wilsonian paranoia?)
I can think of one very good reason why he won't bother – she is elected Deputy Leader of the Labour Party…..he can fire her as Leader of the House of Commons, but she will still be right there next to him as Deputy Leader of the Party – unless, unless, he finds that notwithstanding the legality of her election, her presence was unacceptable to Gordon Brown and therefore she would be deprived of her position…….
Relegating the Rule of Law in favour of the Prime Minister's whim can have a nasty sting in the tail.