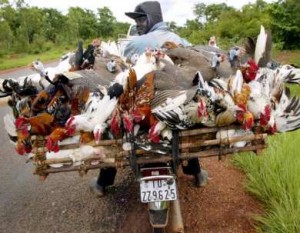 There is much squawking and clucking as fattened chickens noisily return to the safety of their roost. Jostling for space, those on the highest perches are pecking bloody holes in the late comers who thought they had a reserved space.
One of Gordo, the chief Cock-up-erel's, favourite hatchlings was the Private Finance Initiative (PFI) an oeuvre that possibly made your eyes water with boredom at the time, mine too; we should have paid more attention as this one rolled out into the nesting box.
Labelled 'untouched by Government hands', it was described as free range private initiative; instead of government incurring debt to build our Hospitals and Schools, high flying business men would be invited to tender for these projects and finance them with private money. The cost of these vast projects would not appear as a debt on the government balance sheet, the Hospitals would still get built, Knighthoods would be handed round to all and sundry, and the public would duly vote Labour when presented with their shiny new Hospitals – what could go wrong?
Precisely what has gone wrong. Gordo was busy stuffing other chickens at the same time; meddling with the regulation of the banks, encouraging the credit boom, strutting his stuff. The PFI contractors have discovered that there is no private fiance to be had, billions of pounds worth of motorways and schools are to be mothballed – the very same public investment projects that the Cock-up-erel promised left us 'best placed' to weather the inclement financial storm from America……
The Times reported yesterday that:
"The Chancellor is expected to guarantee bridging finance to enable public sector schemes being built under the Private Finance Initiative (PFI) to go ahead if they are already in the pipeline." 'Guarantee bridging finance' is another of those weasel phrases like quantitative easing' that you are not supposed to inspect too closely. In plain English it means that around £2.4billion has just been added to the £4 trillion or so that the Tax payer owes.
Can ye no take a yolk? This one is on you.
February 17, 2009 at 21:41







February 16, 2009 at 21:32




February 16, 2009 at 19:44







February 16, 2009 at 16:23




February 16, 2009 at 16:22







February 16, 2009 at 16:09




February 16, 2009 at 15:56







February 16, 2009 at 12:30







February 16, 2009 at 12:16










February 16, 2009 at 12:22







February 16, 2009 at 12:08







February 16, 2009 at 11:54










February 16, 2009 at 12:00




February 16, 2009 at 02:05




February 16, 2009 at 01:04




February 16, 2009 at 01:03




February 16, 2009 at 01:01




February 15, 2009 at 22:46










February 16, 2009 at 02:01




February 15, 2009 at 20:09




February 15, 2009 at 19:50










February 15, 2009 at 20:04




February 15, 2009 at 18:34










February 15, 2009 at 18:37










February 15, 2009 at 18:01




February 15, 2009 at 15:39