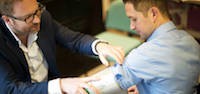 I was quietly dozing to the background of yet another documentary the other afternoon, this time one on the Australian flying doctor service. (well worth raiding the BBC 4 archive facility, some really interesting stuff hidden in there!) when I became dimly aware that almost every Doctor they interviewed was English. No wonder we were so short of Doctors here – the NHS train them, and they promptly take their skills overseas – then we import Doctors from overseas to fill the gaps!
Last year Jeremy Hunt did impose a four year period during which junior Doctors must work for the NHS after receiving their training. Not before time and it should have been longer!
Since the mid 90s, GPs have been required to publish their salaries, so it is not hard to find out whether it is the wage gap that is prompting this exodus.  In Australia they can expect to earn £156,000 -and the sun shines!
This Government wants to widen access to GP services to evenings and weekends. And it is prepared to redirect and add extra money to do so. Is this so unreasonable? The public perception of GPs is that they are wildly overpaid, a figure of £100,000 is often quoted – and indeed some GP partners in some surgeries may reach this figure, but it is not an average figure for all GPs. Many GPs these days are female, and they tend to work three day weeks, combining child care with their job – that means the surgery must pay locums to cover the extra hours. Sometimes two female GPs 'job-share' – nothing wrong with that except that the NHS has trained two Doctors to end up with the equivalent of one Doctor working!
The British Medical Association (BMA), the Doctors 'Union' has been described as 'greedy, selfish, petulant, arrogant, pompous, elitist and out of touch'. I can't expand on that, it cover all angles. The BMA passionately opposed the idea of a state-run health service such as the NHS  from the start, prompting Nye Bevin to later give the famous quote that, to broker the deal, he had 'stuffed their mouths with gold'.  Sixty years later, the BMA opposed working an average of less than one hour extra each week in return for the best financial settlement GPs have ever been offered.
I think that in looking at the current situation with Doctors, one needs to separate the views of their union with those of the average Doctor, in the same manner that we separate the views of John McDonnell, with his calls for 'revolution in the street' from the views of the average Labour supporting working man.
I have talked at length with my own GP – he visits every day, and we usually end up talking about politics. He would love to 'wind down gradually' as he comes up to retirement. In order to do so, he must pay a higher rate of insurance premium for working less hours. Confused? I was. Apparently the insurance companies work on the theory that since he is not working full time, he is more likely to make a mistake, less likely to be fully aware of all the factors in a particular person's care – thus more of a risk. I can just about follow the line of thought there – but it means that he will be penalised for working part time. The figure of £17,000 for mandatory insurance cover was quoted.
Whereas in the past, people were more willing to take the expertise and professionalism of those who cared for them as a matter of trust, today, post Harold Shipman, a better informed and more questioning society requires that trust to be underpinned by objective evidence.
So he must also – at his own expense – be required to revalidate at five year intervals, by producing evidence of his continuing fitness to practise. He must be able to demonstrate a minimum number of hours of continuing professional development; quality improvement activity such as an audit; feedback from 12 to 15 colleagues on what he is like to work with personally and professionally; feedback from between 28 and 34 patients; how he has learned from significant clinical events; and complaints or compliments he has received. Evidence of all these must be contained in his portfolio.
I cannot argue with any of that, all laudable aims  – but I think Shipman's adoring patients would have ensured that he passed his box ticking exercise, and since his was a sole practice – there would have been no colleagues to put forward another view……..
Then there are the changes being made to his pension. The reduced cap means he will have to pay 55 per cent tax when withdrawing pension from April this year. The one million cap sounds generous – but will only buy a lifetime income, after tax-free cash, of just over £27,000 a year – with payments linked to inflation and protection for a spouse.
Andy James, head of retirement planning, at Towry financial planning said: "A lot of them have their eyes on the door.

Many GPs have set up their practice so they can pay up to 28.5 per cent of their earnings into their pension and when they look at the potential tax charge for continuing to do this, they are thinking: 'What is the point of carrying on?'
You can see the factors mounting up on the 'do I really want to go on working part time versus retiring all together' page. I should stress that at no point does he resent the new measures being introduced – he is simply weighing up the virtues or drawbacks of continuing to provide his wide knowledge of patients in this area on a part time basis or retiring altogether.
In total 5,114 GPs have retired in England between 2011 and 2015. Across Britain, 10.2 per cent of full-time GP positions are vacant, according to figures provided by the Royal College of General Practitioners. With an ever increasing population, it can only get harder and harder to get an appointment to see your GP.
I am lucky, my GP is of the old school; this is a small village – many of the inhabitants he delivered as babies. Those he didn't deliver he has known for a lifetime. When our local builder gashed his arm open helping someone moor a boat recently – it was straight round to the surgery and in between patients, he was duly stitched up and bandaged. Every day when he finishes his surgery he drops in here to see how I am, and to chew the cud over the latest political development and have a cup of tea. Yes, he is aware that I am writing about him – he has given his permission.
He hasn't made his mind up yet as to what he is going to do. What would you advise him to do?