Exclusive – 'Lol' Goddard and the 'Back Door' fans…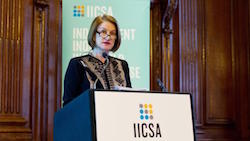 Dame Lowell Goddard now claims that far from 'running away to her bach' her resignation was an honourable protest against a child abuse inquiry that was, in Kiwi slang, well and truly munted.
She has now written to the Homo Affairs Committee, presumably addressed to the absent Keith Vaz, to say:
"I have recommended in my report to the home secretary that my departure provides a timely opportunity to undertake a complete review of the inquiry in its present form, with a view to remodelling it and recalibrating its emphasis more towards current events and thus focusing major attention on the present and future protection of children."
In the course of her communication with the Committee, she has also let slip the final piece of the jigsaw I have been trying to put together to illustrate how such a lowly regarded judge from far away New Zealand came to be in charge of the most far reaching, time consuming, and expensive Inquiry this country has ever mounted.
Dame Lowell said she was approached for the job through the British High Commission in Wellington before receiving a call from the Home Office.
The High Commissioner in New Zealand is His Excellency Jonathan Sinclair, a Lieutenant of the Victorian Order with years of experience in international relations but no obvious experience of legal matters to be recommending a Judge for an Inquiry in Britain – beyond also being the Governor of Pitcairn Island, an outcrop of the commonwealth where Britain has long practiced the belief of some in authority that the entire world is a child abuser – to the extent that there is now only one child on the island and no person under the age of 18 is permitted to visit the place. See my article 'This Septic Isle' – full of elderly Paedophiles.
Ms Raccoon has also had a Freedom of Information request responded to by the Home Office:
The Home Office did not issue an advertisement or use a recruitment agency in the appointment of Dame Lowell Goddard. I can therefore confirm that the Home Office does not hold the information you have requested.
No advertisement, no recruitment agency matching the best person for the job – just the Governor of an Island best known for its obsession that there is a paedophile under every bed – to ensure that the right person was in charge of spending an estimated £100 million of tax-payers pounds protecting the children of Britain. Lowell is of the opinion that 'its budget does not match' its scope…
It would be funny if it were not so sad. 
Except that Lowell baulked at the job, complaining amongst other things, that an Inquiry set up to re-record evidence of child abuse which has allegedly managed to get lost over the past 50 years in the form of dossiers, pamphlets, evidence given to policemen and social workers, didn't actually have anywhere to keep the new versions of this 'evidence' that was pouring in the door, nor its own premises.
She also said that the inquiry had been unable to obtain the infrastructure to allow it to manage the thousands of documents it has received or even secure its own centre to hold hearings. 
Last week, Kat Hall at The Register, filed an exclusive report on just that subject:
Those problems have included a series of difficulties in procuring an evidence management system, intended to provide safe storage and controlled access system for highly sensitive information going back decades, The Register can reveal.

A spokeswoman from the IICSA confirmed that Northgate Public Services had been appointed as a preferred bidder, but said both sides had later amicably agreed not to enter into the contract, which resulted in a delay.

"Following pre-contract work, IICSA and the preferred bidder, Northgate Public Services, agreed not to move to contract for the EMS. Northgate were paid £275,000 for the work they had done to that point. We are currently in discussion with another potential supplier about providing a system to the Inquiry."
This is an Inquiry whose own website was so insecure that they managed to lose the early version of 'evidence' sent in to them. Yet:
"IICSA would not name the head of security nor was it prepared to detail the staffer's qualifications or experience"
Nor, apparently, is Dame Lowell likely to turn up to the newsworthy Homo Affairs Committee to explain how it was that the muppet in charge of Pitcairn Island managed to land her a plum job in charge of a £100 million budget.
Every one of those appointments, indeed the remit and existence of the Inquiry – Butler-Schloss, Woolf and now Goddard was a personal appointee by Theresa May.
Now she's running the British Government…all done via the 'back door'.
Anna Raccoon


September 6, 2016 at 10:27 am

Anna Raccoon


September 6, 2016 at 11:57 am

windsock


September 6, 2016 at 10:55 am

Bandini


September 6, 2016 at 2:46 pm

Bandini


September 6, 2016 at 5:10 pm

Ho Hum


September 6, 2016 at 5:19 pm

Keith Walters


September 30, 2016 at 12:02 am

Duncan Disorderly


September 6, 2016 at 2:03 pm

Bandini


September 6, 2016 at 2:30 pm

Ho Hum


September 6, 2016 at 5:14 pm

Ho Hum


September 6, 2016 at 5:16 pm

Ho Hum


September 6, 2016 at 5:26 pm

Ho Hum


September 6, 2016 at 5:32 pm

Bandini


September 6, 2016 at 5:29 pm

Ho Hum


September 6, 2016 at 5:45 pm

Ho Hum


September 6, 2016 at 5:49 pm

Bandini


September 6, 2016 at 5:54 pm

Bandini


September 6, 2016 at 6:03 pm

Ho Hum


September 6, 2016 at 6:08 pm

Bandini


September 6, 2016 at 6:09 pm

Anna Raccoon


September 6, 2016 at 11:26 am

Keith Walters


September 6, 2016 at 11:44 am

Cascadian


September 6, 2016 at 5:14 pm

Retired


September 6, 2016 at 6:49 pm

Mudplugger


September 6, 2016 at 8:37 pm

Bandini


September 7, 2016 at 3:08 pm

Ho Hum


September 7, 2016 at 3:57 pm

Bandini


September 6, 2016 at 4:46 pm

Sean Coleman


September 6, 2016 at 8:13 pm

Sean Coleman


September 6, 2016 at 9:39 pm

Sean Coleman


September 6, 2016 at 9:41 pm

Sean Coleman


September 6, 2016 at 9:46 pm

Sean Coleman


September 7, 2016 at 8:54 pm

Ho Hum


September 6, 2016 at 6:50 pm

Ho Hum


September 6, 2016 at 9:58 pm

Fat Steve


September 7, 2016 at 5:00 pm

Sean Coleman


September 8, 2016 at 8:42 pm

Keith Walters


September 30, 2016 at 12:21 am

Keith Walters


September 30, 2016 at 12:24 am