Waiting for Goddard – Part 263.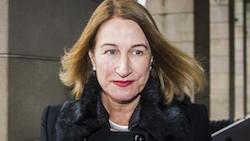 The indefatigable Sean O' Neill Times £ has elicited the information that New Zealander Dame Lowell Goddard, hired to investigate British failure to investigate sexual abuse in British institutions, has so far this year spent a total of 74 working days, or almost 3 months, or £148,000 of taxpayer's pounds, er, investigating the 'local scene' in New Zealand and Australia.
Little wonder that she was struggling with the 'local law' in little ol' Britain the other day.
Or is it? When she was hired, one of the specific recommendations, exhaustively tested by the Home Affairs Committee, was whether she had any 'establishment links'.  She professed so little knowledge of the meaning of 'establishment' that she had to ask for clarification of the question.
Asked if she considered herself part of the "establishment", Justice Goddard said: "We don't have such a thing in my country.

"I did have to ask carefully exactly what is meant by it so that I did understand what I was being asked to disclose.

"My understanding [of the question] is – do I have any links into any institution or any person relevant to the subject matter of the inquiry? And no, I don't."
It was an ambivalent answer to a straightforward question. A fresh face then, a complete outsider? A little delve into her background avoiding the usual PR spin, and we find that Lowell Goddard should have understood that question only too well.
She may be a New Zealander, indeed proud of her Maori heritage, and I'm sure we can all overlook her being voted 63rd out of 63 New Zealand judges because somebody had to come last. The register was compiled from comments by legal professionals in New Zealand, and contains some interesting comments against Lowell Goddard's name.
The register appears on a news website, 'Kiwifirst', run by Vince Siemer, 'a serial litigant, and critic of the New Zealand judiciary'. I would urge caution in taking some of his statements literally; however one did prod my interest. Lowell Goddard's 'four marriages'. I could only find evidence of one previous marriage, but that was interesting enough.
How do you reconcile 'not knowing what the establishment is' with marriage to the Joint Master of the North Pennine Hunt, patron of the British Association for Shooting and Conservation, patron of The National Association of Beaters and Pickers Up, 'fourth generation farmer' of some 4,000 acres of  Scottish arable land, not to mention a minor baronetcy – and a close association with the BBC. (Some reports state that he has a seat in the House of Lords – untrue, that is a different John Scott!)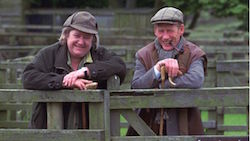 This is the John Scott that Lowell was married to.
Sir Walter John Scott, 5th Bt. was born on 24 February 1948. He is the son of Major Sir Walter Scott, 4th Bt. and Diana Mary Owen. He and Lowell Patria Goddard were divorced. He married, firstly, Lowell Patria Goddard, daughter of S/Ldr. Pat Vaughan Goddard, on 5 July 1969.  
He made the long running BBC series 'Clarissa and the Countryman' with Clarissa Dickson-Wright, so the BBC can scarcely claim to be ignorant of his existence. Yet it was the BBC who cheerfully reported that the new incumbent in the #CSA hot seat 'had no establishment links' indeed, didn't even know what the word meant.
Every mainstream news outlet has stuck to the 'Goddard and her husband, Chris Hodson QC, moved to London last year', emphasizing her 'outsider status'.  Reporting that she 'doesn't understand' the local law in this quaint little island half a globe away from her normal habitat.
We are assured that her working and holiday entitlement £148,000 worth of days travelling in the southern hemisphere doesn't mean she's not working – she is in constant internet contact with her office.
If her several years worth of marriage into the British establishment, and that was certainly not conducted solely by internet – she has a daughter by Sir John – didn't enable her to pick up a little local jargon like 'establishment', then spending precisely half of her available working time this year (74 out of 150) isn't going to help her pick up 'local law'.
At this rate she will make Chilcot look like Speedy Gonzales.
The Blocked Dwarf


August 4, 2016 at 3:06 pm

dearieme


August 4, 2016 at 7:20 pm

The Blocked Dwarf


August 4, 2016 at 7:30 pm

dearieme


August 4, 2016 at 9:11 pm

The Blocked Dwarf


August 4, 2016 at 9:19 pm

Ho Hum


August 4, 2016 at 9:21 pm

Bandini


August 4, 2016 at 6:26 pm

Ho Hum


August 4, 2016 at 7:35 pm

The Blocked Dwarf


August 4, 2016 at 8:20 pm

Bandini


August 4, 2016 at 8:55 pm

windsock


August 5, 2016 at 7:59 am

windsock


August 5, 2016 at 8:00 am

The Blocked Dwarf


August 5, 2016 at 11:14 am

Bandini


August 5, 2016 at 11:38 am

The Blocked Dwarf


August 4, 2016 at 6:38 pm

Ho Hum


August 4, 2016 at 7:41 pm

Fat Steve


August 4, 2016 at 7:52 pm

Anna Raccoon


August 4, 2016 at 8:01 pm

Fat Steve


August 4, 2016 at 8:20 pm

Ho Hum


August 4, 2016 at 8:50 pm

Fat Steve


August 4, 2016 at 9:34 pm

Ho Hum


August 4, 2016 at 9:46 pm

Carol42


August 5, 2016 at 11:53 pm

Don Cox


August 4, 2016 at 8:00 pm

The Blocked Dwarf


August 4, 2016 at 8:21 pm

Ho Hum


August 4, 2016 at 8:48 pm

Bandini


August 4, 2016 at 8:59 pm

Ho Hum


August 4, 2016 at 8:45 pm

suffolkgirl


August 4, 2016 at 9:08 pm

Bandini


August 4, 2016 at 9:10 pm

Ho Hum


August 4, 2016 at 9:18 pm

Fat Steve


August 4, 2016 at 9:15 pm

Anna Raccoon


August 4, 2016 at 9:19 pm

Bandini


August 4, 2016 at 9:24 pm

Fat Steve


August 4, 2016 at 9:24 pm

Bandini


August 4, 2016 at 9:46 pm

Bandini


August 4, 2016 at 10:36 pm

Bandini


August 4, 2016 at 10:57 pm

Anna Raccoon


August 4, 2016 at 11:50 pm

Anna Raccoon


August 4, 2016 at 11:58 pm

Mzungu


August 5, 2016 at 7:38 am

Bandini


August 5, 2016 at 11:21 am

Bandini


August 5, 2016 at 12:15 pm

Bandini


August 5, 2016 at 12:33 pm

Don Cox


August 5, 2016 at 7:19 pm