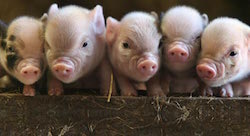 Little Porkies grow into whoppers…
Porkie Farming nearly became a profitable business.
Back in 2007, a young carpenter registered a company 'Ddc Contracts', to carry out a joinery business, along with 'possibly' his partner, Lorraine Smith. They lived in a  pleasant enough street in Kent. Hook Lane, Bromley. Within two years the company was in trouble – Companies House was threatening to strike them off the register.
Perhaps they downsized their home to get out of trouble? By 2009, they had moved to a less salubrious area, Powster Road, Bromley; smaller houses, lower overheads; they somehow managed to keep 'Ddc' afloat and Companies House withdrew the threat. Lorraine apparently moved house at the same time.
The new business plan didn't last long – another 12 months went by, and Companies House had lost patience and dissolved the business. Despite the promises which had resulted in the first warning being withdrawn, they had never managed to file any accounts.
Undeterred, our young carpenter was back in September 2013. He'd had an idea! He would register a company to carry out a joinery business. He'd call it 'DDC contracts' instead of 'Ddc Contracts'. He'd make his old favourite Lorraine Smith, the company secretary. Again. By now they'd moved to an even lower value property in Avondale Road, Bromley. Eighteen months later Companies House were threatening to strike the company off the register. No accounts again. No reprieves this time. 5 months later, Companies House abruptly pulled down the shutters on DDC Contracts.
However, our young carpenter had had yet another brainwave! 'Animal Charities' – they make money don't they? They are a difficult prospect when you live in a maisonette in a Bromley side street, but undeterred, he acquired a piece of land next to the golf course in Orpington. Registering as a charity takes a lot of energy, so he didn't actually bother with that, but returned to his old friends, the company formation agents. Now, he had a Suzanne Huckle as company secretary. She used to be in charge of the tendering system for repairing wheelchairs for Bromley hospital. Curiously, she seemed to be living in the same small maisonette in Avondale Road. No word on whether the long suffering Lorraine had moved out or was just especially understanding.
Soon a local paper was calling him a 'heroic carpenter' who was repairing one house 'free of charge' whilst striving to build an animal sanctuary with the other hand – when 'thieves ruined his dream' by stealing £3,500 of wood which was destined to build shelters for the poor animals…just as soon as he could get planning permission for this venture, which sadly he hadn't thought of beforehand…
Another local paper and 'Then the centre 'was burgled again' and this time the fencing material destined to contain the animals was stolen. Our young carpenter with his closed down carpentry business seemed to be spending a lot of time storing wood on this land…
Need I tell you that within 15 months, Companies House had pressed for accounts, received none, and 4 months later the animal sanctuary was struck off. 
Not before our young carpenter had convinced another local paper that a) the sanctuary was a charity, and b) that it was a deserving cause. He told them that he 'had discovered two 30 stone' porkies roaming outside his 'animal sanctuary' and had taken them in – but big porkies are expensive to feed, so any donations would be welcome…the Surrey Comet fell for it.
For more information or to donate visit:                                  jodeenanimalsanctuary.webs.com/
Don't bother following the link, it is long since defunct.
A month later, and our trainee porkie rearer was phoning the Daily Star; now the 30 stone beastie, Bonking Boris, 'named after Boris Johnson', had been there 'for a year' and had fathered 100 piglets to the strain of Black Sabbath…The sanctuary had apparently been there for a year longer than Companies House had been told…
Come June, and 'Bonking Boris' had been renamed 'Bacon' for yet another local newspaper. Still weighing in at 30 stone mind you, now he was the centre of a story of how the sanctuary had been targeted '15 times' in its short life. 'Bacon' had 'heroically' saved the life of the 4 piglets he had fathered…no mention of the other mythical 96…
The 'heroic sanctuary owner' seemed to be permanently out and about on the cyberwaves, pleading for donations to his cause:
HELP we are not charity status, we are funding this ourselves, we are going without for our love of animals. we have 50 unwanted pigs and piglets, ponies and horses. we need your help, labor, tools, knowledge on how to set up a charity or funds, please call on 07803845731. We are desperate, PLEASE HELP
The following month he hit the Sevenoaks Chronicle, saying 'he may be forced to close down if a recent spate of thefts continues'.
Jodeen Animal Sanctuary, which is open to the public free of charge all day Saturday and Sunday, would like volunteers or donations to help with the running of it.
His Facebook page appealing for donations was doing moderately well too.
The same month that Companies House was striking the company off, the porkie specialist was phoning the Daily Mail, telling them that a neighbouring greenkeeper had been fired for 'giving water to his animals'. 
His centre was set up in 2011 and is run as a charitable trust for ill-treated horses, pigs and sheep.
Amongst the many desperately upset readers who commented on that article, was one who claimed to be the owner of the sanctuary – extolling the virtues of those who donated funds, food, and essentials to the poor animals:
This is Danny Day and I would like to thank you all for your comments which I am very pleased to report that that the management have now agreed to reinstate Gary and allow us water from their main. We would also like to thank the fire service who stepped in and helped when the dispute was going on. We have been trying to raise enough funds to get direct supply from Thames water supply but unfortunately every time funds come in it has only been enough to supply foods vet bills and fencing. We would also like to thank spitalfields market who supply us with all unwanted fruit and veg which supplements diet of the animals.. We are continuing to raise funds for direct water and power supply. Please visit our web site which is jodeenanimal.com or Facebook called jodeen sanctuary and see all the animals and please feel free to come and visit. Many thanks Dan Sue and all the animals x
No mention of Lorraine, just 'Danny and Sue'.
Notice something else though? 'We would also like to thank the fire service who stepped in and helped when the dispute was going on.'
For 'Boris' and 'Bacon' were not the only Porkies 'Danny' was nurturing to maturity. He had other rashers in his pan.
'Danny' was the fantasist who had been busy claiming that Fireman David Bryant had brutally raped him in a Dorset fire station some 40 years ago. David went to prison for six years; later increased to 8 years when the 'victim' claimed it wasn't long enough. He claimed that the event was responsible for his 'two failed marriages'. It is unclear whether he was lying about being married to the Ms' Smith and Huckle, or whether they might more properly have something to do with his failed marriages?
Barrister Blogger has exhaustively deconstructed the case in a blistering article, I wouldn't presume to follow in his footsteps.
Come June of this year, young – middle aged now – Danny was back in the local paper announcing that he was suing the Fire Brigade for £100,000 for aggravated damages in respect of the 'rape'. He needed, his lawyer said, an urgent £30,000 interim payment. He didn't get it.
Mrs Bryant had done her own detective work; producing maps of buildings to show that rooms Danny had claimed to be in, didn't exist at the time; that the pool table he claimed to have been raped on, wasn't bought until years later. That, added to the medical reports that Danny had had to produce for the civil claim, showing that he was an inveterate lifelong liar, was sufficient to finally clear David Bryant's name and secure his release from prison – whence he had been for the past three years.
Unusually, and owing to Danny Day's love of appearing in local newspapers, we know his name. Future victims of his lies will be forewarned.
We will not know whether he has given evidence against other individuals unless they, or their legal team, happen to chance upon one of the many articles detailing Danny's career in Porkies, and use it to mount an appeal. We will never know if Danny appears as one of Savile's 'victims'. Nor may we know how many other Danny Day's are out there, pushing notes through the door of innocent people in the hope of eliciting a few bob to help their financial troubles – and making statements to the police regarding sexual abuse when they fail to comply.
I was listening to Jill Saward on the radio this morning. She has an interesting view that it is the fault of rapists that people make false allegations. If rapists didn't rape, then people wouldn't make these false allegations…
She is adamantly against the idea of concealing the name of those accused of sexual offences because people 'need to know who the rapists are' so they can protect themselves.
I would argue that exactly the same holds true for false allegators like Danny Day. Nadine Milroy-Sloan rather proves my point. Fantasists don't stop at one porkie – they keep going.
False allegations don't just affect one member of the family – an expendable 'male', to the feminists. They affect the entire family; wife, and if there are children under 16, those children being taken into care.
Being raped is a terrible thing – but so is going to prison for three years, so is children being forced into care homes because Dad has wrongly been accused of abuse.
Henry Wood


July 30, 2016 at 2:43 am

Anna Raccoon


July 29, 2016 at 2:25 pm

windsock


July 29, 2016 at 2:39 pm

The Blocked Dwarf


July 29, 2016 at 4:09 pm

Fat Steve


July 29, 2016 at 10:22 pm

wiggia


July 30, 2016 at 2:07 pm

Henry Wood


July 30, 2016 at 2:50 am

Anna Raccoon


July 29, 2016 at 2:56 pm

Henry Wood


July 30, 2016 at 2:55 am

Cascadian


July 29, 2016 at 10:11 pm

Sean Coleman


July 30, 2016 at 7:27 pm

Don Cox


July 31, 2016 at 12:25 pm

The Blocked Dwarf


July 30, 2016 at 12:48 pm

A Potted Plant


July 30, 2016 at 2:38 am

The Blocked Dwarf


July 30, 2016 at 3:17 pm

The Blocked Dwarf


July 31, 2016 at 9:19 am

Anna Raccoon


July 31, 2016 at 1:10 pm

Don Cox


July 31, 2016 at 12:40 pm

Anna Raccoon


August 1, 2016 at 1:08 pm

windsock


August 1, 2016 at 4:46 pm

Anna Raccoon


August 1, 2016 at 6:07 pm

windsock


August 1, 2016 at 1:27 pm

Anna Raccoon


August 1, 2016 at 1:04 pm

windsock


August 1, 2016 at 1:31 pm

Anna Raccoon


August 1, 2016 at 2:01 pm

The Blocked Dwarf


August 1, 2016 at 3:27 pm

The Blocked Dwarf


August 1, 2016 at 3:33 pm

A Potted Plant


August 1, 2016 at 6:16 pm

Anna Raccoon


August 1, 2016 at 6:29 pm

windsock


August 1, 2016 at 3:13 pm

A Potted Plant


August 1, 2016 at 7:37 pm

windsock


August 2, 2016 at 7:03 am

A Potted Plant


August 3, 2016 at 1:11 pm

windsock


August 3, 2016 at 3:04 pm

A Potted Plant


August 3, 2016 at 1:10 pm

windsock


August 3, 2016 at 3:03 pm

A Potted Plant


August 4, 2016 at 5:34 am

windsock


August 3, 2016 at 3:43 pm