Mrs Murrell Goes to Brussels. Off she went with a trumpety-trump; trump, trump, trump…
When Nicky was leading the big parade,
She looked so proud and grand,
No more tricks for Nicky to perform,
They taught her how to take a bow,
And she took the crowd by storm. 
The head of the EU was calling,
Far, far away,
They met one night, by the silvery light,
On the road to……
Er, nowhere. 'Cos the first thing he said was 'Are you the head of a nation state'. 'No' she said, 'but I could be if you'd let me join the EU, I'd have a referendum and everything…'. 'Come back in five years, little girl', said Juncker. 'Your wee country needs to be independent for five years – and have its finances in order before we could even consider it – we did explain that to you last time you asked'.
See, wee Nicola has been very careful to talk about 'preserving Scotland's relationship with the EU'. Relationship, not marriage. She is not the first lassie to misunderstand the difference between a marriage and being the EUs 'bit on the side'. Still, she got some nice photographs and her more excitable supporters will have been impressed seeing her in a bear hug with her proposed new sugar daddy.
Talking of her more excitable supporters – what joy they gave us yesterday!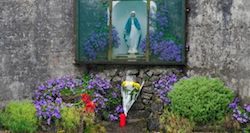 They have been camped out on the grass outside the Scottish Parliament for months. There is no running water there, nor sanitation, which possibly explains how some of them look, though they may have looked like that since they arrived.
Still, mustn't judge a supporter by how he smells; rather what he says…
The #indycamp as they refer to themselves, would like to see Scottish independance. A perfectly laudable aim. However, Parliament has become disenchanted with having their 'tanks' parked on its lawn since last winter, and has been seeking their removal.  The ensuing court case has rumbled on for months.
Now the #indycamp believe that the second Christ has arrived on this earth, and lo! he supports Scottish independence. There's a thing! In fact they believe that the second Christ is inhabiting the body of a man called John. A. Hill – popularly believed to be the individual in kilt and camouflage jacket fast asleep in the public gallery yesterday. Who'da'thought Christ 2.0 would sleep through his first encounter with the Scottish justice system?
Afore he fell asleep, he penned an affidavit to the judge, helpfully signed 'Christ' which claimed that 'pretend judges & fraudulent queen are guilty of capital crimes & should be executed' which caused Lord Turnbull (only the finest legal brains exercised on this matter) to mutter 'This witness statement is signed with the single word 'Christ' – can we talk about that for a moment?' The witness reaffirming that Christ was indeed in court, believed that he was the rightful King of Scotland, and demanded that the Queen be brought to the witness stand, and the Stone of Scone returned to Holyrood so he could be properly ensconced on it, explained that this was indeed 'his position' and he expected the court to affirm it…earning the immortal response from Lord Turnbull of:
'So part of your position is that this court has no authority, I am a fraud and I and my colleagues should be executed?" 
The last time this lot were in court for a hearing on this matter, they invoked the 1707 Treaty of Union, the Declaration of Arbroath, and the UN Declaration on the Rights of Indigenous Peoples to no avail – but they were representing themselves at that time. Lord Turnball threw out all those claims, but strongly advised them to get legal representation before yesterday's hearing on the question of 'proportionality'.
Meanwhile, supporters of independence for Scotland who had wandered over to the malodorous camp, possibly seeking Christ, found themselves in conversation with ernest activists who asked them to sign a document 'supporting independence'. The document, written in Blackadder font, seemed innocuous enough, so they signed. Which is how 238 people are being held accountable for the cost of this court case:
"I didn't sign anything to say I was an active member of 'indy' camp. Yes, I had visited and I do support what they are doing, but it came as a huge surprise to most of us in court that our names were being put forward as those prepared to take legal responsibility. It was a massive shock to hear the Scottish Parliament want our names in order to recoup their costs."
The costs are mounting. After consulting 144 different law firms. (I am not making this up, honest, it's in the court papers, one of the respondents 'told Lord Turnbull that he had contacted 144 lawyers and firms, who all told him they were 'too busy.') (12 x 12 – Book of Revelations?) they finally arrived at the offices of Solicitor John Flanagan. Quite what Jamie Gardiner might have done to upset Mr Flanagan we will never know – but Gardiner found himself appointed to defend this unholy case – on legal aid. Which will take at least six weeks to approve – and he was in court yesterday! He may never get paid…
The final joke is that Jamie Gardiner is famous for one thing (two actually, he was also one of the Scottish Conservative candidates for the European Parliament) – knowing where English law can be brought in to patch up lacunas in Scottish law.
Right, have you got that now? Nicola, who isn't a Head of State is demanding a seat at a table of Heads of State which, if she can have, she can then be a Head of State (possibly) whilst her supporters are occupying a bevy of QCs to argue that the court has no authority, but before it accepts that, (and executes itself for Treason) could it please call the Queen as a witness to allow Christ to be crowned King of Scotland, using English law which they say has no authority over them…
If you have nothing better to do today, I do suggest you follow the Twitter feed of one Philip Sim who is manfully trying to maintain the BBCs commitment to impartial reporting(!!!)…he is in court again today. Keeping a straight face. Which is really above and beyond the call of duty. Give that man a medal.
The latest is:
Meanwhile I've been shown another affidavit saying God has made himself known in code through case number of this hearing as it adds up to 7

— Philip Sim (@BBCPhilipSim) June 30, 2016
Affidavit: Satan sends "people to get in your way, or by sending women (Nicola Sturgeon) to seduce you and prevent you from doing God's Will"

— Philip Sim (@BBCPhilipSim) June 30, 2016
Noooo! Nicola's supporters believe she was sent to them by the Devil? 
Anna Raccoon


June 30, 2016 at 12:59 pm

Ho Hum


June 30, 2016 at 1:08 pm

Rossa


June 30, 2016 at 5:49 pm

Ho Hum


June 30, 2016 at 11:58 pm

Juliet46


June 30, 2016 at 4:06 pm

Rossa


June 30, 2016 at 5:56 pm

The Blocked Dwarf


June 30, 2016 at 6:26 pm

Andrew Duffin


July 1, 2016 at 2:43 pm

Joe Public


June 30, 2016 at 5:40 pm

Rossa


June 30, 2016 at 6:04 pm

The Blocked Dwarf


June 30, 2016 at 6:30 pm

Anna Raccoon


June 30, 2016 at 4:32 pm

windsock


June 30, 2016 at 6:05 pm

Ho Hum


June 30, 2016 at 10:24 pm

Ho Hum


June 30, 2016 at 10:26 pm

windsock


July 1, 2016 at 8:02 am

carol42


June 30, 2016 at 10:13 pm

Don Cox


July 1, 2016 at 8:41 am

Stuart


July 2, 2016 at 6:18 pm

sally stevens


July 2, 2016 at 1:52 am