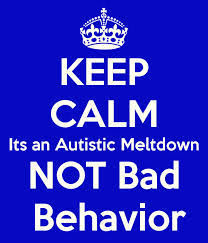 My interest in Autism stems from my days with the Court of Protection. There is a form, a 'CP3', on which the GP or Consultant is invited to put 'simply' the reason why he thinks his 'patient' should have his affairs handled by – in the past the old Mental Health Act – and every time I saw the single word 'Autism' there, I bridled. Autism is NOT a mental illness. It may well give rise to problems that meant it was necessary to protect the person via the CoP, but that is not the same thing at all.
There is a school of thought that claims that Autism is an 'illness' that can be 'cured'. I have a problem with that; Autism is a spectrum of behaviours, some of which are very positive and can be beneficial to society – to take just one example, it is unlikely that we would be here, on the Internet, on a computer, discussing this without the help of people on the Autistic spectrum. However, being a spectrum means that there are people at the far end of the spectrum whose difficulties result in behaviour that is dangerous to themselves and others round them.
To say that Autism could or should be 'cured' is to wipe out all form of autism, the good and the bad, and arrive at a standardised, normalised, human being, with approved thoughts, approved means of communicating them, approved behaviour. I could never support that.
If not 'cured' – what then? Many parents, and it is always parents initially, notwithstanding that many of them may also be autistic themselves for  it is not just a childhood issue,  arrive at the decision that doing nothing may risk leaving their child entirely ill-equipped to live amongst the so called 'normal folk'.
They embark upon what is known as 'ABA' – Applied Behavioural Analysis. Rewarding and encouraging the behaviour that will help that child, discouraging that which will not. That might sound like normal parenting to you – but trust me, when you are talking about an autistic child, it is parenting taken to the nth degree with skill and passion.
It is a huge, nay a monstrous, commitment in terms of time and energy that occupies every waking moment of that one child's life. That is assuming you know how to do it; most people don't. Or rather than don't – have other commitments on their time; other children; partners; a job even.
Enter the professional ABA practitioners. They may be effective, and produce astounding results with some children, but they are expensive. Tens of thousands of pounds expensive. For a child up to school age, you could easily be talking about £40,000. For a single Mum on benefits, for whom the £40,000 was always out of the question, we are talking about a seven day a week, 16 hour a day commitment to that child.
People do that too, for their child. It's what parenting is all about. So you can imagine how they feel when after five years the government demand that they part with that child for up to eight hours a day and let the State take over. Will the state continue the hard work they have put into helping their child overcome his/her difficulties? Maybe. Sometimes. Then again, sometimes the State says 'Nah'; austerity, budget cuts, got chief executives to pay; we'll just have to see how your 'different' child gets on in an ordinary school.
At this point, those parents with a child whose bewilderment at the allegedly 'normal' world is so profound that they react with what is known as challenging behaviour to the point where no everyday school could cope, might be said to 'come off better' from the system in that the Local Authority have no choice other than to shell out for specialised and usually residential schooling.
It is the parents of those children further down or up, whichever you prefer, the autistic spectrum who really suffer. They are the children who with help could live independent and fulfilling lives – yay, the proverbial dedicated computer programmer – but without help are liable to leave school unable to read or write, nor to control their emotions, nor to understand why they are bullied and ostracised.
Not surprisingly those parents fight that decision. If they have money, with paid professional help to help prepare them for the fight with the ABA Tribunal. They need as much help as they can get; this is a once in a lifetime experience of being pitted against specialised lawyers who spend all their time fighting on behalf of the Local Authorities who really, really, don't want to spend as much as £150,000 a year on one child when they could get away with £20,000 to quote the case of the boy known as 'O'.
It appeared to the tribunal that, for the boy's needs, a comparison between the schools was markedly in favour of Camphill, while for costs, it was markedly in favour of Edinburgh.

"We were reminded that the local authority has to make provision for children other than O and no doubt this is so, but we were concerned only with O and his parents' placing request. "Our view was that the development of O's personality, talents and abilities to their fullest potential was much more likely at Camphill," the tribunal said.
In that case the parents wishes for their child was upheld. I would see that as 'a result' for the child, brought about by the parents. It would seem that some, steeped in the adversarial nature of the courts, see that as a 'win' for the parents. Thinking of that sort is what brings me to the point of this post.
On Saturday night, at 7.15 in the evening, or 'wine'o'clock' as it is known in some circles, an extraordinary series of possibly wine-fuelled tweets emanated from the Twitter account of a firm of Solicitors called Baker Small who describe themselves as a 'niche public sector solicitors' practice'. Hilarious the way parents continue to fight for the best chance for their child isn't it? A couple of hours later, Baker Small was still celebrating and chortling over his 'result'. Baker Small seem to see their job as merely saving money for Local Authorities. They have completely lost sight of the child at the centre of this. The sort of sums involved can be seen here:
As an example of possible savings to be made, if the LA in one year used legal representation for 2 SEND appeals for OOA [Out of Area] placements, it would be at a cost to the LA of around £40k. Presuming that one of the appeals was not upheld, with an average cost of £313K over the life of the placement, the average year on year cumulative saving to the LA, taking into account the cost of the representation could be £273k.
Baker Small, (actually one individual called 'Mark Small' who is very camera shy) will produce this 'saving' for the council for the bargain basement price of £8,000. That was the figure in 2011 anyway.
Some on the Twitter community tried to suggest that whoever was accessing the official account of Baker Small at that time of night might be better occupied stepping away from the computer if not the wine glass. Still he ploughed on: Calling parents who fought for their children 'the mob' and saying he was sharing their tweets with his cat…whilst enjoying the football. By the morning, official complaints had gone into the Local Authority involved, and Mark Small was all contrition. The damage has been done though. Hundreds of families that had near bankrupted themselves to pay for the tests, consultations, therapies, necessary to fight for the best education for their autistic children had risen up in fury. The thought that the man responsible for opposing their needs was sitting there mocking them on twitter whilst 'relaxing' at home had driven them into a genuine Twitter storm.
Normally I don't have any time for the Twitter outrage bus, but in this example it was justified. Matthew Keer did a quick calculation and found that Local Authorities were paying Baker Small somewhere in excess of £1,250,000 to sit at home overlooking his swimming pool with a stack of cat memes and an iPad – and laugh at parents trying to achieve the best for their children.
The Children and Families Act was supposed to make the needs of the child paramount. It wasn't intended as a game between lawyers and beleaguered parents.
Why are the Local Authorities even using lawyers to stand against parents?
Don't bother answering that one.
Hopefully 'doing a Baker Small' will be taking over from that hackneyed phrase 'doing a Gerald Ratner'. I'd call that a 'win' for the parents.
Anna Raccoon


June 13, 2016 at 12:02 pm

Ho Hum


June 13, 2016 at 2:57 pm

Anna Raccoon


June 13, 2016 at 12:23 pm

Anna Raccoon


June 13, 2016 at 12:28 pm

Mrs Grimble


June 13, 2016 at 7:04 pm

Tommy K


June 15, 2016 at 11:17 am

Ho Hum


June 13, 2016 at 7:55 pm