In which Ms Raccoon performs a EU turn….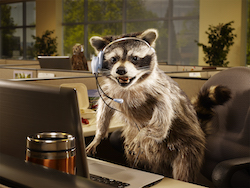 So far, Ms Raccoon has ignored the siren calls begging her to join those in the deep and murky waters of the 'Remain' Lagoon of Complacency; she has equally turned a deaf 'un to the anguished howls of those busy drowning in the choppy waters of the 'Leave' Sea of Despair.
My own view, for what little it was worth, was that we shouldn't have joined the EU in the first place, but that given we had, 'apparently' by democratic means – Ms Raccoon, at that time, was young enough to still hold a child's simplistic view that vox populi, the voice of the people, was an immutable rule –  then like a marriage, we should hold fast through sickness and in health.
Not so much out of respect for the vows we made when we joined, but because the world has spent the past few years teetering on the edge of disasters, both financial and physical.  It didn't seem like an optimal time to be throwing all the cards in the air.
Though if vox populi had decided to abandon the EU ship, then I would have respected that decision too.
What has changed my mind is the hysterical response from the far left as it became a near certainty that Norbert Hofer would become President of Austria, and then,'It is a relief,' tweeted Manuel Valls, France's prime minister, when it turned out that a mere 31,000 people had preferred another candidate.
Journalists went to the trouble of looking up the individual votes, snidely pointing out that in Braunau am Inn, Adolf Hitler's birthplace, almost 60% of the population had voted for Hofer. Guilt by association, virtual closet Nazis.
All this because of one issue. Not that Norbert Hofer was threatening to gas the physically disabled, gypsies or Jews; what he had said was that Austria 'would not take migrants under the Brussels quota system', and he 'endorsed a wall to keep migrants out'.
Mr Hofer has warned that not all the refugees who have come to Austria are friendly and that some "are prepared to cut off another person's head".
This apparently makes him a 'Populist' politician.  
Would somebody please remind the BBC that David Cameron was also adamant that he wouldn't agree to the Brussels quota system, and flew to Bulgaria especially to see their fancy new razor-topped wire fence and 'supported efforts' to strengthen EU borders. Which by the BBC definition of 'populist politician' means that we already have a 'populist leader', too late for M. Valles to give a sigh of relief…
The UK, being a country which, unlike Austria, has failed to narrowly escape having a 'populist leader', puts us in especial danger should we remain in the EU. 
Jean-Claude Juncker, president of the European Commission, has now said that the EU will isolate and use sanctions against any far-right or populist governments that are swept to power or presidential office on the wave of popular anger against migration.
Under powers given to the commission in 2014, he can trigger a "rule of law mechanism" for countries that depart from democratic norms by putting a government under constitutional supervision. Ultimately, a country can be stripped of voting rights in the EU or have funding blocked.
So, for 'Democracy' read 'populist movements' that Herr Juncker agrees with…
Should you be 'swept to power' on a wave of vox populi that may be in the majority, but differs with Herr Juncker's view on unlimited immigration then your country will be 'frozen out of the EU', be 'stripped of voting rights', and have 'funding blocked'. So as far as the EU leadership is concerned, if they don't approve of a government you vote for, they'll render it powerless.
You can have a vote, but only if you vote for their approved candidates.
If that isn't dictatorship, I don't know what is. It is nothing less than an unveiled attack on Democracy, and has finally changed my mind. Russia adopted a similar policy in its East European empire.
Whatever the turmoil and the cost; Ms Raccoon will be voting 'Leave'. 
The Blocked Dwaf


May 24, 2016 at 12:25 pm

Mr Ecks


May 24, 2016 at 2:34 pm

Little Black Sambo


May 24, 2016 at 3:53 pm

The Blocked Dwarf


May 24, 2016 at 4:55 pm

Ho Hum


May 24, 2016 at 11:29 pm

rapscallion


May 25, 2016 at 3:04 pm

Ho Hum


May 25, 2016 at 4:45 pm

rapscallion


May 26, 2016 at 2:56 pm

Anna Raccoon


May 24, 2016 at 1:21 pm

Duncan Disorderly


May 24, 2016 at 7:37 pm

Radical Rodent


May 24, 2016 at 10:31 pm

Johnnydub


May 24, 2016 at 9:35 pm

Mudplugger


May 25, 2016 at 8:22 am

windsock


May 25, 2016 at 10:45 am

Fat Steve


May 25, 2016 at 2:49 pm

Fat Steve


May 25, 2016 at 2:58 pm

Anna Raccoon


May 24, 2016 at 2:13 pm

Ted Treen


May 24, 2016 at 4:20 pm

rapscallion


May 25, 2016 at 3:05 pm

Ho Hum


May 24, 2016 at 11:37 pm

Ho Hum


May 24, 2016 at 11:41 pm

right_writes


May 24, 2016 at 2:52 pm

right_writes


May 24, 2016 at 2:55 pm

Ho Hum


May 24, 2016 at 11:55 pm

Mudplugger


May 25, 2016 at 8:27 am

Ho Hum


May 25, 2016 at 4:53 pm

Frankie


May 25, 2016 at 5:14 pm

rapscallion


May 26, 2016 at 3:00 pm

Stuart Beaker


May 29, 2016 at 11:13 pm

Sean Coleman


May 26, 2016 at 8:00 pm

Sean Coleman


May 26, 2016 at 8:23 pm

Moor Larkin


May 26, 2016 at 10:47 pm

right_writes


May 24, 2016 at 2:58 pm

Moor Larkin


May 24, 2016 at 3:19 pm

right_writes


May 24, 2016 at 3:28 pm

Ho Hum


May 25, 2016 at 12:03 am

Mudplugger


May 24, 2016 at 4:30 pm

Ho Hum


May 25, 2016 at 12:05 am

Mudplugger


May 25, 2016 at 8:29 am

Ho Hum


May 25, 2016 at 4:57 pm

Ho Hum


May 25, 2016 at 12:28 am

Oi you


May 24, 2016 at 5:17 pm

Moor Larkin


May 25, 2016 at 11:24 am

The Blocked Dwarf


May 25, 2016 at 4:17 pm

Moor Larkin


May 26, 2016 at 9:59 am

rapscallion


May 25, 2016 at 3:12 pm

Nerezza


May 24, 2016 at 10:07 pm

Mudplugger


May 25, 2016 at 10:06 am

binao


May 25, 2016 at 11:40 am

Moor Larkin


May 25, 2016 at 8:59 am

Cascadian


May 25, 2016 at 3:09 pm

Ho Hum


May 25, 2016 at 5:02 pm

Cascadian


May 25, 2016 at 6:01 pm

Ho Hum


May 25, 2016 at 6:42 pm

Cascadian


May 25, 2016 at 8:29 pm

rapscallion


May 25, 2016 at 3:14 pm

Cascadian


May 25, 2016 at 5:02 pm

Ho Hum


May 25, 2016 at 5:12 pm

rapscallion


May 26, 2016 at 3:13 pm

Ho Hum


May 26, 2016 at 4:38 pm

theyfearthehare


May 28, 2016 at 12:02 pm

Moor Larkin


May 25, 2016 at 8:56 am

windsock


May 25, 2016 at 9:22 am

Moor Larkin


May 25, 2016 at 9:42 am

windsock


May 25, 2016 at 10:02 am

Moor Larkin


May 25, 2016 at 10:09 am

Fat Steve


May 25, 2016 at 4:02 pm

windsock


May 25, 2016 at 4:41 pm

Bandini


May 25, 2016 at 4:55 pm

Fat Steve


May 25, 2016 at 5:53 pm

windsock


May 25, 2016 at 6:04 pm

Anna Raccoon


May 25, 2016 at 6:03 pm

windsock


May 25, 2016 at 6:30 pm

Fat Steve


May 25, 2016 at 9:16 pm

rapscallion


May 25, 2016 at 3:16 pm

windsock


May 25, 2016 at 5:26 pm

rapscallion


May 26, 2016 at 3:15 pm

Anna Raccoon


May 25, 2016 at 8:00 am

Ho Hum


May 25, 2016 at 5:14 pm

Bandini


May 25, 2016 at 5:39 pm

windsock


May 25, 2016 at 5:46 pm

Bandini


May 25, 2016 at 5:55 pm

windsock


May 25, 2016 at 6:05 pm

Bandini


May 26, 2016 at 5:55 pm

Moor Larkin


May 26, 2016 at 6:00 pm

Bandini


May 26, 2016 at 6:23 pm

Bandini


May 26, 2016 at 6:37 pm

Moor Larkin


May 26, 2016 at 10:39 pm

Fat Steve


May 25, 2016 at 10:24 pm

Fred Karno


May 25, 2016 at 11:14 am

Moor Larkin


May 25, 2016 at 10:19 am

Cloudberry


May 25, 2016 at 11:04 am

Michael


May 25, 2016 at 1:14 pm

Bandini


May 25, 2016 at 6:14 pm

Ho Hum


May 25, 2016 at 6:24 pm

Bandini


May 25, 2016 at 6:40 pm

Ho Hum


May 25, 2016 at 6:44 pm

Bandini


May 25, 2016 at 6:54 pm

Ho Hum


May 25, 2016 at 7:08 pm

Ho Hum


May 25, 2016 at 5:19 pm

Sean Coleman


May 25, 2016 at 8:48 pm

Mudplugger


May 26, 2016 at 8:19 am

Major Bonkers


June 9, 2016 at 9:40 am

Cloudberry


May 26, 2016 at 9:17 pm

Moor Larkin


May 27, 2016 at 9:24 am

Henry


June 7, 2016 at 5:26 pm

Ho Hum


June 7, 2016 at 6:07 pm

binao


June 7, 2016 at 6:07 pm

Ho Hum


June 19, 2016 at 12:06 am