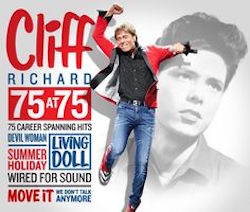 'My Generation' – its virtually impossible to hear those words without acquiring an earworm that taunts you all day with a stuttering echo:
Things they do look awful c-c-cold (Talkin' 'bout my generation)
Yeah, I hope I die before I get old (Talkin' 'bout my generation)
That song became the theme tune encapsulating the tortured angst of the generation destined to be the world's first teenagers. Our musical tastes had been dictated by our parents – Frank Sinatra on 78 records if they were in skittish mood; 'Time for Opera' on the BBC Home Service if not. It was only when the generation before us turned into their late teens and early 20s that they produced music for us.
Elvis Presley, Billy Fury, Tommy Steele; our parents were disgusted by their greasy hair and tight trousers – why couldn't they stand still and enunciate their words properly? There was one pop idol they made an exception for, one who didn't offend them quite as much, nay, some of our Mothers and Grandmothers were quite taken with the young man.
Cliff Richard. He quickly made the transition from Butlin's Holiday camp to the Manchester Hippodrome – to the London Palladium. By 1960 he was a guest on the Pat Boone show in America – and appearing in front of the Royal Family at the Royal Variety Performance. As safe and establishment as you could ask for. Some of us even deserted him at that point – he just wasn't sufficiently outré for a teenage rebel. E'en so, to this day he retains a large and devoted fan club.
A very disappointed fan club. A quite angry fan club.
It would appear that Cliff Richard never existed. He was a figment of our imagination.
It must be so; for the BBC, that Reithian organisation whose mission is to 'inform, educate,and entertain' informs us so. The new generation of teenagers have been treated to a lesson in the history of pop music:
BBC Music today announces a raft of exciting programming around BBC Music: My Generation, a year-long landmark season of programming across BBC TV, Radio and Online charting the history of pop music across the decades, from the mid-1950s to mid-1990s through the memories of the people who were there.
The first episode, covering the period 1955 – 1965 was broadcast two days ago, on Saturday night. Guess what? Not one of 'the people who were there' had the slightest recollection of Cliff being there! Nobody saw 'Stars in your eyes' for the six months he appeared on that; Nobody heard Livin' Doll get to Number One. Nor Travellin' Light; incredibly, not one person had any memory of 'The Young Ones'! Curiously, they did seem to remember the Shadows, his backing group, but not the snake hipped young man who stood in front of them. Most odd.
Odder still, was that one sharp eyed fan noted that when a clip of the Shadows was played, she remembered it so well, she was able to identify the obscure arm and a leg appearing at one side of the clip as being the genuine article – Cliff Richard. Yet still no one remembered him. Not by name, by image, or by any of the songs that he made world famous.
The BBC went to great pains, hiring helicopters and film crews to film the police raid on his house – they were well aware that those who remembered him would want to know that he had been swept up in the raft of allegations post Savile. The BBC's coverage of the raid was nominated for scoop of the year at the Royal Television Society Television Journalism awards.
When the Dame Janet Smith report was published, they were so sure we would remember Cliff that they chose archive footage of him with Jimmy Savile on Top of the Pops to illustrate their coverage of the report. A deliberate attempt at guilt by association which has quite rightly earned them a stiff warning from libel lawyers.
Yet given a serious documentary on the history of pop music during a period when he dominated the scene in England – they have managed to airbrush him out of existence.
Is this an act of bitchiness by the BBC in retaliation for the legal warning?
Is it the work of a stalinist organisation determined to rewrite history?
Is it the work of lawyers terrified that someone somewhere will claim to be 'triggered' by the image of a wholesome young man singing his famous number one?
Does this mean we must approach every documentary, on every subject, broadcast by the BBC, with a series of reference books by our side to check what they have left out?
Can we trust the work of say David Attenborough – was there a 'cliffosaur' between the dinosaur and the titanosaur that they dare not mention?
Is there any point in a BBC wallowing in revisionism?
What think you?
Anna Raccoon


April 18, 2016 at 9:48 am

Jonathan Mason


April 18, 2016 at 1:57 pm

Ted Treen


April 18, 2016 at 5:33 pm

Anna Raccoon


April 18, 2016 at 9:51 am

Moor Larkin


April 18, 2016 at 10:05 am

Moor Larkin


April 18, 2016 at 10:31 am

Ted Treen


April 18, 2016 at 5:36 pm

The Blocked Dwarf


April 18, 2016 at 11:27 am

Jonathan Mason


April 18, 2016 at 1:53 pm

Moor Larkin


April 18, 2016 at 2:44 pm

Ted Treen


April 18, 2016 at 5:45 pm

John Mansell


April 19, 2016 at 2:47 am

:Fat Steve


April 18, 2016 at 10:40 pm

Don Cox


April 19, 2016 at 3:21 pm

:Fat Steve


April 20, 2016 at 10:27 am

Moor Larkin


April 20, 2016 at 10:45 am

:Fat Steve


April 20, 2016 at 11:27 am

Moor Larkin


April 20, 2016 at 12:17 pm

Thimbling


April 19, 2016 at 5:49 pm

Anna Raccoon


April 21, 2016 at 6:25 am

Moor Larkin


April 22, 2016 at 10:38 am