Ms Raccoon would like to apologise for leaving you all in the dark last week – and to thank you for behaving so well with no one watching over you.
I have had several e-mails asking me whether it would be possible for someone to post an update next time I keel over, so that you are not left wondering – and the answer is – No, it isn't possible. This is a new platform, it has a series of passwords that look like the Chinese phone book, and nobody, but nobody has access to it. Not even Mr G, whose 'cyberbility' stretches as far as turning the computer on, but what you do after that is a total mystery to him. If only computers were made of wood…
Equally, several of you have offered to step in and help, and for that I am duly grateful – however, the experience last November of watching, or rather having messages relayed by phone to my bed, that seven years hard work was disintegrating before everyone's eyes, and being too unwell to get out of bed and do anything about it, was such a horror story that I cannot bring myself to let anyone in.
Anyway, enough of that – with one bound, spring-heeled Raccoon bounced back and we lurched off again on a new platform. I was fine, really I was; swimming, walking and thoroughly enjoying life, until a lung infection set in. A week of excellent care from the palliative nurses and some anti-biotics, and I was able to pick up where I had left off.
I even went to London for the day, a beautiful sunny day and a tour round some of my old haunts, followed by an excellent Dim Sum with a dear friend. It was brilliant.
Unfortunately the anti-biotics had only temporarily dampened the enthusiasm of some bug intent on setting up home in my lung. Without warning, it roared back into life, and in the space of a couple of hours I went from 'I could rule the world if I wanted to' to being a defeated object of abject misery. Some bits of me were working too fast, some far too slow, some had gone on strike altogether, and some were just plain painful. I was frightened, I admit it. I don't want that journey home ever again – Mr G won't let me out of his sight anyway.
I've had such a cocktail of drugs in the past week – guess what? The ones designed to speed bits up have side effects, yep they speed up the bits that were going too fast anyway; the ones designed to slow things down – you're probably ahead of me here, yep, you've got it. Sheesh! I felt like a battlefield.
I have learnt a lot though. The GP that I thought was a bit of a woolley-woofter and wouldn't go near (in fact as he came up the stairs I could hear him saying to Mr G 'No trouble, it'll be a pleasure to meet the reluctant patient at last' – that made me giggle; that is me, one very reluctant patient!) turned out to be the most caring man imaginable.
Once he realised that I had no intention of going back into hospital – I had waved one hand in the direction of the phenomenally beautiful view I have from my bed, and asked him whether he would want to continue looking at that or exchange it for a gloomy room with some bad tempered staff? He shook his head and agreed that he would stay put as well – and has managed to put me back on my feet, albeit drugged up and waffling (I do know, you know!) and looking as though nothing was wrong with me.
Which is all by way of 300 sentences too long to introduce you to the view out of my window.
I look out, not just across a river, a mere six feet or so away, a river that is constantly active with traffic and interesting, but further; across some 500 acres of wild marshland – not a house in sight. I'm stopping writing every few sentences to check on the progress of two pair of Deer. They've taken an area of marshland each, chasing their Does, full of the joys of spring, racing across dykes, stopping at every choice piece of fresh grass.
A few weeks ago, a ploughed paddock far in the distance, turned white overnight. I had to take the car across to see what had occurred – thousands upon thousands of Canada geese, not an inch of space between each, marching in slow formation across a recently harvested sugar-beet field, efficiently ensuring that not a spec of sugar-beet greenery remained. The field behind them was pristine.
When they left, the closer marsh was inhabited by hundreds this time, rather than thousands, of nesting swans in pairs each with an area of 'do not enter' round them. They have been a pain in some respects; they wander across the marsh road as though they own it – turning their heads in disdain if motorists meet on the narrow road as though to say 'who'd'you think you're honking at' – you just have to sit and wait; for now, until they make riverside nests, this is their domain and would we please not all be so impatient.
On a couple of afternoons last week, the Marsh Harrier, who is the Lord of as many thousands of acres as he pleases, was kind enough to arrange his hunting activity dead in line with my bed and the window. He hovered and swooped repeatedly, and the first time, I'm sure he dipped his wings at me as though to say, 'I'll be back, I know you're bored' – because sure enough, two days later, there he was again.
The biggest Hare I've ever seen is living in the bramble patch; every morning he races at break neck speed along the top of the dyke, ears flapping in the wind. I don't know where he goes, he is out of sight along the river bank in seconds – but he doesn't come home again until dusk. I guess Mrs Hare is in the bramble patch minding the leverets?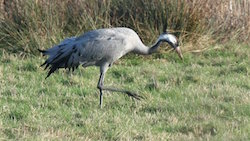 Early this morning I looked out and could see the distinctive shape of a Heron far up the river. I couldn't have done – my eyesight isn't that good to pick out a Heron that far away.
I raced (I'm on steroids now – I can race, up and down the stairs like a souped up mountain goat!!!) to get the binoculars. I just got there in time. I wouldn't have had a clue what it was, had I not read an article just a few days ago – it was a Crane! (That's not my picture, by the way, I'm not that quick on my feet to get the binoculars and the camera!!!) Apparently there are 15 pairs breeding on Hickling Broad, a fair old distance away; I guess that doesn't matter too much when you have a five foot wingspan….
The first batch of fluffy ducklings has just emerged from the bullrushes and filed past in formation behind a proud Mum on the flood tide; in a few weeks they will learning how to evade the 'Gin Palaces' pouring out of the boatyard, back to the Med for the summer – and the Hire boats struggling against an unfamiliar current.
A lost and lonely Canada goose is strutting along the top of the dyke, he's hobbling a bit, maybe not fit enough to fly south yet. The Jackdaws are circling round our thatch; they've given up trying to get back in the chimney and are extracting their revenge for our act of callousness by stealing the bedding for their new home.
I ask you – how could I possibly consider exchanging all this for a small corner of that dismal example of the 'NHS – envy of the world'? All their needles and probes and scalpels and bored faces can't begin to compete with the view from this window when it comes to making you determined to stay alive.
That view – and you. For when I finally got out of bed and managed to pen some drugged up waffle about the EU – there you all were again, chattering away to each other, teaching me more and more each day. I'm very grateful – and extraordinarily lucky.
I will do my best to drag myself away from the chance of sighting the Crane again tomorrow and dive back into the murky world of the EU, or maybe the even murkier world of false allegations.
It'll be wrench mind. I wouldn't do it for anyone else.
The Blocked Dwarf


February 25, 2016 at 12:35 am

Anna Raccoon


February 24, 2016 at 4:03 pm

Carol42


February 24, 2016 at 5:53 pm

Anna Raccoon


February 24, 2016 at 4:05 pm

Oi you


February 24, 2016 at 6:14 pm

Wigner's Friend


February 24, 2016 at 5:51 pm

The Blocked Dwarf


February 24, 2016 at 6:22 pm