Bridge on the River Kwai.
And before the pedants point it out – it was actually about 200 miles East of the Kwai. I wasn't going to waste the headline though!
In Pattaya, that den of iniquity, the denizens of antiquity were quietly amusing themselves, unaware that the Thai police were planning a major crackdown on crime.
Particularly crime committed by that disreputable lot known as 'Foreigners'.
Since seizing power in 2014, Thailand's leader, General Prayuth Chan-ocha, has vowed to crack down on a raft of social ills, including corruption and criminal networks, both foreign and domestic.
Pattaya has a wide array of crime to choose from. Mostly sex crimes; paedophilia, sexual enslavement, prostitution (still illegal in Thailand despite its reputation). So when the Thai police got a call from the resident of a first floor apartment that a group of foreigners were meeting on a regular basis for nefarious deeds and money was changing hands, they girded their loins and amassed a serious force to deal with the problem.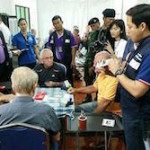 Thus 50 army veterans and policemen donned bullet proof vests, drew their arms, and crashed through the front door of the apartment on the second floor.
There they found 32 elderly ex-pats; British Dutch, American; sitting round eight tables…..plotting their next contract….
Local police, soldiers and Bang Lamung district officials raided a Jomtien & Pattaya Bridge Club meeting above Alto's restaurant off Thappraya Road in the resort city on Wednesday, taking into custody 32 people, mostly European nationals, and holding them until 3am.

Pattaya police chief Sukthat Pumpunmuang told AFP Thursday the raid was sparked by a member of the public complaining to the government's anti-corruption centre. It was initiated by district officials, local media said, not by Pattaya police.
They arrested the lot of them, now all bailed in the princely sum of 100 quid each, even though no money was changing hands – for having recovered from their embarrassment at not 'busting' an Al Qaeda cell, they consulted their rule books and discovered that it is against the law in Thailand to have more than 120 playing cards present in one room….
While they found no financial evidence of gambling, police charged the group with possessing more than 120 playing cards that were not produced by the Excise Department, in violation of Section 8 of the Playing Cards Act of 1943.
32 pensioners playing Bridge uses 416 cards….
Proving that it's not just the British police force that has taken leave of its senses.
Talk amongst yourselves, I'm off to the damn hospital for the day.
Anna Raccoon


February 5, 2016 at 10:06 am

Eccentric


February 8, 2016 at 8:55 pm

Anna Raccoon


February 5, 2016 at 4:45 pm

Fat Steve


February 5, 2016 at 6:33 pm

Mudplugger


February 6, 2016 at 8:19 pm