'Taharrush gamea' – it sounds like a sexually transmitted disease; a cross between Thrush and Gonorrhea. It is a word you will become only too familiar with in the coming weeks. Taharrush gamea is spreading like the plague across Europe.
It is an Arabic word, one that originally referred to the sexual molestation of children. In the heady days of the Arab Spring, when well-heeled metropolitan types were cheering the chaos of Tunisia, then Egypt, – the word metamorphosed, as words often do, to mean a new variant of terrorism.
Buried within the myth that the 'Jasmine Spring' started merely because a humble vendor set light to himself in protest against government policies, there is another story;
Some will call Mohamed Bouazizi "the drop that tipped over the vase"; others will insist that his death "lit the touch-paper" for the Arab spring revolts. But listen closely and there is also a growing murmur of dissent among those who believe that Mohamed was not a political hero but a media creation, manufactured by a myth-making machine that swung into action in the immediate aftermath of his death.
Mohamed wasn't in dispute with some random government official, but a very specific one; a female inspector called Fedia Hamdi, who, he claimed, had slapped him across the face – the ultimate insult in the patriarchal Tunisian community. After the fracas with Mohamed, an internal investigation by the municipal authorities exonerated Fedia from all wrongdoing. In spite of this, she was arrested in a last-ditch attempt to pacify the rioters. She was to spend 4 months in prison, ultimately on hunger strike.
As the uprising spread to Egypt, more 'uppity' women came to the fore. Social media was giving them a voice they had never had before – it was the viral video published by Asmaa Mahfouz which led to the mass protests in Tahrir Square. The Conservative forces of authority were not happy with this outbreak of emancipation – and that was the point at which Taharrush took on a new meaning and became a weapon of political control.
Early that year, female activists protesting the constitutional referendum outside of the Press Syndicate offices in downtown Cairo were sexually harassed and assaulted by police forces and state hired "baltigiyya," or thugs (Al-Nabaa News 2005; Langohr 2013; Radwan 2011). Following the event, which came to be known as Black Wednesday, reactions were swift from prominent activists and scholars who formed a short-lived movement against political violence, "The Street is Ours," and condemned state efforts to silence dissent, through assaults designed to curtail women's participation in the public sphere by undercutting their respectability (Adly 2013; Amar 2011; Nazra Joint Statement 2012).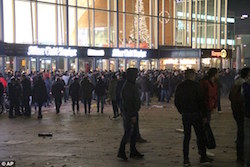 When the news first filtered through to Britain, via the BBC, of the sexual attacks that took place in Cologne on New Years Eve – there was no mention of 'migrant's' or even 'foreigners'; the story was merely that 'several women' (ultimately it proved that 'several' meant 652) women had been sexually assaulted by large groups numbering several hundred, of single men, who had been roaming the streets of Cologne.
I am surely not the only person who wondered why so many 'single men' were wandering the streets of Cologne on such a night? Oktober Bierfest perhaps, but New Years Eve is a traditional party night for lovers and family – it sounded 'odd'.
Then I remembered the pictures of an army of healthy young men marching towards Germany; the hastily erected barbed wire fences; the nervous policemen; the unseemly scramble from the media every time a woman or a child came into shot that they could focus on – eventually it was revealed that only 13% were children (and it should be remembered that 'child' includes healthy young people up to the age of 18, much as these statistics tend to be illustrated by graphics of pre-pubescent toddlers) and 12% women.
Figures which leave us with an inescapable total of 75% young men. I pondered at the time as to what sort of young men would find their own country so dangerous that they would leave their wives, mothers and children to fend for themselves, whilst they marched across Europe to a 'better future'.
There are undoubtedly some tragic stories and people utterly deserving of our sympathy and total support amongst the refugees. It is also becoming clear that hiding amongst them were some young men bent on furthering their political cause.
The media are divided. Those on the left demanding that any analysis of the 'quality' of this army of humanity is 'racist', 'divisive', and a heartbeat away from being a fully paid up member of the BNP. Even some of the women who reported being sexually assaulted have been abused on social media and in the media for being 'racist' in identifying their attackers as neither German nor English speakers – 'possibly Arabic, and of middle eastern appearance'. The left are quite sure that it is 'our fault' for not getting to know these loveable people, for dressing in an unseemly fashion.
The Interior Minister, having now fired the Chief of Police for his handling of the affair, has admitted that 'some migrants' were among the attackers, which might give the impression that there were 'also' some Germans involved – there were none.
"Those 19 suspects include 14 men from Morocco and Algeria. Ten of the suspects are asylum seekers, nine of whom arrived in Germany after September 2015.

The other nine are possibly in Germany illegally".
Whereas the Right wing press is determined that you should understand that anyone who speaks Arabic and of a light brown skin colour is a) a Muslim, b) a misogynist, c) an irredeemable danger to all women, and d) should be sent back to whichever flyblown desert they came from.
There is another possibility.
Just as Bin Laden realised that you didn't have to buy a Cruise missile in order to bomb the USA, you just need a couple of suicidal pilots with a penchant for virgins to fly a very effective bomb into the heart of Manhattan – so the conservative men folk of Egypt realised that by adapting Taharrush gamea to include the sexual harassment of grown women you could clear the streets of bolshie American reporters and your own uppity women who were getting too big for their boots.
A couple of thousand men amongst the – what is it now? 600,000, 800,000 – army of migrants, committed to carrying out Taharrush gamea whenever the opportunity presented itself, would be a very effective force of terrorism. No need to acquire guns, or explosives.
Terrorism isn't about killing people, its about terrifying them.
The stench from Cologne will be hanging around for a long time…
Joe Public


January 16, 2016 at 6:27 pm

Wigner's Friend


January 16, 2016 at 7:24 pm

Oi you


January 20, 2016 at 3:59 pm

Anna Raccoon


January 16, 2016 at 9:33 pm

The Blocked Dwarf


January 18, 2016 at 6:17 pm

Peter Raite


January 19, 2016 at 4:21 pm

Major Bonkers


January 22, 2016 at 10:24 am

Mr Wray


January 23, 2016 at 6:12 pm