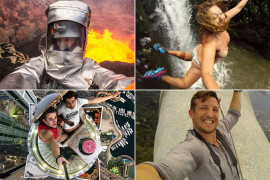 Cate Blanchett is an intriguing actress – interesting-looking, androgynous, a touch of Garbo about her. She climbed higher in my estimation last week when expressing her exasperation at her peers indulging in endless selfies when attending a movie premiere. 'Why would adults bother with that shit?' she asked. Why, indeed? Okay, so actors aren't exactly short on vanity; Richard Harris once said an actor at a social occasion will say something along the lines of 'Oh, let's not talk about me; what about you? What did you think of my new film?' But this is something else. We're talking mostly about adults over the age of 25 as well, not adolescents; surely old enough to know better? Apparently not. The new idiocy crosses all boundaries, including age.
I can feel quite evangelical about the antisocial tool that is the mobile phone; were I not so skilled in biting my lip, I suppose I could easily turn into a manic street preacher shouting my mouth off outside Sainsbury's as an endless parade of pedestrians focused on their phones pass by, locked into a world manufactured by corporations specialising in social sedation. One expects it from teenagers, but the mesmerising effects of the mobile have infected more than one generation ahead of the twenty-first century boys and girls. I have several friends around my own age who cannot conduct a conversation without glances down at the object in their palm every twenty or thirty seconds; they don't even seem to realise they're doing it. I wonder how it would look to them if I were to be holding a book during a chat and continued to read it whilst chatting. They'd probably surmise I was pretty rude, and they'd be right. Why do different rules apply where mobiles are concerned?
The sight of zombified citizens seeing nothing of their surroundings as they stroll along the street, their eyes glued to a tiny screen presumably containing something so incredible that it warrants a collision with a lamppost, is so commonplace now that one would imagine the minority of us not enslaved would cease to be enraged by the image. Not so. The other day I passed a tree and heard what I thought was a bird squawking; I paused to look up and saw it was actually a squirrel. I've never heard these silent and stealthy rodents make a noise before and I was sufficiently captivated to interpret his vocals  as a children's story in which Mr Squirrel was calling to his lost babies. Okay, so it's not as though I witnessed the eruption of a volcano or anything, but it was a brief moment of facsimile pastoral serenity in an urban jungle that being plugged into an iPod and staring down at a mobile would have denied me; and I'd rather have had that little moment, to be honest.
One more recent innovation in the hyper history of the mobile takes the biscuit when it comes to a yearning for the legalised punching of strangers, however, and that is the advent of the 'selfie' – the narcissistic need for the vain and insane to be constantly taking photos of themselves, as though they were their very own mug-shot division of the police force. They do it at home, they do it at school, they do it at 'Uni', they do it at work, they do it in their cars, they do it on public transport, they do it in the shower, they do it in the bath, they do it when they're at a gig, they do it when having a meal, they do it when having a drink, they do it when having a shit, they do it when they encounter somebody famous, they do it when they visit a famous location – and all the while their attention is on not where they are or who they're with, but me, me, me.
Imagine standing before the Taj Mahal or a Titian in the National Gallery and one's first instinct is to turn away and hold up a phone to take a snapshot; imagine being in the audience at a live performance by someone one has waited twenty-odd years to see in the flesh and one's first instinct is not to observe the event with one's eyes so that the moment is seared on the memory until the final blink on the deathbed, but to view it through a tiny screen as though watching it on TV when you're actually there. Hard to imagine being that moronic, but the evidence is there whenever we venture outdoors. The invention of the selfie-stick now enables a whole group of dickheads to indulge in communal narcissism; and to think at one time people used to worry that mobiles were pumping potentially lethal radiation into their heads. One wonders if they were right after all. The mobile is quite possibly the most effective weapon for turning the populace of the planet into unthinking (not to say voluntary) automatons ever invented.
Okay, so one expects amateur idiots to excel at amateur idiocy, but what of those in a position of authority, especially holders of high office? I still find it hard to believe David Cameron and Barack Obama could pose for a selfie at the funeral of as respected a world statesman as Nelson Mandela. Picture Harold Wilson, Charles de Gaulle and Lyndon Johnson doing likewise at Churchill's funeral were the technology available to do so in 1965. No, I can't either. Probably something to do with respect for the dignity of the occasion. And then there were the two Sussex policemen who took a selfie whilst standing next to the wreckage of the Shoreham Airshow Crash, one in which 11 people died. They at least have fallen on their swords after the error of their ways was pointed out to them; but what the hell were they thinking in the first place? Ah, thinking – they clearly weren't doing that.
But these examples, as pathetic as they are, pale next to the fact that more people have died this year taking selfies than have been killed by sharks. The obsessive desire to document every action of the day, from the mundane to the contrived dramatic, has pushed several idiots over the edge – literally, in some cases. Amongst the fatalities that will no doubt one day feature in the 'Stupid Deaths' segment of 'Horrible Histories' are a pair of pals who died after pulling the pin from a grenade for a selfie, a student who pressed the wrong button when holding a loaded gun to his head for a selfie, a couple who fell off a cliff after crossing over a safety barrier for a selfie, the pilot of a light aircraft who killed himself and his passenger as he crashed the plane whilst distracted posing for a selfie, not to mention several involving moving trains and live wires – all of whose death certificates should read 'Death by Selfie'. It seems life for many has been reduced to an X-rated episode of 'You've Been Framed'.
One could be cynical and come to the conclusion that the selfie is merely the latest development in the ongoing process of natural selection, that man has given a helping hand to nature in separating the weak from the strong. The weakest are being disposed of by indoctrinating them with the belief they are so important that they have to constantly record their lives just in case something spectacular happens, and if it doesn't, they'll make something spectacular happen – and some will pay for that dubious craving with their lives. But let's not be cynical, let's…oh, sod it! Yes, let's be cynical. Is the world a poorer place bereft of those who fatally indulged in selfie-harm? No, I don't think so.
Petunia Winegum