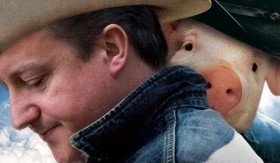 Whatever part competence, judgement and vision play in a premiership, the factors of timing and luck should never be underestimated. Robert Walpole emerged from the chaos of the South Sea Bubble and sold himself as the only man capable of steering Britain out of economic turbulence; Churchill's decade-long tirade against Nazi Germany bore fruit when the nation saw him as far more equipped to deal with Hitler than Chamberlain; Macmillan exploited the disaster of Suez; Wilson exploited the damage of Profumo; Thatcher benefitted from the Winter of Discontent; and Blair capitalised on sleaze. The quality of one's opponents also figures in how a Prime Minister performs both at the polling booth and PMQs. Heath was up against wily old Wilson for the full ten years of his term as Tory leader, and only managed to win one of their four electoral battles; Thatcher faced three of Labour's least challenging head boys in Callaghan, Foot and Kinnock; Blair never broke sweat when confronted by Major, Hague, IDS and Howard.
David Cameron is one Prime Minister that luck seems to have especially singled out for special treatment. From his election as Conservative leader in 2005, few within or without his party gave him much hope. Many senior Tories suspected he was all surface/no substance, that his privileged background was too great a break with his grammar-school graduate predecessors and a throwback to the Old Etonian school of Toryism; they thought he was too closely modelled on Blair to convince either the electorate or party activists out in the Shires, that he seemed too focused on gimmicks to court favour – remember him hugging a hoodie in a desperate attempt to refute posh-boy accusations or cycling to the Commons and sledging with huskies to emphasise his Green credentials?
When 'Call me Dave' had his inaugural opportunity to show the country what he was made of, however, timing appeared to be on his side. The 2010 General Election was the first held after the financial crash of 2008 and with Dave's role model having sailed off into the profitable sunset of Middle East peace-brokering and after-dinner speaking, he was up against the man many held responsible for the perilous state of the nation during his decade as Chancellor, Gordon Brown. Brown's efforts at coming across as just-an-ordinary-bloke were even more toe-curling than Cameron's; the dour Scotsman forcing a pained smile for 'the kids' on YouTube or committing endless public gaffes that eventually culminated in Bigoted Woman-Gate were testament to his utter ineptitude at mastering PR in a 24-hour media age that seemed to prize this aspect of the job higher than ever before.
Yet, come the first-ever TV leader's debate, Cameron fluffed his big chance and was upstaged by an unexpected show-stealing performance from Nick Clegg. The inconclusive result of the Election, when Dave couldn't even comprehensively trounce a PM as incompetent as Brown, vindicated the belief of his critics that he wasn't up to the job; that he then had to call on the Lib Dems to shore up his fragile administration, something that would leave his hands tied by compromise for five years, was seen as further proof of his weakness as a leader. And it didn't take long before Cameron's judgement at No.10 came into question, particularly with regards to the company he kept.
The appointment of ex-News of the World editor Andy Coulson as his Director of Propaganda – sorry, Communications – raised a few eyebrows, providing one of the Digger's former top dogs with a £140,000-a-year mega-Spad position at the heart of Cameron's Camelot. Already tarred with the hacking brush, rumours of Coulson's role at News International's dirty tricks department soon resurfaced along with fresh hacking allegations and he quit his Downing Street post after barely six months in the job. Coulson's dubious presence at No.10 shone an unflattering light on the so-called Chipping Norton set, an elite clique of media movers and shakers who happened to be Dave's neighbours and dinner party regulars. Prominent members of this network included 'Top Gear' gobshite Jeremy Clarkson, Blur bassist and celebrity cheese-maker Alex James, and heir apparent to the Murdoch hot-seat, Rebekah Brooks.
When the Hacking Scandal broke in the summer of 2011, the PM was implicated by association and sought to distance himself from embarrassing revelations of horseback jaunts and text messages sent to Brooks that were revealed when she was in the dock. Despite Ed Miliband momentarily having the upper hand over Cameron in the Commons during the height of the affair, Dave somehow survived. A slow upturn in the economy and the failure of Labour to take full advantage of the unpopularity of the Coalition enabled him to ride out the storm. The prospect of Dave addressing the nation and declaring 'I have never been a quitter' before falling on his sword was something that was never going to happen, regardless of the best efforts of the conspiracy king, Billy 'Wanker Watson' Bunter. Four years on from Hack Gate, Brooks is back on the Murdoch payroll and Cameron is still Prime Minister.
Dave's poor judgement where Coulson and (especially) Brooks were concerned was probably spared more critical scrutiny by the fact that he hadn't been the first PM to be in thrall to the Pre-Raphaelite Cruella; Tony Blair was arguably even closer to her, so Cameron's unwise intimacy was hardly unique. Ed Miliband's inability to maintain the brief popularity that came with his exploitation of Dave's ill-advised circle of friends also assisted his opponent's recovery once the dust had settled. Even the disgruntled Tories flocking to UKIP in the run-up to this year's General Election didn't do any real damage come polling day, nor did Cameron's endorsement of issues such as gay marriage, which divided his party like few subjects other than Europe in his first term.
And now we have the embarrassing indignity of ritualistic university larks – whether true or porkies – making headlines following the serialisation of Lord Ashcroft's biography of the PM. The Daily Mail may distrust Dave, but not as much as they distrusted Miliband and certainly not as much as they despise Corbyn. And, in many respects, this is the continuous luck of the draw as far as Cameron is concerned. Osborne, Boris and May might be jostling for the job once Dave decides to vacate No.10 before completing a second term, but will they share the same fortunate conditions that have enabled Cameron to cling to power – a weak opposition, a favourable economic climate, an apathetic electorate?
Other than being accused of paedophilic tendencies, it's hard to see what could cause Cameron to leave office prematurely. He seems able to withstand any criticism, any revelation and any error of judgement because, outside of a handful of adolescent Corbyn groupies, nobody appears to be that bothered. A shrug of the collective shoulders seems the most apt response to a PM who excels in modest mediocrity and admits he's not a deeply ideological person. So, he once allegedly stuck his honourable member in the orifice of a dead pig? Unless necrophiliac bestiality is reclassified as a historical sex crime, there's no real reason why even that shouldn't wash over him. Each era gets the leader it deserves.
Petunia Winegum