The Ship of Fools motors on…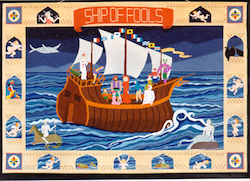 No we didn't put the sails up.
You can't put up the sails when the wind is coming from the opposite direction to the one you have a pre-arranged appointment with – the wind would just blow you backwards. So you motor towards your pre-arranged, months ago, destination. Now the trouble with motoring into a head on wind, is that you hit all the waves head on. Up one side, down the other….all the while continuing to roll from side to side like a banker's desk toy.
This curious motion had an unexpected effect on those on board. Yes, even the '22 years in the Royal Navy' and 'done the Hobart to Brisbane' types. As the waves crashed over the bows, they all had their heads stuck in a paper bag.
Our plucky craft now resembled nothing more than an episode of 'Deadliest Catch' crossed with the local Chemotherapy ward. Vast fishing boats skinning the North Sea of the last known Cod fish passed us with flocks of white sea gulls in their wake – we went in the opposite direction with a flock of white sick bags following us. I kid you not – three quarters of those on board were giving the 'two-six-HEAVE' order new meaning and na'er a rope in sight. Even the nurse. Who had the sole responsibility of making sure that those who had been put to bed without their prosthetic leg had a suitable supply and disposal service for the sick bags that they had no way of getting to unaided. After several years service on board this craft she was heard to mutter to anyone who would listen that never, ever, ever, again was she going to do more than 'day sailing' on it – and she had never been sea-sick before.
Now Ms Raccoon, showing that breathtaking resilience you have grown to expect of her, was never sick, never even took one of the sea sickness pills that were by that time being handed out like Smarties. Some people just have the extra special something, and can I help it if I am one of them? This proved to have its disadvantages, since running the ship was now down to the dozen or so souls that could peel their heads off their pillows.
T'was thus that on a braw wee night, in the icy depth of the witching hour, she found herself on the bridge, in the company of our Relentlessly Cheerful watch leader, another five foot tall 'hopeful' future watch leader, and a diamond of an old Royal Navy man in a wheelchair fastened to the Port side. Ms Raccoon was delighted to be fastened to the starboard side with orders to watch out for marauding fridge freezers that might attack us. Ms Five Foot did a magnificent job at the helm, putting us back on track after every wave knocked us sideways – no easy task. After an hour we all swapped positions, in order that we could experience freezing the other side of our collywobbles. They were very keen on us experiencing every aspect of 'sailing'. Especially at 4am.
Above the howl of the wind, the crash of the non-authentic stainless steel rigging and the roar of the engine, a faint voice could be heard crying 'Ms Raccoo-o-on'. Naturally I leapt to attention; well, as fast as my Paddington Bear outfit would allow, more of a doubled-up 'attention' actually, since I had forgotten to undo the carabiner, and I answered 'Yes Ma'am, O Glorious Watch Leader'.
'Could you come and take the Helm please?'
This was not music to my frozen ears, since I was the one who had missed the 'Helm handling briefing' the day before, on account of being fully occupied cleaning the Heads along with a disgruntled putative author who had paid £1,000 to get an idea of how rigging worked for his next historical novel. Instead of which, he is now an expert on cleaning Heads that have had 42 people throwing up in them, which is bound to come in terrifically handy some time.
'I really don't have a clue what to do' said I. 'Don't' worry' said Mrs Relentlessly Cheerful, who looked a trifle peaky, now I come to think about it. 'I'll tell you what to do'.
'What you do is…..'
.
.
.
.
Oi! Where the fu*k d'she go? "Come back Missus!" "What you do is 'WHAT'?"
She'd vanished! Gone. Vamoosed. There was just me, the helm, the pitch darkness, the stars. All very romantic, but since we were in the middle of one of the most crowded shipping lanes in the world, the silence was enough to ruffle the fur of even a Raccoon. I couldn't see the man in a wheelchair four foot below me, come to that I couldn't see Ms Five Foot below me on account of her being sat down…..and I definitely couldn't see Mrs Relentlessly Cheerful, the experienced sailor.
She hadn't even told me what course I was supposed to be keeping this blasted ship on, assuming I could have figured out how to do that. Obviously I followed the old Army adage, which I figured would work just as well at sea – 'When in doubt, do nowt'.
As it happens, she wasn't enjoying her separation from me any more than I was, for it transpired that the poor girl was on hands and knees behind me, throwing up for the eighth time in succession, completely unable to speak, and well aware that she had just put a complete dickhead in charge of the precious Lord Nelson. Fortunately, alarms were going off somewhere in the bowels of the officer class accommodation, on account of us now taking the waves on sideways, and something in uniform with bags of experience (like 'knew the difference between port and starboard') came racing up onto the bridge and took over. Phew! You'll never make a Robin Knox Johnston out of a Raccoon – still you get a blog post out of it, and Mrs Relentlessly Cheerful will dine out for a few years on the tale.
That watch came to an end. Eventually. And I stumbled below decks in the gloom of the emergency lighting, swinging from rail to rail, crashing into wheelchairs parked for the night and feeling my way past fire extinguishers and all manner of shin combatants, to my very own little berth next to the anchor locker. I rolled from side to side as I removed the layers of yellow plastic; I crashed head first into the berth above as I balanced on one foot to remove the sea boots; until finally I was in a suitable sartorial state to tackle the Head, so close to my berth. It bore a sign saying 'Do not use'.  A voice in the gloom, watching my progress, said 'It's broken, and they don't want to wake the engineer til the morning'…
I reflected on the engineer's beauty sleep as I made my way, now without protective clothing or steel capped boots, the length of the boat to the 'disabled' Head. I can't tell you what the objects were that I met in the rolling, bucking, dark, only that they were sharp and unyielding; and that I met them all again on the way back to my berth. And yet again two hours later, thanks to those cautious French surgeons and my redesigned plumbing system. And again on the way back. And yet again, two hours later. I swear they moved each time. No matter how I tried to memorise their position; they lay in wait for me. If I'd known where that engineer slept, I'd have given him 'beauty sleep'.
You may have gathered by now, that Ms Raccoon's fabled even temperament, endless patience, and calm, placid, nature was slipping, ever so slightly, notch by relentless notch. I was all out of masochism. Not a drop left. Something about 'a game of Ludo' came to mind as I rolled from unyielding steel side to wooden side of my bunk and back again.
A plan was formulating.
Should we ever reach Holland, and that didn't seem a certainty, but should we…I would somehow set foot on dry land again, and never look back. We were pointing our bow at Scheveningen, a place I'd never heard of nor shown the slightest inclination to visit. However, I was prepared to give Scheveningen a chance; it must have roads, maybe even a rail track, perhaps trains, oh glorious objects. Whatever it possessed, it was surely preferable to entrusting the remainder of my life to my present travel arrangements. Who knows, they might even have the sort of toilet you can use without undressing whilst holding onto the ceiling light bulb? So? I'm pushing 70, I'm getting very stuck in my ways. Say what you want.
However, what you 'orrible lot would say was very much on my mind. How I cursed my big mouth telling you I was undertaking this adventure. Had you not known, I could have slunk away, never having to admit that I had chickened out of something. The thought tormented me. Ms Raccoon never admits failure, that was the personality I had carved out on line, what would the anonymous hordes say?
I didn't bloody well care. I fell asleep dreaming of fast trains and big, safe, Harwich ferries with stabilisers, and crew that said 'Welcome aboard', and 'I hope you have a pleasant passage'. Maybe planes?  Schiphol, that was it, Schiphol – direct flight to Norwich!!!
I awoke a brief hour later with Mrs Relentlessly Cheerful standing over me…
More tomorrow….