A Picture Fells A Thousand Tories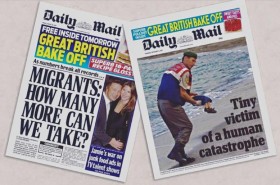 What a difference a week makes. For a long time now, what used to be asylum-seekers before being rebranded migrants and then suddenly refugees have been dying at sea in appallingly high numbers, many fleeing war-torn Syria. It's uncomfortably ironic that so many British citizens are eager to travel in the opposite direction at the moment; perhaps the governments of the two countries should establish an exchange scheme? Sorry for being flippant when dealing with such a grim subject, but it's no less flippant than the dramatic U-turn that has taken place on the right side of Fleet Street this week.
It goes without saying the general tone of the response to Europe's current migrant crisis in the British press over the past month or so has fallen into entirely predictable camps. It wouldn't have come as much of a surprise to anyone that the liberal heart of The Grauniad was losing pints of blood or that The Mail was (probably) forecasting falling house prices should the British Government allow any of the hordes at the mouth of the Chunnel to reach the white cliffs. The PM, busy chillaxing and displaying his 3½-pack, was eager to maintain the policy advocated by Messer's Murdoch & Dacre (why does that sound like a dodgy Dickensian law firm?) without cutting short his hols. Andrew 'Pleb' Mitchell was insistent Britain was doing its bit earlier this week on 'Newsnight' without committing the nation to opening its doors, even if only leaving them a little ajar.
And then that picture was published. The flotsam and jetsam washed-up on most beaches tend to comprise dead sea creatures, used condoms, and various plastic items. To see the body of a small child in that situation is undoubtedly shocking, but the ocean has been surrendering its grisly secrets to Mediterranean coastlines for months. However, just as swatting a fly is entered into without a second thought, yet few with any decency would kick a puppy, the sight of a drowned infant rather than a fully grown person stirs something much deeper and it appears to have stirred something in the British public. Yes, the same public whose ability to react to any scenario is increasingly dependent on being told how to react by both strains of the media has now been encouraged not to see every escapee from psychotic regimes or war-zones in Africa and the Middle East as a scrounging parasite, but as a human being. There's no middle ground in tabloid-land.
I suppose hearing or reading of a high number of deaths, whether passengers crammed into a small fishing boat or even reclining in relative luxury on an aeroplane, is such an abstract concept that it's often difficult to envisage. The difficulty in doing so makes it easier to avoid thinking about and the numbers merely stay numbers; one doesn't see the actual deaths, so it's almost as though they didn't really happen. When I read that a historical battle had upwards of 80,000 fatalities, the way I usually try to picture that astronomical amount is to imagine a full football stadium in which the crowd form the body count of said battle. I appreciate this is a personal system and maybe wouldn't work for everybody. Sometimes it takes a single image to do the trick, as has occurred this week.
Some of the scenes that have played out on television news broadcasts over the last seven days have been compared to the panicked Jewish exodus from Germany on the eve of World War II, but have for me evoked the chaos that accompanied the 1975 evacuation of Saigon. Authorities are confronted by the same conundrum. Who gets in and who doesn't? Who selects the straws to be drawn? Those that weren't helped over the fences erected by the Americans to safeguard their own escape in 1975 and who weren't prepared to submit to the Communist North fled their homeland by sea and thus the nomadic community of Vietnamese Boat People was born.
There's no definitive solution to this problem, but it could be alleviated if the European nations try to curtail a prolonged humanitarian crisis by giving a safe haven to as many refugees as is feasible. But that's the easy part, really. Where do they go once they're in? Camps? The response to that option was greeted by both terror and refusal in Hungary a couple of days ago. Even if homes are located, the likelihood of neighbourhoods descending into ghettos where the same lawless way of living that many of the refugees fled in the first place then becomes second nature is high. Yet, integration is also difficult; spreading them throughout a country could lessen the possibility of them being ghettoised, but the subtle demonisation that several European Governments have used in relation to migrants since this crisis began has put fear into the hearts of many natives, something that was expressed even this week in the comments of the Hungarian Prime Minister.
Events on the coast of Turkey have changed the climate overnight – at least for those distanced from it. British newspapers that have been painting refugees as barbarians at the gates for months have belatedly humanised them and their readership are now expected to respond accordingly. Of course, some had already come to that conclusion and their chosen paper has decided to mirror their concern just in case sales figures drop as a consequence of being perceived as out of touch with the consensus. Politicians were also threatened with a spell in the dock at the Court of Public Opinion, so David Cameron has changed tack, perhaps conscious he needs all the friends he can get in Europe at the moment.
What happens next is anyone's guess. But things as they stand clearly can't continue. Three-year-old Aylan Kurdi may have inadvertently instigated the beginning of the end, but it was still too high a price to pay.
Petunia Winegum