Snail's Pace Development.
One of the few beliefs in their own omnipotence that the Romans didn't hold, was a belief that they could walk on water; thus when they wished to travel from the sand dune known as Great Yarmouth to Acle, then a major port on the watery estuary they knew as 'Gariensis', they abandoned their belief that roads should go from 'a' to 'b' in a straight line, and took a more circular route over dry land…
Thus the route between these two towns curved northwards in an arc through the old Roman towns of Caister and Filby. It wasn't until 1831, long after the estuary had silted up, and long after the Dutch had drained the resulting marshes, that anyone thought to drive a road in a straight line alongside the railway line between Acle and Great Yarmouth, Roman style, and call the result 'the Acle straight'. Such eloquence.
It's a single carriageway road I have to use on an almost daily basis; joining it from any of the marsh roads that rely on it as a main east-west artery is a game of chicken. Out of the enveloping early morning fog loom Scania's, tractors, frustrated Londoners in high powered cars, coaches headed to the numerous beachside caravan parks, Tesco's delivery vans, trailers loaded with 30 bales of hay, minibuses full of oil workers heading for the rigs, all of whom have been forced to drive at 50 miles an hour behind the only law abiding pig farmer in Norfolk.
Trying to pull out to the right in between that lot takes nerves of steel. They play kamikaze with each other as they try to gain an extra place before the swing bridge at Yarmouth opens and everything grinds to a halt – assuming it doesn't grind to a halt as 'frustrated Londoner' overtaking 'coach load of tourists' meets 'minibus full of oil workers' head on – something which seems to happen on an almost daily basis. I've only lived here for six months, and already I've had to take the northern detour twice because the road was closed, and been trapped in the traffic backlog three times when the road was closed when I was already on it…
See, every time one of these morons hits another moron, it closes the road in both directions, there being a ditch either side of the road so no other way for the emergency services to reach the scene other than air ambulance (Hello, its Prince William again!) or forcing the traffic off one side or 'tother to allow the Police through.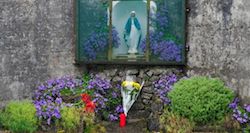 There is a ditch either side of the road for good reason – to stop the road flooding – it being part of an ancient estuary, if you were paying attention. So, man-made ditch, in order to keep what has become the main road to a major city – Great Yarmouth – open. This being Norfolk, another use was soon found for the ditch – concealing cars (and their drivers) from view when they had slid off the road in the fog into the murky bog water…
You would think that the sensible thing to do would be to dig new ditches further away from the road, fill in the existing ditches, and widen the road to allow the impatient ones to overtake without meeting something big and angular coming the other way? Perhaps even the odd traffic light to give marsh dwellers such as myself a sporting chance of taking their place in the infernal queue to see the parade of mobility scooters in Great Yarmouth – without risking life and limb?
The government must not be allowed to forget how vital dualling the A47 is to Great Yarmouth's prosperity, according to county councillors – one of whom likened the road to a "cart track in Romania".

Mr Castle said nothing less than full dualling of the road would prevent deaths and aid the economic prosperity of Great Yarmouth. He said: "It hampers our ability to bring in inward investment. And in terms of injuries, it continues to be a blackspot. All too frequently the A47 is closed to traffic and that's not good for local businesses."
That was Councillor Castle, who was incensed to find that the government had committed £300 million to improving the route to Yarmouth – but leaving the lethal 'Acle straight' as it is – lethal! Month after month people lose their life on this road, either because of their own stupidity or because they were directly behind someone who thought they could 'take a chance'.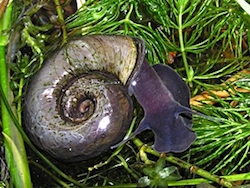 But, it seems, the loss of human life is nothing; there is another life at stake. Since those ditches were dug, they have filled up with immigrants. An immigrant from Sussex called the Little Whirlpool Ramshorn Snail. The government are so keen on these snails they even have a special form you have to fill in before you disturb their equilibrium by maintaining your dykes.
It's taken a liking to our Acle dykes. Our man-made dykes beside our relatively recent man-made road. 5mm of inedible aquatic snail 'with a flattened spiral shell' that isn't even facing extinction, is being allowed to take precedence over the loss of human life. The best we have been offered is a three year feasibility study to see if the damned snail might agree to relocate and live with its Sussex or Suffolk brethren. At a cost of millions no doubt.
No wonder they found it necessary to redact the names of all the people involved in this feasibility study.
You couldn't make it up.
Mudplugger


August 21, 2015 at 10:35 am

Hadleigh Fan


August 21, 2015 at 6:21 pm

Mudplugger


August 21, 2015 at 8:38 pm

Ho Hum


August 21, 2015 at 9:22 pm

Anna Raccoon


August 21, 2015 at 9:50 am

The Blocked Dwarf


August 21, 2015 at 1:59 pm

Engineer


August 21, 2015 at 11:11 am

Engineer


August 21, 2015 at 6:04 pm

The Blocked Dwarf


August 21, 2015 at 4:02 pm

Anna Raccoon


August 21, 2015 at 4:38 pm

The Blocked Dwarf


August 21, 2015 at 4:50 pm

Anna Raccoon


August 21, 2015 at 5:01 pm

The Blocked Dwarf


August 21, 2015 at 6:51 pm

The Blocked Dwarf


August 21, 2015 at 7:00 pm

Anna Raccoon


August 21, 2015 at 9:00 pm

Engineer


August 21, 2015 at 6:07 pm

Anna Raccoon


August 21, 2015 at 6:14 pm

Cascadian


August 21, 2015 at 10:01 pm

Cascadian


August 21, 2015 at 9:55 pm

Anna Raccoon


August 21, 2015 at 10:45 am

The Blocked Dwarf


August 21, 2015 at 11:09 am

Joe Public


August 21, 2015 at 12:09 pm

Mudplugger


August 21, 2015 at 11:05 am

Fredbear


August 21, 2015 at 3:08 pm

Mudplugger


August 21, 2015 at 8:42 pm

Engineer


August 21, 2015 at 11:19 am

Joe Public


August 21, 2015 at 12:11 pm

Anna Raccoon


August 21, 2015 at 12:15 pm

The Blocked Dwarf


August 21, 2015 at 12:26 pm

The Blocked Dwarf


August 21, 2015 at 12:21 pm

Mudplugger


August 21, 2015 at 4:38 pm

The Blocked Dwarf


August 21, 2015 at 12:05 pm

Mudplugger


August 21, 2015 at 4:38 pm

Engineer


August 21, 2015 at 5:53 pm

The Blocked Dwarf


August 21, 2015 at 2:04 pm

Anna Raccoon


August 21, 2015 at 2:22 pm

The Blocked Dwarf


August 21, 2015 at 2:50 pm

The Blocked Dwarf


August 21, 2015 at 3:20 pm

Cascadian


August 21, 2015 at 11:06 pm