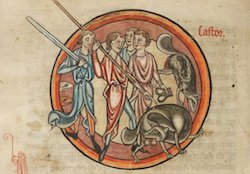 Medieval schoolgirls had to hunt their own contraceptives…
Way back in the mists of time, when the Labour party was merely middle aged, Jeremy Corbyn was still wearing short trousers, and no one knew that veering to the left could cause electile dysfunction in a Labour member, Gregory Pincus started working on a product that would revolutionise women's lives in a way that the medieval woman, tying weasel testicles to her thighs (no, really) could never have imagined.
By 1965, almost 6.5 million American women were on 'The Pill', the oral contraceptive's endearingly discrete nickname, which is thought to have stemmed from women requesting it from their doctors as discreetly as possible.
'Women' was acknowledged as meaning females not only over the age of consent, but married – to a man. A bygone age indeed. The pill arrived in London in 1961, and the same strictures applied. It was not a means of allowing all women to have sex without fear of pregnancy, but to allow married women to 'limit their family' as the quaint phrase went. No husband, no pill. Curtain rings were popular items of jewellery for a while, but you still needed a man brave enough to face the inquisition at the clinic and swear he was married to you, however unlikely that might have appeared.
By 1980, a mere 19 years later, the 'right' of every female to have the pill was so universally acknowledged, that Victoria Gillick began her campaign against the practice of Doctors at the time, to prescribe the pill to those below the age of consent, without the need for parental permission or knowledge. At the time, Victoria was viewed as being a younger, but more prudish, version of Mary Whitehouse. Note, even then, the view was not that those under the age of 16 shouldn't have access to contraception, but that parents should be told and should have the final say in whether contraception was prescribed.
Counsel for Mrs Gillick, Mr Gerard Wright QC, had argued that the act of giving contraceptive advice or treatment was 'very close' to the criminal offence of aiding and abetting unlawful sexual intercourse. Which it undoubtedly was – however, Mr Justice Woolf said: I would regard the pill prescribed to the woman as not so much the 'instrument for a crime or anything essential to its commission,' but a palliative against the consequences of the crime.
Note the use of the word 'woman'. Mr Justice Woolf was talking about a female under 16 that we now know as a 'child'. The matter went to the House of Lords.
The House of Lords focused on the issue of consent rather than a notion of 'parental rights' or parental powers. In fact, the court held that 'parental rights' did not exist, other than to safeguard. The majority held that in some circumstances a minor could consent to treatment, and that in these circumstances a parent had no power to veto treatment.
The phrase 'Gillick competence' came into common use as a result of this case. It meant, in simple English, that provided a person under the age of consent was able to understand the risks involved, and take appropriate advice, was intent on having sexual intercourse, and didn't wish their parents to be informed, then it was right and proper that a Doctor should be able to prescribe them contraception. This ruling was later taken to refer to abortion also.
So we have a ridiculous situation where the competence to make a decision as to whether to engage in sex is made on a case by case basis, assessing the maturity of the young person involved, prior to a sexual act – with contraception, and after a sexual act – by agreeing to abort, yet any discussion regarding the age of consent, whether upwards or downwards, is greeted with total hysteria. According to those who indulge in this hysteria, all young people magically and simultaneously mature on the very day of their 16th birthday.
Barrister Barbara Hewson had the misfortune to raise the question of having a debate on the age of consent in the middle of the Savile hysteria, pointing out that it was over 100 years since we had discussed the matter, and that girls matured physically much earlier today than they did in 1895; as such, she has been the subject of an ongoing cyber bullying campaign – even though she is by no means the only person to suggest this debate.
Six months later, Professor John  Ashton, President of the Facility of Public Health, said society had to accept that a third of all children were having sex at 14 or 15. He believed a debate was necessary about lowering the age of consent to 15. Six months before Ms Hewson spoke out, civil servants had put together a proposal to lower the age of consent to 14, but the Prime Minister, invoking the spirit of Queen Victoria, 'had been appalled' to discover that lowering the age of consent had 'ever' been considered. He presumably would have an attack of the vapours to learn that it was once 13 in this country. 
So far as I am aware, there has been no campaign to force either Professor Ashton or the Downing Street civil servants out of office – nor are there mass demonstrations outside GPs surgeries – GPs have prescribed contraceptives to 75,000 under age girls in the last year, and no one knows how many contraceptives have been prescribed by school nurses or sexual health clinics to those who are, legally, sexually abused children.
1% of all abortions in 2013 were carried out on just such 'children'. That is an awful lot of #CSA 'survivors'.
Yet the focus of #CSA activism is on abuses said to be carried out (preferably by either a politician or someone employed by a well funded organisation) 30 and 40 years ago. They react with utter fury, well co-ordinated fury, to any suggestion that their story might not be believable, albeit devoid of corroboration, but none of them ever mention the child abuse being carried out daily by 'someone' on those tens of thousands of girls who come forward to their Doctor, admitting that they are being, or intend to be, so abused and requesting contraception. There are no extensive police inquiries being carried out as to who is abusing them. Nor is anyone remotely concerned when they return to the Doctor and demand an abortion – an abortion that will doubtless contain DNA evidence leading to a perpetrator.
Instead of which, we have the ridiculous spectacle of Police forces appealing for victims in respect of 'crimes' they have been told by activists 'might' have occurred 40 years ago, if only they had a victim…'pretty please would a victim come forward'?
Whilst 75,000 current victims, one in every 20 children, some as young as 12, walk away from their GPs surgery clutching a cure for the consequences of either being sexually abused or intending to be sexually abused.
It really is time to have a sensible debate without all the hair pulling. We need a version of Gillick competence to engage in sexual activity – or perhaps a bar on those who have been declared Gillick competent being able to bring a court case at a later date in respect of that abuse?
Anna Raccoon


August 17, 2015 at 6:19 pm

Daft Lassie


August 17, 2015 at 11:18 am

AdrianS


August 17, 2015 at 12:03 pm

Daft Lassie


August 17, 2015 at 4:52 pm

Daft Lassie


August 17, 2015 at 4:57 pm

Anna Raccoon


August 17, 2015 at 5:31 pm

Daft Lassie


August 17, 2015 at 6:49 pm

Anna Raccoon


August 17, 2015 at 7:40 pm

Daft Lassie


August 18, 2015 at 11:49 am

Anna Raccoon


August 17, 2015 at 1:30 pm