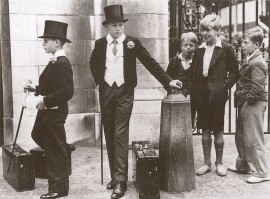 Before American billionaires, Saudi Sheiks and Russian Oligarchs began buying up the country's top flight football clubs, most were in the hands of local self-made men, pillars of the community who'd made a mint from industry and were fond of reminding anyone still awake that they'd risen from nothing and had started life without shoes on their feet. The chauffeur-driven Rolls parked in the spot reserved for the club chairman was the defining symbol of the success that was generally their favourite subject. In their eyes, it gave them carte-blanche to lecture the less lucky townspeople and talk down to them with a pompous superior air. Although most of that ilk voted Tory as part of their conscious crawl towards the golf-club set and the Lord Mayor's robes, their attitude was not dissimilar from those whose guilt at accumulating wealth is compensated for by so-called 'Socialist' principles – those that specialise in spinning yarns about their hard start because they seem to believe their humble origins provide them with a special insight into a world they haven't set foot in for a quarter-of-a-century or more.
Take old Two-Jags himself, John Prescott. His public image is based on the premise that simply because he's never modified his northern accent and apparently has a down-to-earth sense of humour (not forgetting he's handy with his fists), this somehow qualifies him as a bona-fide Class Warrior, romanticising hardship and wearing the distant memory of it as a badge of honour. Yet, stand him next to Dennis Skinner, who I shouldn't imagine has ever swung a croquet mallet in anger, and New Labour's Les Dawson doesn't seem quite so convincing. One is authentic and the other is a facade – or to use another analogy, one is a bottle of Heinz Tomato Ketchup and the other is a bottle of Morrison's Value Tomato Sauce. The Beast of Bolsover is as genuine as the 'Duck-House' Tories who were caught out in the expenses' scandal; he never pretends to be anything other than what he actually is, and neither do the back-bench Conservatives from the Shires. Whether or not I agree with either, I respect the absence of pretence in both.
Similarly, I'd rather Cameron and Osborne dress like Bullingdon ponces 24/7 and admit they really couldn't care less about any social demographic other than their own than adopt Estuary English when addressing factory-workers, attempting to display Bloke-ish credentials they don't actually possess; ditto Blair in jeans, playing the trendy dad announcing the birth of his son outside No.10. It is this kind of false PR that alienates the electorate from the leading politicians. They're fond of Boris Johnson because he is what he is. People respect authenticity and abhor their elected representatives posing as what they're not. They're not like the electorate; they're freaks. I heard a Tory MP interviewed on the radio yesterday who claimed he'd wanted to be an MP from the age of ten! How obnoxious a smart-arse must a ten-year-old be that aspires to become a Member of Parliament? The answer is the one that becomes a Member of Parliament.
The hypocritical posturing of those who rose from nothing to something maintaining the facade of 'The Street' sticks in the throat; during the Scottish Independence Referendum, a load of them were bussed into Scotland from California, although the most tedious Professional Scotsman of recent decades, Sean Connery, was noticeably absent. Irvine Welsh, who rose to prominence by brutally documenting the harsh realities of inner-city Edinburgh, now resides in Chicago. He recently declared he was 'not so much middle-class as upper-class'. Fine; I have no problem with that at all. For someone whose origins were humble posing as a toff has an ironic and knowing humour attached to it, yet the other way round is always attempted with tongue firmly distanced from cheek. It's like women laughing hysterically when confronted by male strippers in a way that men don't when cheek-to-cheek with the female equivalent. Aping the trimmings of a toff is more honest than the reverse because posing as a Socialist who gives a shit about the residents of the bottom rung whilst quaffing champers on King Rupert's yacht is beneath whatever lays beneath contempt.
In the early 1980s, the New Romantics were written-off by the post-punk music press as silly little rich kids getting wasted on daddy's credit card, yet most emanated from more modest stock – unlike the likes of diplomat's son and ex-public schoolboy Joe Strummer. Then again, dressing down is often a middle-class affectation. The real Proles can't wait to leap out of the closet wearing everything in it. The Blitz Kids were only really playing at Beau Brummell by flirting with regal flamboyance, and their movement was an unashamed, arch celebration of artifice. Not that the majority of the university-educated music journos would have understood. They got Joe Strummer because he was one of their own, expressing sartorial solidarity with their fantasy concept of the working man.
I was very impressed with the articulate and eloquent maiden speech of the SNP's Mhairi Black in the Commons this week; the 20-year-old Baby of the House sounded to me like she was speaking from the heart and didn't have that cowering, pathetic 'Please love me, Middle England; I'm almost a Tory' aura of the Labour front-bench. It matters not that I remain opposed to Scottish independence or that I mistrust anyone who overdoes the Socialist Fundamentalism bit to the point where they come across as an ISIS convert in a flat cap. What my ears heard was a remarkably potent cold wind of reality blowing through the cracks in the walls of the Palace of Westminster and cooling the cocoon of hot air that generally permeates the chamber. This wasn't some smug and self-satisfied Parliamentary veteran lecturing the nation as to the needs of the common people as if they themselves belonged to the breed merely because they had fifty years previously; this was someone who was speaking sense instead of market-researched hyperbole and doing so with an authority born of the present, not the past.
Various hopes and ambitions are associated with Socialism – a fairer and more equal society for all, caring for one's fellow man and the afflicted, giving voice to those who otherwise don't have one – though these are elements of humanity that any decent person could live by; Christianity is supposed to be founded on similar principles. Philanthropy motivated by genuine compassion for the less fortunate rather than being some crafty tax dodge is undoubtedly a good thing and there are plenty of people in this world who exhibit selflessness to a degree that one cannot but admire; some don't even attribute their compassion to Socialism. The privileged can sympathise with the left just as the poor can find reason with the right. But if you once belonged to the two-up/two-down, outside loo-world and are forever reminding every interviewer to grill you of the fact, put your money where your mouth is and give back to the community you came from rather than constantly condemning the party you oppose for destroying it. If you're not prepared to do that, shut up.
Petunia Winegum