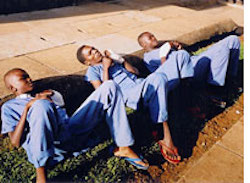 Khat farmers wait for hospital treatment after a little local dispute over logistics. Sharia law means you get your hands chopped off for Khat burglary.
When Somalia disintegrated into the lawless failed State it is today, many of its citizens fled over the border into neighbouring Kenya. Some came to London, some to Amsterdam, Rome, even New York. All craved reminders and comforts from their distant homeland.
The reminder they appear to have craved most was the soft bark peeled from the new shoots of the Catha edulis plant. This was no doubt because it formed an essential part of traditional courtship, being presented to the Father of the bride – his acceptance establishing whether he was prepared to hand his daughter over.
There may have been some Somalian exiles who merely wished to emulate the amphetamine-like sense of euphoria and excitement chewing this bark produced without going to the trouble of handing a daughter over. The fact that it turns your teeth green, reduces your sex-drive, and can induce psychosis doesn't seem to bother Khat aficionados.
Those Somalians who had fled to Kenya, specifically Igembe in Meru county, discovered the promised land.  A temperature range of 5 to 35 °C, on the north eastern slopes of Mount Kenya, with the mighty Kathita river close by – a putative Khat grower could ask no more of life, and soon the local coffee growers found themselves with offers they couldn't refuse…and the hills were alive with the sound of miraa shoots being snapped off Catha trees, wrapped in banana leaves to keep them moist, and bundled into the 'miraa jets' as the foreign aid supplied Toyota 4 x 4 pick-up trucks are referred to in these parts, for onward transmission to pining Somalian exiles across the globe.
Those green shoots of miraa, have to be fresh, you see. Khat loses its potency after 24 hours. That said, Igembe Khat is a particularly potent variety which commands a high price for its ability to withstand 72 hours of travel to the Bristol Khat bars… Global air traffic is essential to this trade. Without the white man's foresight in inventing jets, those Somalian exiles would never have been able to get the Khat to London…mind you, they'd have been a bit strapped herding Khats without the Toyotas for Igembe and Meru are at the end of long dusty tracks.
Fortunes were being made in Igembe, Fat Khats tilling the soil in the cradle of Khat production, indeed. The tiny township of Maua boasted no fewer than 32 different lawyer's offices as allegiances were formed, promises broken, escrow needed to be held. Hotels were built and appeared on Trip Advisor.
Paul Goldsmith's dissertation for his Doctorate on the subject of Khat production in Kenya occupied me for several hours but can be summarised for those with the attention span of a Khat chewer as – 'the most efficient agricultural industry on the planet'. Barefooted Somalian refugees meet unsophisticated small town Kenyan farmers and between them manage to conjure a multi-billion Kenyan shilling industry, that requires distribution of the product within 24 hours, out of the arid earth – without a hint of government subsidies or foreign aid. The Kenyan government doesn't even list Khat as an export, though it is estimated at 14 million pounds if my maths is correct, making it Kenya's fourth largest export. 
Everyone happy then? Noooo. There is much Khat-a-wauling in the valleys. The British Home Secretary – at the time (2005) Charles Clarke – consulted the Somalian community in Britain as to whether he should allow these 20 tonnes of Khat to go on arriving at Heathrow airport every day; the active ingredients, cathinone and cathine being class 'C' drugs and all that, but ever mindful of cultural traditions and concerned that he might put paid to the prescribed method of courting in that community, he commissioned a survey.
As it happens, 50% of the 100,000 strong British Somalian community begged him to bring in a ban; the other 50% were too stoned to understand the question. Another 7 years slid past as Somalians contentedly chewed on the Khat, until Theresa May brought in just such a ban last year. It has provoked economic meltdown in dusty Meru County.
Kirimi Mbogo, a lawyer practicing in Maua and the main partner at Mbogo and Muriuki Advocates, claims to have put on hold a $500,000 property development project as he awaits the final decision by the British.
"I have received all the financing to develop the property into apartments but I am waiting to see if the ban succeeds," Mr Mbogo said. "If that happens, then I will not proceed.
"Without the export income from khat, business here will be drastically reduced."
In fact, the local Headmaster is going to have to go back to teaching children:
"I used to ferry miraa (khat) from Maua to Nairobi four times a week using 27 Toyota Hilux trucks, where it was repackaged for export. I used to make around £2,100 a month. Now I am lucky if I bring in £250 per month," he says.
Reuters tells me that the average wage in Kenya is 41 pounds a month.
The Guardian is beside itself, accusing 'Theresa May of crushing indigenous farmers' in Africa so that 'they do not have money for food'.  Typical Guardian – 'Tory Toffs bringing starvation to African township, etc. etc.',
Britain has the largest Somali population in Europe. According to the Office for National Statistics, Somali-born migrants have the lowest employment rate among all immigrants in the UK.
Perhaps the 50% of Somalians who voted in favour of the ban might be hoping that the other 50% will come down off the ceiling and get a job now?
Gloria Smudd


July 1, 2015 at 10:51 am

The Blocked Dwarf


July 1, 2015 at 12:15 pm

windsock


July 1, 2015 at 10:46 am

Backwoodsman


July 1, 2015 at 5:39 pm

The Blocked Dwarf


July 1, 2015 at 1:45 pm

The Blocked Dwarf


July 1, 2015 at 1:46 pm

windsock


July 1, 2015 at 2:25 pm

windsock


July 1, 2015 at 10:48 am

The Blocked Dwarf


July 1, 2015 at 2:06 pm

windsock


July 1, 2015 at 2:25 pm

Gloria Smudd


July 1, 2015 at 3:41 pm

The Blocked Dwarf


July 1, 2015 at 3:57 pm

windsock


July 1, 2015 at 4:11 pm

The Blocked Dwarf


July 1, 2015 at 4:30 pm

windsock


July 1, 2015 at 4:42 pm

Engineer


July 1, 2015 at 12:00 pm

Ian Reid


July 1, 2015 at 2:29 pm

Engineer


July 1, 2015 at 5:24 pm

Ian Reid


July 1, 2015 at 5:52 pm

Engineer


July 1, 2015 at 6:19 pm

Engineer


July 1, 2015 at 6:46 pm

binao


July 1, 2015 at 6:48 pm

Engineer


July 1, 2015 at 8:32 pm

Peter Raite


July 2, 2015 at 9:11 am

Engineer


July 1, 2015 at 1:46 pm

Henry the Horse


July 1, 2015 at 7:57 pm

The Blocked Dwarf


July 1, 2015 at 4:01 pm

Gloria Smudd


July 1, 2015 at 3:58 pm

windsock


July 1, 2015 at 4:12 pm

The Blocked Dwarf


July 1, 2015 at 6:03 pm

Anna Raccoon


July 1, 2015 at 5:32 pm

The Blocked Dwarf


July 1, 2015 at 4:33 pm

Mudplugger


July 1, 2015 at 4:45 pm

The Blocked Dwarf


July 1, 2015 at 4:32 pm

Gloria Smudd


July 1, 2015 at 5:56 pm

Mr Ecks


July 2, 2015 at 2:37 am

Peter Raite


July 2, 2015 at 9:20 am

The Blocked Dwarf


July 1, 2015 at 6:32 pm

Engineer


July 1, 2015 at 6:38 pm