How to pay your taxes without parting with a penny piece.
E'en the grateful thanks of the nation ringing in your ears! That is surely good news for the millionaires currently marching in support of austerity or summit?
'Tis true, you don't have to part with a penny. Anyone can do it. Wear flat shoes if you would; up to the attic with you. Open up that dusty old suitcase that belonged to Uncle Fred. See if he's got some old posters stashed away. Something historic, dating from when there were still Liberal MPs will do the trick.
Gerald Ford was the Librarian at Bristol University – his wife has just 'gifted' these posters 'to a grateful nation' sending them back to the University and wiping out her tax bill in the process.
Last year, 330 people took advantage of this scheme, where you 'gift' something, as opposed to having your taxes prised out of you with the aid of thumb screws, to the nation and voila! no tax bill! The great and the good gather round to gaze in admiration at your 'gift' – £167 million quids worth last year, around half a million per enterprising tax payer – you get rid of the rubbish in the attic that you didn't know what to do with, and everyone claps their hands in gratitude at your generosity. I had thought that this scheme only applied to fabulous works of art being 'saved' for the nation – but there are some remarkably mundane items. This leather waistcoat for instance; too small for modern man, might have ended up in one of those skips that the Salvation Army dot around to collect clothes for freezing Somalians – had the owner not had the wit to send it to Her Majesty's Customs and Excise in lieu of his taxes. Now they have the problem of what to do with it.
Farnham museum received a portrait of one the town's most famous sons, the 19th century radical journalist and agitator William Cobbett, settling £1,400 of tax. "That's the strength of this scheme," said McQuillan. "It is not just about the £4m masterpieces, it is also about works like this, which will give Farnham something that will bring to life a man closely associated with the town."
Perhaps Great Aunt Minnie left you a rather nice piece of furniture that you actually use, or even are just fond of looking at? Fear not, they have a scheme tailor made for you. It's called the 'In Situ' arrangement. You 'gift' Great Aunt Minnie's commode to the nation – and they leave it right where it is! Yep, you can go on arranging flowers in it every week, no need to be incommoded and find yourself without a pot to… Lucian Freud's family were faced with a tax bill – and they didn't want to part with any of Lucian's paintings – so they gave the taxman a collection of his mate, Frank Auerbach, daubings. Frank had painted a 'Chimney in Mornington Crescent' (I'm assured that that is what it represents) and given it to Lucian in an act of friendship (after a very boozy dinner party, perhaps?). None of the family wanted it, even less when they realised that there were more like that stashed away, so they gathered them all up, sent them off to the taxman, who was so delighted that: 'this was an opportunity that would not be repeated and the Panel committed all of the remaining funds for 2013/14 and has pledged almost a fifth of the following year's budget'…on acquiring the entire stash of similar paintings.
So you have a choice – either 'pay' your taxes with hard earned cash, (and you won't get any thanks) or 'gift to a grateful nation' all those bits and pieces you didn't know what to do with.
Of course if everyone starts doing it, there won't be any money to run the NHS, or to feed and house MPs or anything, so keep it to yourself for now. Raccoonteurs can be ahead of the pack.
I've put by a stack of posters showing the first, the one and only time, an anonymous man stood for parliament. That should do the trick this year. 'Grateful nation' here we come.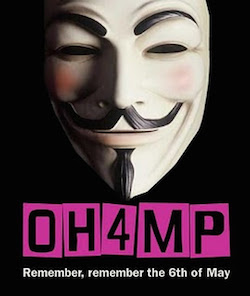 Alexander Baron


June 23, 2015 at 10:32 am

Don Cox


June 23, 2015 at 4:37 pm

Mudplugger


June 23, 2015 at 11:28 am

The Blocked Dwarf


June 23, 2015 at 11:26 am

Mudplugger


June 23, 2015 at 11:35 am

Ted Treen


June 24, 2015 at 12:38 am