Did you know that a thumping 50% of those who enter the Family courts emerge 'deeply dissatisfied', 'emotionally traumatised' and 'cynical about our Justice system'. Some of the 50% could even be accurately described as 'hysterical' and 'paranoid'. The majority of the 50% are men.
There is a profound truth which lies behind these headline statistics. The most distressing part of that truth lies in the fact that none of those people needed to have anything to do with the Family courts. They are all 'parents' – of children. Parents who cooperated sufficiently to make those children in the first place, but now cannot bring themselves to cooperate to make a decision as to what they should do with said children. They have arrived at the Family court to ask a Judge to make a decision as to with which of them the child should live.
No sooner does the judge make the decision they have asked him to make, than whichever party 'came second' as they describe it in legal circles, reels away from the court screaming 'I wuz robbed'; sometimes even 'corrupt judiciary'. Thus we arrive at the emotive Rebecca Minnock saga which has so occupied our glorious media for the past week.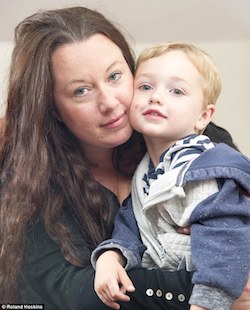 It was a corker of a story wasn't it? Hair tumbling over her shoulders Mother poses Madonna style with angelic cherubic innocent child – below headlines which tell of how nasty men are searching for them, in order to tear this child from its rightful place on its caring Mother's lap. Who could fail to be moved?
Social media was so moved, and in the blink of an eye, there were Facebook pages and hashtags galore.
It was always going to be an unusual case in that reporting restrictions had been lifted and mother and child were named. It has become even more unusual in that there are now 8 formal judgements released in the last ten days alone – and the Judge, for the first time that I am aware, allowed the media to ask him questions as he sat – and gave them answers. Transparency doesn't come much more transparent than that.
So we now know that at any time in the past two years, January 2013 to be precise, both parties could have backed away from the courts and resolved between themselves where young Ethan was to live. They didn't.
One party was prepared to share custody of Ethan, one wanted to keep him all to themselves. That was bad enough from Ethan's point of view – surely the only point of view which should count? – but that was not the basis of the court's decision making. No, the court decided in favour of the party that was prepared to share Ethan because the other party had made false allegations, including *yawn*, false allegations of a sexual nature, against the other party in an effort to prevent any contact between them and the child.
Now these weren't just any old false allegations, the sort of which you can say 'no one knows what goes on behind closed doors' or #Ibelieveher. These were allegations which were investigated by social services, a child's guardian, an eminent psychiatrist and medical examination – in the process of which it was discovered and is now a matter of record, that these allegations had been deliberately and maliciously fabricated. So not just a case of insufficient evidence to substantiate the allegations. 
During the investigation phase, an order was made that neither parent should have unsupervised contact with the child. When it was found that the allegations were malicious, it was decreed that Ethan should remain with his father and Rebecca should only have 'supervised' (not 'indirect' as reported by the media) contact on the grounds that she had tried to deliberately deprive young Ethan of his Father's love and support and company – and that, in itself, constituted 'emotional' abuse.
Another hearing was set for 27th May – a hearing which Rebecca chose not to attend. Indeed, she conspired with Ethan's grandmother, uncle and aunt to disappear with Ethan and ensure that the court's will was thwarted. The Facebook page bore a message from her brother (directed at Ethan's father):
'She's not missing. I know where they both are. And there [sic] both very safe now and just to let you know because I know you are reading this. You will 'NEVER EVER' get you [sic] dirty disgusting hands on that boy again. 'OVER MY DEAD BODY'.
The court responded by arresting the three conspirators that they could find, grandmother, aunt and uncle, for contempt of court, and gave permission for the press to help in the search for Ethan and his Mother.
First Rebecca turned to The Sun, and was rewarded with the diminutive 'runaway Mum Becky' – social media wept for 'Becky'. 'Every mother's worst nightmare'. However, the Sun is subscription only these days, so doesn't have quite the readership; The Daily Mail won the race to secure 'runaway Mum's' story of how these nasty men were 'hunting her like an animal' and trying to snatch her innocent child from her breast. They padded their piece with no less than 21 exclusive pictures of doting 'Mum Becky' and the happy and well nourished Ethan, sneaking one picture of Ethan's entirely innocent Father down towards the bottom of the piece.
A close friend of Rebecca, who wished to remain anonymous said: "She's a lovely girl and Ethan was always happy. She's been let down. A mother takes care of their child from the moment they are born. Rebecca did nothing wrong as a mother or partner and the child should stay with her.'
Perhaps that 'close friend' is now reading the official judgment, and contemplating her support for a child abuser who was prepared to inflict abuse on her own son in order to get her own way?
Nobody wanted to mention the false sexual allegations designed to ensure Ethan was deprived of his Father. The Mail grudgingly snuck in one line:
"It was ruled that she was obstructing access to her son after she made 'false' allegations about his father".
Note the parenthetical 'false' allegations – can't upset too many readers can we?
The Guardian hired their own 'child protection expert' to pontificate on these matters: 
"It's likely that she will be allowed only indirect contact with her son, with a social worker present in the room, for perhaps an hour at a time."
I can't be bothered to point out to their expert that 'indirect contact' is where you are allowed to write and send Christmas cards – if she is seeing her son, albeit with a social worker present – that is 'supervised contact'.
Now that Rebecca has been lured back to court by the Daily Mail and Ethan is getting some much needed undisturbed routine in his life, social media has found a new beef:
"Father in custody battle to decide fate of mother who fled with his son".
Given that the court have now arrested and jailed three of the conspirators – what are they to do with the fourth – Rebecca? It would be manifestly unfair, given that she has lied repeatedly to the court (and still is, as of yesterday) both in respect of her disappearance and earlier in respect of the false allegations, that she not be dealt with even more severely than her relatives. That of course will result in the meltdown of Mumsnet and similar forums…
What the judge actually said was:
I will also give further consideration to this issue of contempt once the parties have decided upon the positions that they take; I think that the father, in particular, has a right to reflect on this. It is not an issue that has simply gone away and there needs to be a very clear message that parties cannot behave in the way that this mother has behaved.
The Father, Roger Williams, does have the right, in conjunction with the child's Guardian, to ask a court to rule whether Rebecca was in contempt of the custody order. The court will then make a decision, taking into account all party's views.
That is not 'Father deciding fate' of Rebecca. Though if Judge Wildblood is praying that Roger Williams can find it in his heart not to seek revenge for what he has been put through the past few months, and Rebecca can humbly apologise for repeatedly lying in order to manipulate her own way – then I am sure he would be grateful for the excuse not to jail her.
Can you begin to imagine the media coverage had the positions been reversed – and Roger Williams had lied to the court to deny his son a mother, and gone on the run with that little boy?
I am sick to death of these false allegations. I am sick to death of the supporters of the #Ibelieveher movement who wish to see our justice system dictated by an automatic belief in any allegation a woman cares to make. I have written before of the impact on the partners and children of those who are subject to a false allegation. Freddie Starr, a broken man, was in court trying to retrieve his reputation as I wrote this.
Now we have a little three year old boy that has spent the past 17 days away from his familiar home, wider family and his toys, getting in and out of strange cars, being hunted by the police, examined in hospitals by strange Doctors and psychiatrists, sleeping in unfamiliar beds, eating unfamiliar food – in any other circumstances we would term that child abuse.
Yet the #Ibelieveher movement support these actions totally. Hypocrites.
I shall give the last word to Matt O"Connor from Fathers4Justice. A man who I had not always seen eye to eye with in the past, but on this occasion he has got it totally right. I commend his full article to you.  Quote:
The lexicon of double standards in such cases now runs as follows:

Where a dad is said to be 'calculating', a mum is said be 'vulnerable'.
Where a dad is said to be 'unstable', a mum is said to be 'emotional'.
Where a dad is said to have 'abducted' his child, a mum is said to be 'on the run'.
Where a dad is 'hunted' by Police, a mum is 'sought' by Police.
Where a dad is caught and 'arrested', a mum is interviewed and 'supported'.
Where a dad is 'jailed', a mum will inevitably be paid for her story by a national newspaper.
Anna Raccoon


June 19, 2015 at 9:22 am

The Blocked Dwarf


June 19, 2015 at 9:27 am

Anna Raccoon


June 19, 2015 at 9:34 am

Petunia Winegum


June 19, 2015 at 9:44 am

The Blocked Dwarf


June 19, 2015 at 10:08 am

Petunia Winegum


June 19, 2015 at 11:07 am

Giles2008


June 19, 2015 at 7:01 pm

The Blocked Dwarf


June 19, 2015 at 7:11 pm

Petunia Winegum


June 19, 2015 at 8:05 pm

Engineer


June 20, 2015 at 8:23 am

Anna Raccoon


June 20, 2015 at 9:59 am

Mrs Grimble


June 19, 2015 at 9:52 am

andy5759


June 30, 2015 at 10:18 pm

Anna Raccoon


June 19, 2015 at 10:17 am

The Blocked Dwarf


June 19, 2015 at 11:30 am

Petunia Winegum


June 19, 2015 at 3:06 pm

Anna Raccoon


June 19, 2015 at 11:00 am

Anna Raccoon


June 19, 2015 at 11:38 am

Anna Raccoon


June 19, 2015 at 11:34 am

Joe Public


June 19, 2015 at 2:31 pm

Anna Raccoon


June 19, 2015 at 2:34 pm

The Blocked Dwarf


June 19, 2015 at 1:00 pm

Anna Raccoon


June 19, 2015 at 1:34 pm

The Blocked Dwarf


June 19, 2015 at 6:13 pm

The Blocked Dwarf


June 20, 2015 at 12:34 am

Petunia Winegum


June 20, 2015 at 2:02 pm

Petunia Winegum


June 21, 2015 at 9:51 pm

Edgar


June 22, 2015 at 2:00 am